Zhe Cuisine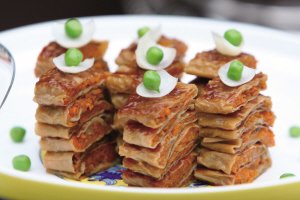 Zhe cuisine is one of the eight great traditions of Chinese cuisine.
Zhejiang cuisine, called Zhe cuisine for short, is originated from South China's Zhejiang Province. It is famous for its mellow, yet not greasy, taste.
It consists of three major styles, namely Hangzhou style, Ningbo style and Shaoxing style. Among them, Hangzhou style is the most notable. It has good taste as well as delicate appearance. It requires expertise in the cooking techniques of quick frying, stir-frying, braising and deep-frying and features clearness, freshness, tenderness, delicateness and purity. Besides seafood and freshwater fish, Hangzhou style exhibits a fondness for bamboo roots. About half the dishes on a Hangzhou menu contain bamboo roots, which add a tender element to the food. Ningbo chefs are especially skillful in making seafood. The best-known Ningbo cooking techniques are stewing, baking and steaming. The taste is moderate in freshness and saltiness. Ningbo chefs' specialties are making dishes fresh, tender and soft. Emphasis is placed on its original flavor. Shaoxing style is fragrant, crisp, soft and glutinous, with thick soup and pure flavor. Shaoxing style specializes in poultry and freshwater fish.
Zhejiang Province, located at the Yangtze River Delta, is the famous "land of milk and honey" in China. Using the rich assortment of local ingredients, Zhe Cuisine has an extensive selection of materials and a precisely matches these materials. Emphasis is placed on the season and variety of main ingredients. The choice of supplementary ingredients and seasonings is aimed to give prominence to the main ingredients, strengthen freshness and fragrance and get rid of the smell of fish and greasiness. Most emphasis is placed on moderation in duration and degree of cooking as well as seasoning.
Zhe Cuisine Menu
| English | Chinese | Pronunciation | Characters |
| --- | --- | --- | --- |
| Dongpo Pork (Stir-Fried Pork) | Dongpo Rou | Dong-por roh | 东坡肉 |
| Beggar's Chicken | Jiaohua Tong Ji | Jyaoww-hwaa tong jee | 叫化童鸡 |
| West Lake Fish in Vinegar Gravy | Xihu Cu Yu | Sshee-hoo tsoo yoo | 西湖醋鱼 |
| Splendid Fish | Jinxiuyu | Jin-sshyoh yoo | 锦绣鱼 |
| Fish Balls in Clear Soup | Qing Tang Yuyuan | Ching-tung yoo-ywen | 清汤鱼圆 |
| Sliced Fried Eel | Sheng Bao Shan Pian | Shnng baoww shan pyen | 生爆鳝片 |
| Braised Croaker Soup | Da Tang Huangyu | Daa tung hwung-yoo | 大汤黄鱼 |
| Fried Cuttlefish Rolls | Bao Moyu Juan | Baoww mor-yoo jwen | 爆墨鱼卷 |
| Fried Shrimps with Longjing Tea | Longjing Xiaren | Long-jing sshyaa-rnn | 龙井虾仁 |
Chinese Food Menus
Meat Dishes
Rice, Wheat, and Vegetarian Dishes
Soups, Hotpots, and Snacks
Related Pages

China Highlights