Harbin International Ice and Snow Festival 2013/2014
Celebrated: Jan.&nbsp05,&nbsp2014 to Feb.&nbsp05,&nbsp2014
Location: Harbin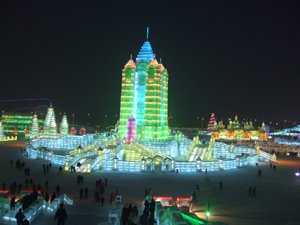 The annual Ice Festival is Harbin's main winter draw. The Harbin International Ice Festival only started about 10 years ago, and it is already one of world's four biggest such ice and snow festivals, along with the famous ones in Sapporo, Norway and Quebec. At first, mainly Chinese participated, but in the last few years, it has become an international festival and competition. As the festival grows in international participation and as China's economy grows, the size of the snow sculpture and ice architecture exhibits keeps growing. Now, the work going into making these exhibits is astounding, and their size and beauty is amazing. Last year, tens of thousands of people labored on the displays.
Walking around the three venues, you'll see world record-sized snow sculptures longer than two football fields, and some ice buildings, palaces, monuments, or statues about 50 meters tall (160 feet high) that you can walk and slide around in and on. These displays are technologically sophisticated, using computer controlled LED and regular lighting to put on stunning displays of changing color and design. For example, there was a replica of the Great Wall of China that people could slide on. Many of the architecture replicas have ice slides. Harbin is called "Ice City," and the winters are bitterly cold, but the conditions are right for the ice festival.
The Date
The festival is officially held from January 5 to February 5. However, the exhibits may open earlier and stay longer. Ice sculptures of various shapes are displayed for the event.
When is the best time to go for the festival?
Winter travel season begins from mid-November in Harbin. The best time to go for the ice festival is from mid-December when the exhibits first start forming to the end of February.
What are the highlights to see?
There are three places where travelers can see ice sculptures and lanterns and other winter activities: the Grand World of Ice and Snow for a great variety of snow activities, Sun Island Park where ice sculptures are displayed, and Zhaolin Park for the ice lanterns show.
Tickets
Tickets for the Harbin Ice and Snow Festival and the Ice and Snow World in 2014 are sold according to two time periods: a.m. and p.m. It is colder in the morning, so the tickets are cheaper. Children under 1.2 meters enter free.
Morning Tickets (9:00 a.m . – 12:00 p.m.)
Children accompanied by adults and students: 120 yuan
Adults: 150 yuan
Afternoon and Evening Tickets (12:00 p.m. – 9:00 p.m.)
Children accompanied by adults and students: 160 yuan
Adults: 300 yuan
Opening Ceremony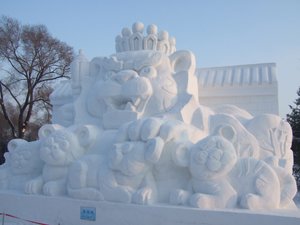 Harbin International Ice and Snow Festival
The 2014 Opening Ceremony will be held in Harbin Conference and Exhibition Center. Take bus 54, 85, 212, 216, 219, 346, 551, or 552, and get off at Sun Island Crossing.
How to Arrange a Harbin Itinerary
In general five days are enough to cover all the highlights of Harbin.
For a 2-day tour: In the morning stroll along the Central Street, a pedestrian for dining and sightseeing, and the old foreign-style buildings, and have lunch at one of the many western restaurants in the street. Head to the Sun Island Park after lunch, you may need around two hours to explore these ice artworks, and then take a free bus to the park to the Grand World of Ice and Snow. For the second day, visit St. Sophia's Cathedral, the largest Orthodox cathedral in the Far East, Siberian Tiger Park that has hundreds of Siberian Tigers, lions, and other large cats on exhibit, and enjoy the fabulous ice lanterns show in Zhaolin Park in the evening.
China Highlights offer Harbin tours ranging from two to six days for you to choose from, or we can help you customize your own tour.
History
How did all this start? It is said that making ice lanterns was something the fishermen in the area did in the winter. They needed a way to keep their lamps burning in the winter when they were out on the lake, so they invented the ice lantern. They filled a container with water let the water freeze. They put a lamp or a candle inside the piece of ice. Wala, they had a lantern. In 1963, the first Ice Festival is said to have been held in Zhaolin Park in the old district of the city. It was suspended for some time during the Cultural Revolution, then it started up again. In 1999 the city government started the Harbin Ice and Snow Festival.
Since 2001 the festival has been held on Sun Island Park in the Songhua River. This gives the festival a lot of space to build dozens of huge snow structures and also to simultaneously hold athletic competitions such as speed skating competitions.
Now, tens of thousands of people are involved in constructing the ice and snow exhibits in the three sites. The ice buildings have grown huge in Stalin Park, and there are more foreign entrants in the ice carving competition in Zhaolin Park.
Getting There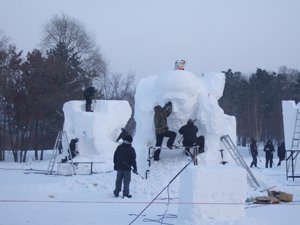 Harbin International Ice and Snow Festival
From Beijing, it takes about 3 hours to get to the winter festival sites, including the flight to Taiping International Airport (2 hours) and taxi to the sites (1 hour). The airport is about 30 kilometers outside the city. Buses travel between the festival sites and the airport. Most of the trains between Beijing and Harbin are overnight trains that leave in the afternoon and arrive early the next morning. See Harbin Transportation
Camera Batteries
The average January low in Harbin is -15°C (5°F). If you want to take lots of photos prepare more batteries for your camera. The cold saps battery life. Usually a fully-charged camera battery will last for fifty photos (without flash) in these cold conditions. If you take the battery out and warm it for a while, you may be able to take another ten. You can try repeating this action. It is also recommended that you keep your camera inside your down jacket when not use it.
Sub-Zero Health and Safety
In Harbin in winter the temperature is from -25°C (-13°F) to -10°C (14°F), and that's without wind chill! Hence thermal underwear, gloves, (scarves, earmuffs), hats, (face masks), and thick arctic clothing and boots are necessary. If you have snow boots they would be ideal.
Despite the cold it is very dry in Harbin (average humidity 2%) so drink plenty of fluids.
Wear sun glasses, or better still snow glasses, to prevent snow blindness.
Frostbite prevention: If your hands or feet start feeling chilled, do some exercise to warm them up or go indoors. If your hands, feet, ears, nose, or other extremities lose feeling due to the cold, don't toast them or wash them with hot water. Ideally retreat to a warmer indoor environment, and rub them vigorously to restore circulation slowly.
Tips
In Harbin and the rest of China, if you use a taxi, make sure that the drivers turn the meter on. If you don't, when you arrive, they will charge you their own prices. Also, carry small denomination bills, because you may be handed fake money if you try to get change.
From the airport or the train station, it is better to take a cab that is waiting in the official taxi waiting line to avoid problems.
Related Pages
Recommended Festival Tours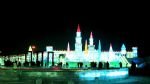 Planning a trip? Ask us here 800-2682918 (USA & CA)
86-773-2831999 (Int'l)
Q:
Josh
Asked on 2013-12-02
Reply
Hi I would like to check if there is still ice sculpture in early March 2014? and how will be the weather? and will it still snow in march? thank you!
Dear Josh,
There is no exact day when the festival ends. It depends on the weather. If you are luck and the weather still cold in early March, you still will enjoy the snow view at that time.
Good luck.
Nancy Deng Replied on 2013-12-03
Q:
Emma
Asked on 2013-12-01
Reply
Hi, My question is similar to Johns. I would like to go to Harbin but before January. The best time for me would be in mid of december or maybe between Christmas and new years eve. The official opening is suppose to be on the 5th of January but will I be able to go in and see the sculptures anyway?
Dear Emma,
It is true that the Harbin Ice and Snow Festival open on Jan. 5th every year. But you can visit the Ice and Snow World which is a major attraction of Harbin International Ice and Snow Festival from Dec. 25. It your tour dates flexible, it is suggested that you go to Harbinafter Dec. 25.
Nancy
Nancy Deng Replied on 2013-12-02
Q:
John
Asked on 2013-11-23
Reply
I will be traveling to Beijing on Dec. 27, 2013 and would like to go to Harbin on the 28th for one night and return to Beijing late on the 29th. My question is...will there be any of the ice sculptures and other parts of the upcoming festival open yet and will they be lit up at night?
Hi John, the ice and snow festival in Harbin is schedule to be open from Jan. 5th. So i am sure you will be able to see the ice sculptures during your stay. But wish you good luck. Simon Huang Replied on 2013-11-23
Q:
Jason J Garcia
Asked on 2013-11-14
Reply
Hello. I plan on going to china in late feburary. But different locations. Is this package possible? I want to see the great wall and I want to experience the lantern festival they have every year. While I''m there, I would obviously want to participate in the harbin festival as well. Thanks in advance
There are no group tour available for Beijing and Harbin in February, but we can customize the tour for you. Will you travel alone? Ruby Zhao Replied on 2013-11-14

Oh no I don''t need a group tour. Yes I''m going solo. I was just wondering if you were able to put together a package that is convenient for me to experience everything that I listed. guest Replied on 2013-11-14
Q:
jessica
Asked on 2013-05-15
Reply
How cold is it in the hardin ice festival?
Dear Jessica, During that period, it is the coldest in Harbin. The average temperature is about -30℃ to -20℃ (-22℉ to 19℉), you need to take down jacket and thick sweaters. Please click here to realize more information:http://www.chinahighlights.com/harbin/weather.htm Lussie Lu Replied on 2013-05-16