Women Travelers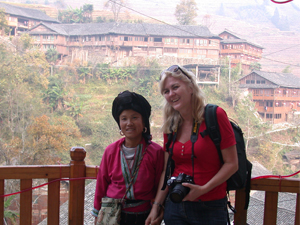 China is a safe traveling destination. The crime rate is relatively low here, and the police tend to impose harsher punishment against crimes committed to foreigners, so it is generally unlikely to suffer serious harassment when traveling. As a woman traveler, sometimes you are likely to encounter some uncomfortable situations, but by taking certain precautions you can make your traveling expedition safe and enjoyable. See China Highlights' Women Tours.
Dress conservatively. Do not wear over-revealing clothes or expensive jewelry, they may encourage unwanted attention.
Avoid walking alone late at night or at places which make you have a feeling of discomfort.
Make copies of your itinerary and contact information of your hotel and your travel advisor, leave a set with a family member or a friend back home, and make phone calls or send emails at a regular time, so that they can know you are safe.
Keep your valuables in a secure place and always pay attention.
You might encounter some strangers who want to practice English with you. If you have enough time, then it's ok to have a conversation. However, don't come along if they start insisting on you going with them to some special places that you didn't plan to in the first place. Don't be afraid to say no to ay offer. If you intend to continue the conversation, make sure that it is you who choose the place.
Outside the scenic spots or on the road, there might be some vendors follow you and try to sell you something. If you are not interested, just ignore them and keep going.
Never trust a stranger blindly. Do not leave your luggage to a stranger. Do not eat or drink anything offered by a stranger.

China Highlights
Questions and Answers About Women Travelers
Laura
2013-09-14
Show Answer
I have a question about houseguests from China in the USA. Is it acceptable for a young married woman (without her husband) to stay in the same home with an unmarried young man? She would have her own bedroom and private bath; he would have his own bedroom and share the host''s bathroom. They would not be relatives and would not know each other before arriving at their American host''s home. I need to know if this situation would be uncomfortable or unacceptable to guests from Mainland China.
Dear Laura,
It is your business. China is open from not only business but also culture.
Christy
Christy Luo replied on 2013-09-16
April Offer $25 Coupon
Send your inquiry before Apr. 30, 2014, and we will email you a $25 coupon.
The coupon is valid till Dec. 31, 2014, for paying tour packages worth $250 or up.
The coupon cannot be used for paying flight tickets, train tickets, hotel rooms and day trips.
Travel Advice or Question? Ask us here