China's Top Places to See Giant Pandas
The giant panda is known as "national treasure" (国宝) in China. Covering with the black and white fur on the round body, the giant panda is cute and lovely. The smoky eye is the beautiful characteristic of giant panda. How can you miss the giant panda in China?
Our China Highlights has listed some splendid and popular parks for the tourists to see giant pandas. You can also contact us for a customised tour.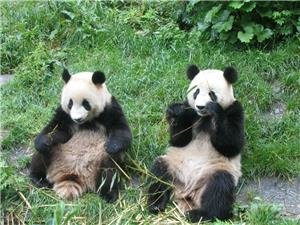 Bifengxia Giant Panda Base
After the earthquake in 2008, the pandas of Wolong National Nature Reserve were transferred to Bifengxia Panda Base, which was established at the end of 2003.
Bifengxia Panda Base became the largest giant panda base in the world. At present there are 155 giant pandas at the base. Bifengxia Giant Panda Base offers volunteer programs, which allow close contact with the giant pandas.
Beijing Zoo is the largest zoo in China with the largest number of animal species and one of the best-known zoos in the world. It was the first zoo to open in China. There is a panda house in the zoo, which is one of the most popular enclosures there.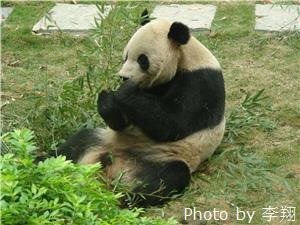 The Giant Panda in Guilin Seven Star Park
There is a zoo in Seven Star Park, Guilin, which is the only zoo with giant pandas in Guangxi. The zoo was built in the early 1960s. The pandas are the super stars there. And standing out among them all was Meimei, who lived for 36 years, the longest-lived panda raised in captivity in the world. The two Olympic Pandas, Fengyi and Meixin are kept in the zoo now.
Shanghai Zoo is one of the largest national zoos, and one of the ten best zoos in China, next to the Shanghai Hongqiao International Airport. You cannot miss the lovely giant pandas, one of the most attractive animals there.
Founded in 1955, the Chongqing Zoo is located in the western suburbs of Chongqing. It is a large zoo covering 45 hectares. The Chongqing Zoo boasts natural scenery and the rolling hills. The giant panda is the great attraction there. In March 2012, the half a year old baby panda was named "Mangzi" (莽子) after the naming contest.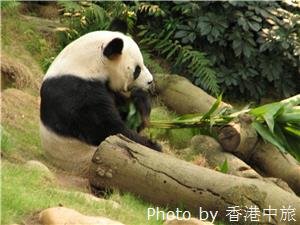 The Giant Panda in Ocean Park Hong Kong
The Ocean Park is a large ocean theme park and one of the two large amusement parks in Hong Kong. You can see hundred kinds of marine fishes. There are also four giant pandas in the Ocean Park: "An An", "Jia Jia", "Le Le" and "Ying Ying". "Le Le" and "Ying Ying" are the presents from central government to celebrate the tenth anniversary of Hong Kong's return to the motherland.
Giant Panda Breeding and Research Base is located in the northern suburbs of Chengdu City. There are all the range of equipment of giant panda breeding, the panda house, feed room, health stations, giant panda museum and laboratory building in the base. Thousands of bundles of bamboo and bushes are planted there for giant panda.
The base is planning to create approximate wild living environment for the pandas, train the pandas to adapt wild living, and then released them into the wild for eventual continuation and preservation of this rare and endangered species. It also offers volunteer programs that the participants can learn more about and look after the giant pandas.
Further Reading

China Highlights
Questions and Answers About China's Top Places to See Giant Pandas
Tom Evans
2012-11-02
Show Answer
If I choose not to use a travel company from the USA and want to arrange travel in China after I arrive, what is the advantage? Would it be less expensive?Any suggestions?
Thank you for your trust in our service. Here I would like to share some differences between China Highlights and other companies:
 

Chinese Competitors

 

International Competitors

CHT

The rest

 

All

Last minute changes

Yes, definitely

Yes

 

No

Flexibility during the trip

You can change the tour guide, van, transportation, hotel, scenic spots before/during the trip, if your requirements change during the tour.

Maybe

 

Fixed

Generous Cancellation Policy

Deposit will be refunded if we are informed at least 14 days before the departure date.

Substantial cancelation fees if canceled after confirmation.

 

Substantial cancelation fees if canceled after confirmation.

Hidden Charges

Absolutely Not - All charges included

Credit card processing fees are not included in quotation.

 

Nothing published

Money back Service Guarantee

Check our service guarantee. If our guides vary from our instructions regarding tipping or shopping we will refund the land service cost (excluding hotels, air & train fares, attraction entrance fees and meal costs) for that city immediately.

Nothing published

 

Nothing published

Shopping Policy

Absolutely no forced shopping trips or tourist traps and shopping area can be removed before start the tour.

Unknown - no stated policy

 

Daily factory stops on the tour

24 hrs a day service

We will always be available for you within 24 hrs a day.

Yes

 

Offices located outside China

Professional China tour operator

Online for 13 years and backed by a full service national travel agency in business since 1959. China Highlights has a staff of over 100 professionals providing a full range of tour products to 35 cities and tour destinations in China.

Owned by local travel agency, no Comprehensive information provided on website

 

International tour companies using Chinese agents.

Tour guide's employment conditions

We pay our guides and drivers a fair salary and according to visitors' feedback, they could get extra performance bonuses

No they depend on tips and commissions

 

No they depend on tips and commissions
By the way, China Highlights price is always cheaper than the USA agency since we are a company in China,we sell the tour package to to our customers directly. It is better that you book the tour with us before you arrive to China, so we can find the better discount hotels and flights for you , and the earlier booking can secure your tour qualify as well.
please tell me your China tour schedule now, i would love to tailor made a tour what exactly you want.
wish you have a nice day.
Lily Guo replied on 2012-11-03
April Offer $25 Coupon
Send your inquiry before Apr. 30, 2014, and we will email you a $25 coupon.
The coupon is valid till Dec. 31, 2014, for paying tour packages worth $250 or up.
The coupon cannot be used for paying flight tickets, train tickets, hotel rooms and day trips.
Travel Advice or Question? Ask us here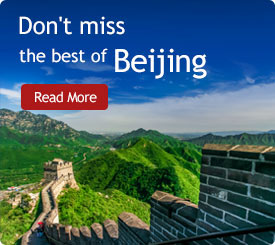 The Most Popular Articles
The Latest Travel Articles