China's Top 10 Temples and Monasteries
Apart from Buddhist grottoes, mountains and religious sites like the Leshan Giant Buddha, Buddhist temples are also an important part of China's Buddhist heritage and culture.
There are a lot of famous temples in China with magnificent layouts and traditional Chinese architecture. Here are the top ten temples in China.
You can contact us for a tailor-made temple tour or check out the tours including these temples.
South Putuo Temple
South Putuo Temple is named after its location to the south of Putuo Mountain, Fujian Province, East China, one of the four famous Buddhist sites in Zhejiang Province. It was first built in the Tang Dynasty (618 – 907).
In the temple, the thousand-hand Buddha, golden carving of the Chinese character 佛 (meaning Buddha), Wulao Peak, and the grand and massive buildings have created an atmosphere suitable for believers and travelers coming to the temple to pray for endless happiness and health.
The Hall of Celestial Kings, Great Buddha's Hall, the Hall of Great Mercy, and the Depository of Buddhist Texts are important halls in the temple. Some famous Bodhisattva statues of great significance are standing in these halls, smiling quietly and graciously.
There are some restaurants for vegetarians near the temple, recommended for travelers after visiting the temple.
Want to visit South Putuo Temple in Xiamen? Check out our Xiamen tours including South Putuo Temple. You can also contact us for a tour of Xiamen.
2.

Famen Temple, Xi'an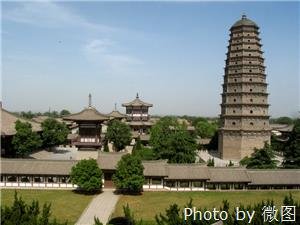 Famen Temple
Famen Temple is located in Famen Town, about 110 km west of Xi'an. It was built at the end of the the Eastern Han Dynasty (25 – 220). Famen Temple is one of the must-see places of Xi'an after the Terracotta Army.
Famen Temple is famous for four important Buddhist relics. During the Tang Dynasty (618 – 907), the Emperor Xizong buried some Buddhist artifacts in an underground palace. These excavated treasures, including four Bodhisattva statues, and some ceramics and silks, are exhibited in the museum of the temple. Therefore, Famen Temple is a holy place for Buddhism.
Want to visit Famen Temple? We can help you design a trip to Xi'an including Famen Temple. You can also contact us for a tour of Xi'an or a tailor-made tour.
3.

Nanshan Temple, Sanya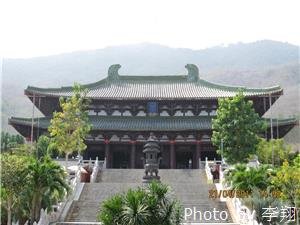 Nanshan Temple
Located in Nanshan Buddhist Tourism Area in Sanya, Hainan Province, South China, Nanshan Temple is famous for the world's tallest Guanyin Bodhisattva.
The buildings of Nanshan Temple show the features of Chinese ancient architecture well, with grand halls, red roofs, and white walls. Nanshan Temple looks beautiful against the background of the sea and mountains, and it is regarded as an auspicious place for the Buddhism.
Other attractions in the temple include the Golden Jade Guanyin Statue and Sea Watch Terrace. The spirit of happiness and tranquility, the Buddhist culture, the garden architecture, and natural scenery, make Nanshan Temple a great place, not only for praying, but also for sight seeing.
We can help you book a trip to Sanya including Nanshan Temple. You can also contact us for a tour of Sanya to enjoy the special tropical scenery of South China.
4.

Wannian Temple, Mount Emei

Wannian Temple is one of the major temples on Mount Emei in Sichuan Province, Southwest China. It was initially built in the Eastern Jin Dynasty (317 – 420), and then destroyed by a fire. In 1953 it was rebuilt.

There are three treasures in the temple: the Beamless Hall, the Puxian Buddha, and the Tooth of Buddha.

A legend of Wannian Temple goes that there is a special kind of frog in the rectanglular pond to the right of Wannian Temple, and people can hear melodious sounds from the pond in the evening.

Do you want to visit Wannian Temple? Book a tour of Mount Emei including Wannian Temple.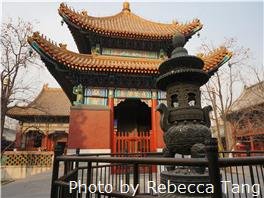 Yonghe Lama Temple
Yonghe Lama Temple is located in the northeast of Beijing with a combination of traditional Chinese and Tibetan architectures. It is the largest and the best-preserved lama temple in China.
Yonghe temple was initially built as the residence of Emperor Yongzheng in the Qing Dynasty (1636 – 1911), and then became the center of nation-wide lama administration.
The structure of Yonghe Lama Temple is complicated, because there are many gates and halls in the temple. The Hall of Harmony and Peace is the main room of Yonghe Lama Temple, containing three bronze Bodhisattva statues.
During the Spring Festival a temple fair is held in the temple. Thousands of travelers and pilgrims come to the temple to pray for the New Year and enjoy Chinese traditional folk culture.
Want to visit Yonghe Lama Temple? Click here for a tour including Yonghe Lama Temple. You can also contact us for a tour of Beijing or a tailor-made tour.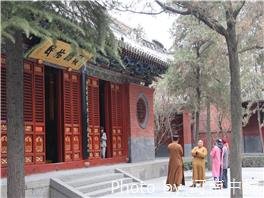 White Horse Temple
Known as the cradle land of Chinese Buddhism, White Horse Temple is one of the oldest Buddhist temples, and contains a bounty of Buddhism items. It is located about 7 km from Luoyang, Henan Province, North China.
It was initially built as a summer resort for Emperor Liu Zhuang in the Han Dynasty (202 BC – 220 AD). Two Indian monks on a white horse presented the Han emperor with some Buddhist figures, so the temple was called "White Horse Temple".
The architecture of the temple has a history of over 1900 years. The Hall of Heavenly Kings, Hall of Great Buddha, Hall of Guidance, Hall of Mahavira, and Cool and Clear Terrace stand in order, creating an atmosphere of tranquility and holiness.
Want to go to White Horse Temple? You can also contact us for a tour of Luoyang.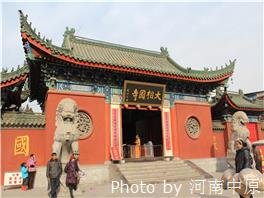 Daxiangguo Temple
First built in the Northern Qi Dynasty (550 – 577), Daxiangguo Temple is known in China as a famous Buddhist monastery. It is located at the center of Kaifeng, Henan Province.
It was once used as a worship place for the royal family, and to hold national Buddhist activities. In 1992, the drum tower and the bell tower were rebuilt and Buddhist activities were resumed. Now the layout of the temple is well-arranged and magnificent.
There is a sophisticated wooden carving statue of the Avalokitesvara (Guanyin) Bodhisattva in Octagonal Glazed Hall , which is praised as one of the most outstanding examples of wooden carved art in China.
Do you want to go to Daxiangguo Temple? Tours including Daxiangguo Temple have been designed for you. You can also contact us for a tour of Kaifeng.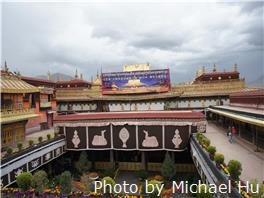 Dazhao Temple
Dazhao Temple is the first Lamaism Temple in Hohhot, North China.
The main gate, Heavenly King Hall, Bodhisattva Hall, Scripture Hall, and Buddha Hall are the main structures making up the temple, with distinct features of Tibetan architecture. With grand statues and a collection of Buddhist scriptures, Dazhao Temple is one of the must-see places in Hohhot, and attracts thousand of visitors and worshippers every year.
There are many treasures in Dazhao Temple: the Silver Buddha Statue, the Dragon Carvings, and the murals from the Ming Dynasty have great historical and art value.
Want a tour of Dazhao Temple? See our tours of Hohhot including Dazhao Temple.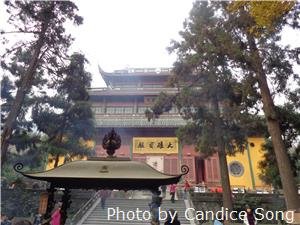 Lingyin Temple
Complemented by a large number of grottoes and religious rock carvings on the adjacent Peak that Flew Hither, Lingyin Temple is one of China's most important and beautiful Buddhist temples, situated in Hangzhou, Zhejiang Province, East China.
The halls and pavilions in the temple, as well as the many famous Buddhist statues, show a grand combination of Chinese ancient architecture and cultural relics.
After visiting Lingyin Temple, many visitors enjoy the vegetarian dishes in the restaurant near the temple.
Do you want to visit Lingyin Temple? Contact us for a tour of Hangzhou including Lingyin Temple or a tailor-made tour of Hangzhou.
10.

Ta'er Temple, Xining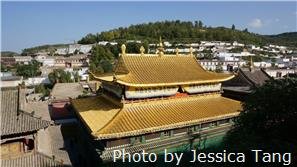 Ta'er Temple
Ta'er Temple is one of China's biggest Tibetan Buddhist temples, located 25 km from Xining, the capital of Qinghai Province, northwest China.
It has scripture halls, Buddha halls, a lama's residence, and Buddhist pagodas. The Grand Golden Tilt Palace, the Tathagata Eight Towers, the Grand Sutra Hall, and the Flower Palace highlight the beauty of the Han and Tibetan architecture.
The butter sculptures, frescoes, and padded embroidery are three attractions.
Want to visit Ta'er Temple? See our tours of Xining including Ta'er Temple. You can also contact us to tailor-make a tour of Xining.
Further Reading

China Highlights
Questions and Answers About China's Top 10 Temples and Monasteries
April Offer $25 Coupon
Send your inquiry before Apr. 30, 2014, and we will email you a $25 coupon.
The coupon is valid till Dec. 31, 2014, for paying tour packages worth $250 or up.
The coupon cannot be used for paying flight tickets, train tickets, hotel rooms and day trips.
Travel Advice or Question? Ask us here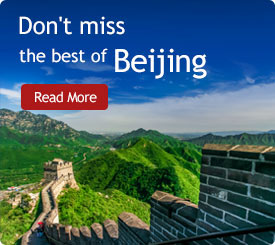 The Most Popular Articles
The Latest Travel Articles