Urumqi Travel Guide
Scenery of Urumqi city, the largest city in Western China
Urumqi, capital of Xinjiang Uyghur Autonomous Region, is the largest city in Western China and possibly the largest in Central Asia, with some excellent scenery in nearby Heavenly Lake and South Pasture. It also holds the record for the remotest major city in the world 2,500 km (1,400 mi) from the nearest sea.
It is a booming modern industrial city of approaching 3 million, its spectacular growth fueled by mining and oil revenues. Although located on the Silk Road, it has only really emerged in the last 200 years. However, Xinjiang is rich in history, and the greatest collection of its artifacts can be found in XInjiang Museum.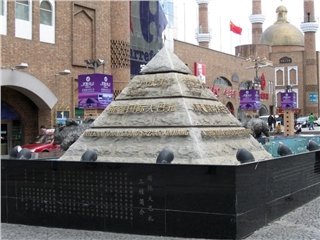 Urumqi is a good place to start a tour of Xinjiang.
The vast territory of Xinjiang (bigger than Alaska) is the eastern frontier of Central Asia, but only about 30 million people live in it. About a tenth of the people, about three million, live in Urumqi. Some of the best scenery, hiking, and ancient sites in China are in Xinjiang, and Urumqi is the ideal place to start a tour of the region. It has one of China's big international airports and is Xinjiang's transportation hub.
Xinjiang has a tragic and interesting history, going through lots of changes of rule since the time of the Han Dynasty (206 BC - 220 AD). A Silk Road route went through the city. Xinjiang has large and very high mountain ranges, the Silk Road city of Kashgar which retains the atmosphere of its major trading post days, and arid Turpan, the lowest land in China, with its ancient ruins and irrigation system, and grape production.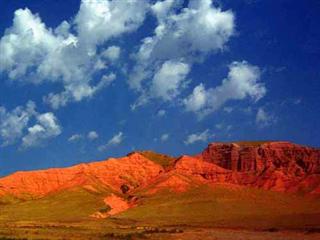 The flaming mountain, a famous travel site of Turpan
Turpan is only about two hours from Urumqi. Turpan is a great travel site near an extremely arid and hot desert. Around Turpan you can see the vast Karez irrigation tunnels, the Flaming Mountains with the ruins of the ancient city of Gaochang and Jiaohe, big Buddhist grotto sites, lush grape farms, and some real Central Asian culture.
Urumqi is a base for touring the area, and the local highlights include the Uyghur Regional Museum with ancient Caucasian artifacts and mummies, the International Bazaar as an interesting place to shop, and the nearby Tianshan Mountains that have beautiful, forested mountains, lakes, and glaciers like the Alps.
If you can travel all over this great region, you can see ancient sites and natural beauty unlike the rest of China. The deserts are bigger, the basins are deeper, and the mountains are higher and emptier than anywhere except Tibet. The ancient remains left by Caucasian people are highly unusual. There has been a big mix of races, cultures and religions in the area, and all those tribes and empires left behind exotic remains. Since the region is so big and empty, hiking and camping there would offer a truly wild experience.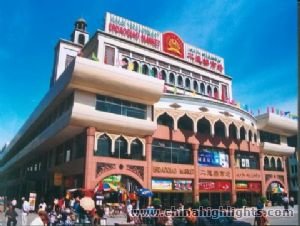 Busy International Bazaar, local products for sale
Urumqi itself is basically a Chinese city. About ten percent of the population are ethnic minority people, mostly Uyghur. The International Bazaar, also called the Big Bazaar (Da Baza 大巴扎 /dah bah-dzah/) or Erdaoqiao Market, is especially lively on summer evenings, and you can see a lot of local and regional products for sale. A lot of uniformed security guards and police are stationed around it. Next to the bazaar is Xinjiang Silk Road Museum at 160 Shengli Road. You can learn about the ancient Silk Road and about the region and its history. Bus 110 stops very close to it. The Urumqi Museum is located at 123 Nanhu South Road (南湖南路 123). The Xinjiang Uighur Regional Museum has Caucasian mummies that date from about 2,000 BC to 400 AD. They are thought be part of the biggest archeological discoveries of the past hundred years because they shed new light on the history of Eurasia.
About 150 km (93 miles) southeast of Urumqi, on the northern side of the Turpan Depression, is the small, mainly Uighur city of Turpan, which has about 300,000 inhabitants. It is a very lush irrigated area. Around the city of Turpan are the ruins of Jiaohe, the Flaming Mountains, named in the ancient Chinese fairytale "Journey to the West" (Xi You Ji 西游记 /sshee yoh jee/), the Astana Burial Grounds, and the Bezeklik Thousand Buddha caves, which are mostly in ruins. Water flows via underground viaducts that are thought of as one of the world's biggest ancient construction projects. Before modern technology, they were what made the otherwise arid land of Turpan fertile and livable.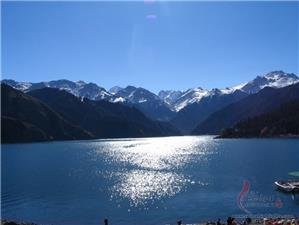 Enjoy the Beautiful natural scenery of Heavenly Lake and ease your mind here.
The natural scenery and hiking areas near Urumqi include Heavenly Lake (天池) that is east of Urumqi on Bogda Mountain at an elevation of about 2,000 meters or about 6,500 feet. The beautiful highland lake is flanked by rugged pines and cypresses and has clear water that reflects the surrounding mountains. You can hike and camp in the valley. For an extended hike, you can hike up Bogda Peak through forests and meadows. You can hike further up and see glaciers. For some softer hiking and lowland scenery, there is a grass covered mountain area called South Pasture about two hours south of Urumqi.
Features
The hub of an exotic and vast frontier territory.
Beautiful natural scenery and intriguing ancient remains.
One of the deepest and hottest basins on earth at Turpan.
History
The area around Urumqi has a history of interaction and conflicts of many peoples. Archeological evidence, like the mummies found in the Xiaohe Tombs near the far western border of Xinjiang and in other places, show that 3,000 or 4,000 years ago Caucasians lived in the area. Since no Mongoloid mummies or Mongoloid people's artifacts have been found that date before 1,000 BC, this is evidence that the original inhabitants of the area were Caucasians. It was thought previously that Caucasians mainly lived in Europe.
DNA testing on certain mummies showed that they were related to Scandinavians, and their woolen clothing was found to be similar in make and style to clothing from the same period in Europe. The clothing and artifacts that have been studied in the last few years show that their technology was more advanced than thought possible for the region at that time. So, in the last few years, historians have had to rewrite the history of Eurasia. It is obvious that Central Asia was linked culturally to Europe. Some mummies and their artifacts can be seen in the Xinjiang Uyghur Regional Museum.
Perhaps it was these people who supplied jade to the Shang Dynasty (1766–1122 BC), since the jade found in the Shang Dynasty tombs was known to be from an area of Xinjiang near Tibet. When Silk Road trade started to flourish between the Han Dynasty (206 BC–220 AD) and the West, Urumqi was a trading town and garrisoned by Han troops. It was an outpost far west of the Great Wall and the Gansu Corridor that the Han Empire controlled. Caucasian Tocharians built Buddhist temples and cities in Turpan and along the Silk Road, and they helped to convert China to Buddhism.
Skipping a lot of history, when the Tang Dynasty (618–907) was attacked by Tibet and lost much territory, Uyghur people took control of northern Xinjiang, around 842 AD. After that, Manichaeism was the main religion of the Uyghurs. The religion is now extinct, but it was once one of the world's major religions. Then some of the Uyghurs adopted Buddhism, and others accepted Nestorianism, a kind of Christianity. Later, the Uyghurs in the west of Xinjiang converted to Islam, but a lot of eastern Uyghurs maintained their three older religions until the 1400s or later. There was warfare between the different Uyghur groups. In the 17th century, the Mongolian Dzungars established an empire over much of the region. But then the Qing Dynasty exterminated them, and it is thought that a million people were killed in a large region around Urumqi. The Qing Dynasty brought in people from other areas to resettle the area.
During the middle of the 19th century, there were several big rebellions of Muslims in Yunnan, Shaanxi Province and Gansu Province. These rebellions were encouraged by the initially successful Taiping Rebellion, instigated by a Christian sect. In 1864, the Uyghurs and non-Uyghur Muslims started a rebellion in the area of Xinjiang. The Qing Dynasty (1644–1911) quickly retook most of their lost territory
Touring Activities
Eat some local produce. Xinjiang is famous in China for the quality of its fruits, nuts and vegetables.
Explore the city. Go to the three museums. See the mummies. Shop at the Bazaar.
Go on an excursion to Turpan three hours away.
Go hiking in South Pasture or around Bogda Mountain and Heavenly Lake. Sometimes you can find accommodation in the yurts or tents of the people in the mountains.
Travel Essentials
1) Location: Urumqi is in central northern Xinjiang Uyghur Autonomous Region, which makes up Northwest China.
2) How to get there: Urumqi Diwopu International Airport is about 20 kilometers north of the center of the city. By train, Beijing and Shanghai are about 43 hours away. Kashgar is about 24 or 30 hours away by rail.
3) When to go: Xinjiang is miserably cold in the winter. During the hottest summer months, July and August, the temperature often goes over 32 degrees Celsius or 90 degrees Fahrenheit, but the dry climate makes the weather comfortable. In the evenings, the weather is perfect or slightly cool. Summer is the best season to go to the mountains. For visiting lowland areas, late spring and fall are OK. A lot of fresh fruit and vegetables are harvested in the autumn.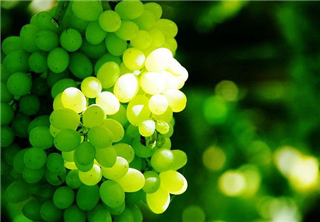 Uyghurs like dried fruits and nuts and Xinjiang is rich in grape.
4) Food: Uyghur food is generally like Lanzhou-style food (lots of wheat products, including hand-pulled noodles), but uses fresher ingredients. They also eat more diary products. Uyghurs like dried fruits and nuts, and a typical breakfast might be bread and tea with yoghurt, almonds, olives, honey and raisins. All over China, Uyghurs are known for their big nutty fruitcakes that taste really good if they are well made.
5) Travel Advice: Check the news or contact China Highlights' travel advisors before you go.
6) People speak Chinese languages: Unlike in the eastern cities, fewer people speak English. So it is a good idea to book a tour package or contact us for a tailor-made tour. If you go by yourself, it would be better if you have the name of your destination in Chinese written on a piece of paper to show the taxi drivers.
Nearby Attractions
About two and a half hours east of Urumqi is Heavenly Lake near Bogda Mountain. About two hours south is South Pastures, where you can perhaps rent a yurt to stay the night. A little further south in the range are higher peaks over 4,200 meters or 14,000 feet and glaciers. To reach the glaciers and spectacular views, go to the town of Hou Xia.
There is a new ski resort in the Heavenly Mountains (Tian Shan) called Ping Tian Resort. It is being billed as China's first luxury ski resort, and it is open in the winter. It is just getting started. It is being developed by well-known North American skiing industry leaders who have developed some of the world's most famous ski resorts.
Turpan is more than three hours away. Kashgar is a Silk Road city on the far western border next the Himalayan ranges. Kashgar is between 23 and 33 hours away by train.

Questions and Answers About Urumqi Travel Guide
Zara
2013-07-02
Show Answer
Me and my friends would like to travel to Urumqi by train from Kuala Lumpur . This is sort of back packets trip. Please advise.
Dear Zara, There is no train from Kuala Lumpur to Urumqi and you'd better take an International flight to get there. Please check the price on this website: http://www.flychina.com/ Lussie Lu replied on 2013-07-03
Kate
2013-04-21
Show Answer
My friends want to take the train from Beijing to Urumqi at the end of June and want to know if it is better to travel on the train on the weekend or during the week? Does one have an advantage over the other? They are American citizens. Will there be any difficulty getting tickets there? (the fast train) They will be traveling with two children. Any suggestions?
Dear Kate, There are two T trains every day from Beijing to Urumqi. It takes about 35 hours at least and the cost of the soft sleeper is about CNY880/US$S$142 per person. It is not easy to buy the train tickets. I suggest you take a flight instead of the train. It takes about 4 hours. You could find a good price on our website. Please click: http://www.chinahighlights.com/china-flights/ Lussie Lu replied on 2013-04-22
Naveed
2013-01-21
Show Answer
Hello, i want to visit urumqi on 25-january with my wife and 3 years old son and back on 27 January. can you please tel me is it feasible to visit there in this weather or not, and kindly tell me the cheapest flight from chongqing to urumqi and back and a good 3 star hotel.
Dear Sir, During that period, the average temperature will be -5℃ to 12℃(23℉ to 53.6℉), it will be so cold. You need to take down jacket and sweaters. If you don't care the cold weather, you could visit there then. According to the rate of flight ticket, it varies frequently depending on the policy of airlines. You could check it and book it on our website directly. Please click: http://www.chinahighlights.com/china-flights/flight-list.asp?QueryID=4587808&fcook=2013012210134846&star=CKG&dest=URC&rDate=2013-1-25 We usually recommend City hotel to our clients. There are many options about the 3 star hotels, please click:http://www.chinahighlights.com/hotel/search-hotel.asp Lussie Lu replied on 2013-01-21
Maxien
2013-01-13
Show Answer
Can you get me a train ticket from Urumqi to Beijing leaving U on 1st Feb? Soft or hard sleeper. Doesn''t matter if you have to get me there via Lanzhou as long as I leave on 1st.
Hi Maxien, sorry, we don't offer the only tickets booking service.
Whitney Liao replied on 2013-01-14
Michelle Yong
2012-09-26
Show Answer
I am not a fan of visiting China. I have so far travelled to China - Zhuhai / Hongqi due to business trip. However, I am planning to travel to DunHuang and Urumqi because these places are unlike other parts of China - the culture is so rich and the people are different. If we travel from Xian to Urumqi, how much is the air ticket (one way)? How many days required especially we want to explore the villages or rent the yurts? Then, train from Urumqi to DunHuang, how much is one way? How many days required in DunHuang / Crescent Lake / Enchoing Sand Dune. After DunHuang, we will go back to Xian which we want to visit Terracotta and the Great Wall. How much is the air ticket? How many days required in Xian?Thank you.Regards,Michelle
Hi Michelle, from Xian to Urumqi, the air ticket (one way)is CNY2050. Usually it takes 3-4days for you to explore the villages or rent the yurts. The train from Urumqi to DunHuang is about CNY400 for soft sleeper, one way. It usually needs 3 days in DunHuang / Crescent Lake / Enchoing Sand Dune. There is no flight from DunHuang to Xian. The Terracotta Warriors is in Xian but the Great Wall is in Beijing. Usually it takes 2-4 days in Xian, as well as in Beijing. Whitney Liao replied on 2012-09-28
Hi Whitney Possible that you reply to my enquiry via email as I would like to discuss further with you about the itinerary. My email address : michelle@woatravel.com We will be arriving Chengdu from Kuala Lumpur (a total of 8 - 10 pax). We do not know what is the best plan as per below proposed itinerary and can you please advise us:- a.) Kuala Lumpur - Chengdu - Xian - DunHuang / Crescent Lake - Urumqi / Turpan - Chengdu - Kuala Lumpur (End) b.) Kuala Lumpur - Chengdu - Xian - Urumqi / Turpan - DunHuang / Crescent Lake - Chengdu - Kuala Lumpur (End) Thank you. Michelle MichelleYong replied on 2012-12-17
Hi Michelle, plan(a)is better. Because there is no direct flight from DunHuang to Chengdu. Whitney Liao replied on 2012-12-18
Hi Whitney Can we discuss further via email as we would like to engage your company to plan this trip for us? My email address : michelle@woatravel.com. Basically, we would like your company to plan:- - hotel in all the cities - tour & transport (land, air, train & camel at Enchoing Dessert) - chinese speaking guide - Uygur Village visit - Yurts Rental No Meals are required. Appreciate our communication via email and look forward to your itinerary and quotation. Thank you. Michelle MichelleYong replied on 2012-12-21
Hi Michelle, thanks for getting back to me. My colleague in charge of it will send you the itinerary ASAP. Whitney Liao replied on 2012-12-23
April Offer $25 Coupon
Send your inquiry before Apr. 30, 2014, and we will email you a $25 coupon.
The coupon is valid till Dec. 31, 2014, for paying tour packages worth $250 or up.
The coupon cannot be used for paying flight tickets, train tickets, hotel rooms and day trips.
Travel Advice or Question? Ask us here
Urumqi Facts
Chinese Name: 乌鲁木齐
Chinese Pinyin: wū lǔ mù qí
English Name: Urumqi
Location: Northwest China
Latitude: 43° 77′ N
Longitude : 87° 68' E
Area: 14,000 sq. km. (5,450 sq. mi.)
Time Zone : (UTC+8)
Area Code: 0991
Population: 2.33 million