Urumqi Transportation
Urumqi is the capital city. The transportation linking Urumqi with other China's big cities is very convenient: air transport and train transport are both available. Coach transport is mostly used for the transportation between Urumqi and other districts in Xinjiang.
Air Transport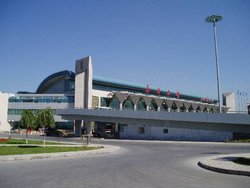 Urumqi International Airport, an important airport in Western
Urumqi International Airport (地窝堡机场) is one of the most important airports in West China. The airport has 113 air lines, including 99 domestic air lines (to Beijing, Shanghai, Guangzhou, Guilin, Hong Kong, Xi'an, etc.) and 24 international air ines (to Islamabad, Moscow, Novosibirsk, Alma-Ata, Bishkek, etc.).
Xinjiang has vast area. Several regional airlines connecting Urumqi with other tourist destinations within Xinjiang are also available, including flights to Korla, Kuqa, Aksu, Kashgar, Heitan, and Yining.
Airport Transportation
The airport is about 17 kilometers (about a half drive) from Urumqi City. Visitors can either take a bus or take a taxi to the airport.
Bus
Airport shuttle bus (from Kempinski Hotel to the airport)
Departure time: departs every 30 minutes from 06:30 to 08:00, and every 1 hour from 08:00 to 23:00; in winter days, the shuttle bus departs every 30 minutes from 07:00 to 09:00, and every 1 hour from 09:00 to 23:00.
For shuttle bus from the airport to Urumqi urban area, it runs at the time when a flight arrives.
Price: 10 yuan
Duration: about 30 minutes
Bus 51 or bus 27 is also available. The operation time is from 07:30 to 23:30, and the price is only 1 yuan. However, the buses only arrive at the gate of the airport, so passengers need to walk about 10 minutes to get to the terminal building. The entire journey takes about 2 hours.
Taxi
Taking a taxi to the airport from Urumqi urban area coats about 30 yuan, and 5 yuan is needed for parking at the airport. Many taxi drivers at the airport refuse to turn on the meter. China Highlights suggests passengers not take a taxi unless the driver agrees to meter.
Train Transport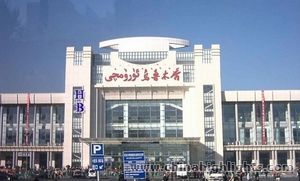 Urumqi Railway Station
Urumqi has two railway stations: Urumqi Railway Station (the former Urumqi South Railway Station) and Urumqi West Railway Station.
At present, Urumqi is linked with 11 domestic cities by railway, including Xi'an, Hangzhou, Beijing (Beijing West Railway Station), Shanghai, Wuhan (Hankou Railway Station), Chengdu, Lanzhou, Chongqing (Chongqing North Railway Station), and Zhengzhou.
Urumqi Railway Station is located in Qingfeng Road (青风路), operating trains to northern Xinjiang area. You can take BRT1, or take bus 10, 16, 20, 36, 44, 50, 52, 58, 903, 906, 909, or 915 to get to the station direct.
Urumqi West Railway Station (乌鲁木齐西站) operates trains to southern Xijiang area and other domestic cities. You can take bus 18 to get there.
For transportation between these two railway stations: You can take a train from the south one to the west one (2 yuan for a ticket). You can take bus 909 or take a taxi (costing about 45 yuan).
Coach Transport
The road network in Xinjiang is centered on Urumqi. You can take a coach from Urumqi to other regions in Xinjiang. There are several coach stations in Urumqi, and China Highlights has listed them out below.
Jungong Coach Station (军供客运站): You can take bus 2, 8, 10, 16, 20, 36, 44, 50, 52, 58, 903, 906, 909, or 915 to there.
Nanjiao Coach Station (南郊客运站): You can take bus 7, 9, 39, 51, 55, 68, or 910 to there. Buses to Hetian, Kashgar, Karghalik, Turpan, and Korla all depart from this station.
Mingyuan Coach Station (明园客运站): You can take bus 2 or 52 to there.
Beijiao Coach Station (北郊客运站): It is the terminal of bus 45, 75, 103, 529, 901, 906, 914, and 921.
City Transport
The city bus transport in Urumqi is very convenient. The price is 1 yuan, but after 22:00, the price is 1.5 yuan.
For taking a taxi in Urumqi: 6 yuan is charged for the first 3 kilometers, and 1.6 yuan for each subsequent kilometer (1.8 for each subsequent km at night). At night, a male passenger should not sit at the front passenger seat, according to the taxi management regulations in Urumqi. Remember to ask the driver turn on the meter when you are taking a taxi. Taking a taxi in Urumqi urban area will not cost over 80 yuan.
Questions and Answers About Urumqi Transportation
Daksha Hargovan
2013-05-11
Show Answer
I am wanting to travel from Urumqi to Bole by train-- I live in South Africa, how do I buy a ticket for a soft sleeper, I am arriving in Urumqi by plane on 28 May
Dear Daksha, There is only one train every day from Urumqi to Bole, you could submit your inquiry on our website, our colleague will deal with your case. Please click: http://www.chinahighlights.com/china-trains/search-result.asp Lussie Lu replied on 2013-05-13
louisa
2013-03-08
Show Answer
I am looking to get a train from Urumqi airport to Bole on May 29, 2013, how do I buy ticket? Looks like I will be arriving in Urumqi at 1200 noon. Sincerely, Louisa
Dear Sir or Madam, There is only one train from Urumqi to Bole every day. It sets off at 23:58pm and arrive in Bole on 9:26am the next day. It costs about CNY175/US$28 for the soft sleeper. Lussie Lu replied on 2013-03-10
Steve
2011-11-29
Show Answer
What about rail travel and contact information?
What kind of specific information are you looking for? Can you explain your questions in a specific way? guest replied on 2011-11-30
April Offer $25 Coupon
Send your inquiry before Apr. 30, 2014, and we will email you a $25 coupon.
The coupon is valid till Dec. 31, 2014, for paying tour packages worth $250 or up.
The coupon cannot be used for paying flight tickets, train tickets, hotel rooms and day trips.
Travel Advice or Question? Ask us here

China Highlights
Urumqi Travel Guide