Xiamen Transport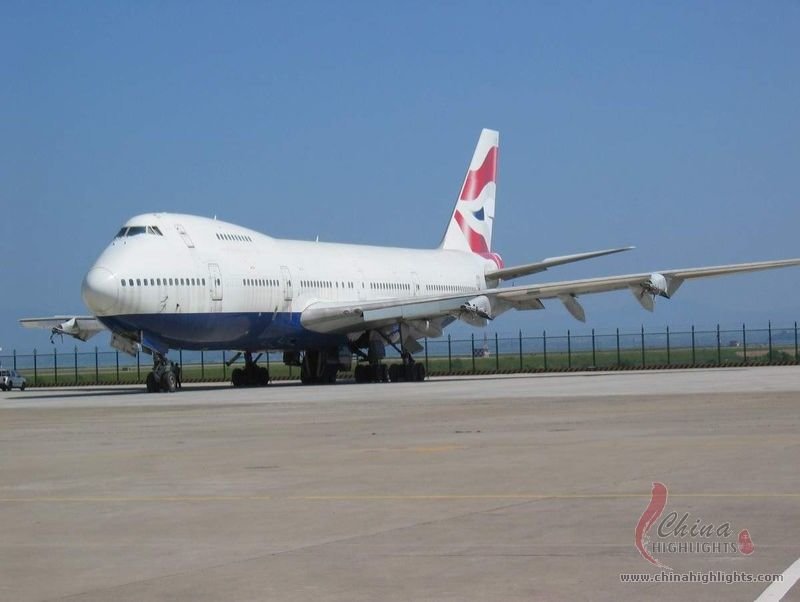 Xiamen is a graceful costal city in South China and is a really popular tourist city in China. Facing to Taiwan Island, Xiamen plats an important role on the transportation between Chinese mainland and Taiwan Island. Means of transportation to Xiamen can be air transport, train transport, coach transport and ship transport. The transportation within Xiamen is also very convenient: taxi, city bus, ferry and bicycle are all available. Nowadays, Taiwan Island has become a growing tourist destination via Chinese mainland, which makes Xiamen much more popular than before. You can contact us to customize your own China tour, including traveling to Xiamen and Taiwan.
Air
Xiamen Gaoqi International Airport (厦门高崎国际机场) is merely 10 kilometers from the downtown. It is one of the four leading international airports in China after Beijing, Shanghai and Guangzhou. It has opened daily flights to more than 40 large and medium cities at home, such as Beijing, Chengdu, Guangzhou, Guilin, Hangzhou, Shanghai, Xi'an, Mount Putuo, Mount Wuyi and SHenzhen. It also has direct flight to and from Hong Kong, Macao, Bangkok, Singapore, Manila, Seoul, Amsterdam and Osaka. You can search or book a flight to and from Xiamen on Xiamen flight.
Airport Transportation
1. Airport shuttle bus: The airport shuttle bus runs between the airport and Xiamen Railway Station (厦门火车站), being available from 08:30 to the arrival time of the last flights. Passengers can catch an airport shuttle bus at the park, which is about 5-minute walk west from the exit of arrival hall. The ticket is 6 yuan.
2. City buses: Passengers also can take a city bus to travel between the airport and Xiamen urban area. The ticket is cheap: 1 yuan, but the bus station is about 1 kilometer from the terminal building. These buses are: bus 27 (ends at 21:20), 37 (available 06:30–22:15), 41 (available 06:30–21:40, and the ticket is 2 yuan), 81 (available 06:45–22:05) and 91 (available 06:32–21:15). Passengers in Xiamen Railway Station can take bus 37 to the airport, and that for passengers in Ferry Terminal is bus 27.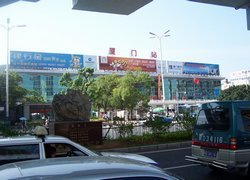 Xiamen Railway Transportation
Trains
Every day, there are more than 100 trains come and go from Xiamen Railway Station to many domestic cities, including Fuzhou, Hangzhou, Wenzhou, Ningbo, Shanghai, Beijing, Guangzhou, Nanchang, Nanjing, Xi'an, Chongqing, Guiyang, Kunming and Taiyuan, and the trains to Fuzhou, Shanghai, Ningbo and Hangzhou are bullet trains, which are much faster than common trains. You can search the train schedule on Xiamen train schedule. Check out the introduction and the location of Xiamen Railway Station.
Xiamen Railway Station is located in the junction of Xiahe Road (厦禾路) and Hudong Road (湖东路). You can take city bus 16, 18, 21, 25, 28 or 37 to get there.
Bus/Coach
There are three bus stations in Xiamen, which are:
Songbai Long-Distance Bus Station (松柏长途汽车站), located in 211 Lianyue Road (连岳路211号), the bus routes are 24, 31, 86, 98, 201, 506, 530, 805 and 812,
Hubin Long-Distance Bus Station (湖滨长途汽车站), located in 59 Hubin South Road (湖滨南路59号) ,the bus routes are 10, 15, 23, 43, 45, 506 and 810,
and Jimei Long-Distance Bus Station (集美长途汽车站), located in 159 Jimei Yinjiang Road (集美银江路159号), 18, 55, 56, 67, 79, 106 and 616.
Every day, there are direct buses departing to many domestic cities, such as Shanghai, Nanjing, Hefei, Nanchang, Yingtan, Fuzhou uanzhou, Zhangzhou, and Longyan (a county famous for Hakka Earthen Buildings).
Xiamen City Transportation
City Transportation
City Bus
The city bus network in Xiamen is well developed. At present, Xiamen urban area has more than 50 bus routes, and Ferry Terminal, Xiamen University and Xiamen Railway Station are the main starting point of Xiamen city buses. The bus ticket fare is 1 yuan in summer days and 2 yuan in winter days. In addition, special-line minibuses are available in Xiamen. These blue minibuses have their terminals fixed on the heads. Besides on the station, you can catch one on the way, and the fare depends on the distance you traveled, at least 1 yuan.
Notice: Except some main stations, the city buses in Xiamen might dock in different stations on the up and down journey.
Moreover, there are special-line minibuses. The names of the starting and ending stops are in the window of the bus or written on top. These are usually used by locals, and these kinds of buses are convenient if you can read the signs or know which one to take, because they will often stop along the street if people wave for them and they may stop when passengers call out to get off. The price you pay depends on the distance you travel. People pay when they board.
Sightseeing Bus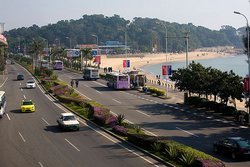 Buses Traveling around the Island
Sightseeing Bus Traveling around the Island (Daytime)
The sightseeing bus is a one-way route. The voyage is 50 kilometers long, and the time for a voyage is 1 hour and 40 minutes.
Major Stops: (Hubin Long-Distance Bus Station)–Jinyuan Mansion Square (金源大厦广场, the starting point)– Great Hall of The People (人民大会堂)–Tourist Ferry Terminal (旅游客运码头)–Heping Port (和平码头站)–Hulishan Battery (湖里山炮台)–Peal Bay (珍珠湾)–Taiwan Folk Village (台湾民俗村)–Haiyun Tai (海韵台)–Yefeng Village (椰风寨)–Convention Center (会展中心)–Zhongzhai Wan Bridge (中宅湾大桥)–JInyuan Mansion Square
Departure time: 08:40–16:40 (departing every half an hour except 12:00, 13:00 and 14:00)
Ticket fare: 20 yuan per person in ordinary days and 30 yuan per person in weekends and public holidays (children with the height under 1.4 meters only need to pay half of the full value.)
Sightseeing Bus for Xiamen Night Scene
The voyage is 60 kilometers long, and the time for a voyage is 2 hours.
Major stops: Jinyuan Mansion Square–Hubin West Road–Hubin North Road–Lianyue Road–Xianyue Road–Jiahe Road–Lianban–Hubin South Road–Lujiang Avenue–Yanwu Bridge–Baicheng (begins to return)–Lujiang Avenue–Xiahe Road–Shifu Avenue–Jinyuan Mansion Square
Departure time: 19:30 (from Monday to Friday), 19:30 and 20:30 during weekends
Notice: You would better keep well the ticket, because it is available on day of issue. You can get off at a stop for sightseeing, and then get on the bus again. However, you cannot get on the bus twice at the same stop.
Taxi
There are plenty of taxis on streets. A Xiamen taxi charges 8 yuan for the first 3 kilometers (about 1.9 miles), and 2 yuan for each additional kilometer.
Bicycle
Bicycle for rent shops are mostly along the Huandao Road (环岛路), the most quiet and beautiful road built along the costal line. You should leave a deposit of about 400 yuan. The cost varies, but it is about 30 yuan per day. You can use these bikes to see the scenery along the road and the sea.
Ferries to Gulangyu Island
If you intend to travel in Gulangyu Island, you need to take a ferry at the Ferry Terminal (轮渡码头), which is located in 15, Lujiang Road, Siming District (思明区鹭江路15号). There are several buses available for traveling between Xiamen Railway Station and Ferry Terminal, including bus 802.
The ferry from Xiamen to Gulangyu is available from 05:30 to 00:20, and the departure terminal is about 15 minutes. A one-way time is 6 munities. You need to purchase an electronic ticket at the Ferry Terminal in Xiamen, and the ticket costs 8 yuan (if you want to sit in the upper deck of the ferry, you need to pay for 1 yuan). The ticket is a round-trip ticket, so remember to keep well the ticket. When returning to Xiamen from Yulangyu Island, ticket checking is needed.

China Highlights
Planning a trip? Ask us here 800-2682918 (USA & CA)
86-773-2831999 (Int'l)
Q:
Andy
Asked on 2013-05-13
Reply
From Gaoqi airport, which trains station is nearest, Xiamen or Xiamen North station?
Dear Andy, Xiamen railwway is nearer than Xiamen North station from the airport. It is about 13 km between the railway station and the airport. You could take a shuttle bus to Xiamen railway station, it costs about CNY10/US$1.6 per person. Lussie Lu Replied on 2013-05-14
Q:
grace tan
Asked on 2013-05-06
Reply
Hi, I want to ask how far is from Hotel Fengyi Siming district going to Xiamen Foreign Language School in haicang. And what transportation can we use? If taxi approximately how much? and how long? Hope you can help me. thanks
Dear Grace, It is about 20 km from the hotel to the school. You could go to the railway station which is about 500 m from the hotel for taking No. 842 bus. Then get off at Foreign Language School station (外国语学校海沧校区站). It takes about 1.5 hours. You also could take a taxi to get there. It takes about 1 hour and it costs about CNY60-80/US$10-13 per car. Lussie Lu Replied on 2013-05-06
Q:
Carl Lim
Asked on 2013-04-11
Reply
Hi , I''d like to ask if the best way to arrive at a town called Wulijie, YongChun is via Xiamen and if I were to travel from Xiamen , how would be the best way to get there ?
Hi Carl, you can take bus from Xiamen to Yongchun first. Then take a taxi to Wulijie.
Whitney Liao Replied on 2013-04-14
Q:
john
Asked on 2013-04-11
Reply
I am flying into Xiamen and relatives are also flying in a few hours later.where can i best meet in the airport, what place we both can easily find ( we should not miss eachother)
Hi John, you can meet at the arriving hall.
Whitney Liao Replied on 2013-04-15
Q:
Andy Chua
Asked on 2013-04-01
Reply
Is the queue for buying tickets at the Xiamen railway station for trains to Quanzhou very long? Can I buy tickets online instead?
Dear Andy, There are many bullet trains from Xiamen to Quanzhou, it is easy to buy the ticket at the railway station. There are only some Chinese website selling train tickets, so I suggest you buy it at the railway station. Lussie Lu Replied on 2013-04-01
Xiamen Travel Guide