Xiamen Weather in August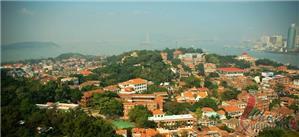 August is another very hot month in Xiamen. As the hottest month of the year, the average temperature hits 28.7°C (83.7 °F), with a minimum temperature of 25.2 °C (77.4 °F) and a maximum temperature of 32.2 °C (90.0 °F). Summer clothes are still suitable. If you go out, wear a hat and a pair of sunglasses to protect yourself from the sun.
The Gulangyu International Piano Art Festival is held biennially in Gulangyu in Xiamen city at the end of July and early August. If you are interested in the piano, go to Xiamen and enjoy the performance.
August is hot and wet with occasional typhoons and thunderstorms. If you are planning to travel to Xiamen during August, pay attention to the weather forecast and go out in fine weather. See our Xiamen tours.
Xiamen Climate Information by Month

China Highlights
Xiamen Travel Guide