Xiamen Weather in February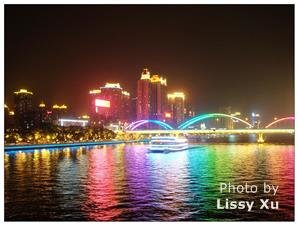 Night view of Xiamen
Weather: In Xiamen, February is usually the coldest month of the year. However, it is often comfortable during the day because the sea tempers the weather. The temperature is not low compared to cities in North China, but it might feel cold at night since there is usually no heating in most places except the top hotels.
Average daily low and high temperatures are 10 °C (50 °F) at night and a cool 17 °C (63 °F) in the afternoon. February is the end of the dry season, but the weather is still dryer than it is most of the year. There is about 100 mm of total rainfall each month, and it rains about 11 days of the month. See the current weather and forecast>>.
Clothing: The weather is cold, and you should wear an overcoat to stay warm outside. It is a little more humid than in January. Take an umbrella with you when it might rain.
Things to Do
Take a trip to Gulangyu Island: On a cold and rainy winter day, you can enjoy the food, coffee, and hot tea at this pedestrian shopping and sightseeing island. It is about 5 minutes from Xiamen by ferry. It might be good for a day trip or an excursion for a few hours. You can walk around and see the old international architecture that date from before WWII. It was once a foreign settlement. There is also sea scenery and several gardens to see.
Enjoy the Nightlife: Tourists can expect expat-friendly restaurants and generally good service and good quality food. The environmental quality is high, and it is known as one of China's cleanest cities. You can take a Lu River night cruise where you'll see the sights along the river while enjoying drinks or something to eat.
Celebrate Chinese New Year
Chinese New Year: In most years, the biggest holiday season in China is in February. So you can generally expect both a lot of festivities and a lot of heavy traffic at the airports, train stations, and bus stations during the "Golden Week" of holidays. There is heavy traffic in the week before and the week after this week too.
When you tour around, you can expect to see festival-related celebrations and temple worship. You can shop at the street markets, try the holiday food, buy souvenirs, and experience the customs. Most people try to be with family and friends during this week, and they celebrate with special food and set off a great amount of fireworks in the several districts where fireworks are allowed. Now, there is a government sponsored joint Taiwan and Mainland fireworks show to enjoy at 8 pm on New Year's Eve. Chinese New Year Dates>>
Low Travel Season
February is generally a low travel month unless Chinese New Year falls in the month. During the holidays and the week before and after, expect crowds at the airport, train stations, and bus stations, and expect higher prices for hotel rooms and greater difficulty reserving flight and train tickets. We can book rooms based on our experience, and perhaps get you a discount.
Why wait in line at crowded stations or ticket counters? Book in advance, and we might be able to deliver your tickets an easy way, and even get them at a discount.
China Highlights Tours
China Highlights plans personal and group tours throughout the country and to other countries such as Taiwan and Vietnam. See our Xiamen tours.
Through years of experience and customer feedback, we've created a variety of tours. Now that there is a new convenient and economical bullet train link between Guangzhou, Hong Kong and Xiamen, we offer a combined Guangzhou and Xiamen Tour that you can modify as per your interests.
Further Reading
Xiamen Climate Information by Month
Questions and Answers About Xiamen Weather in February
Teresa chua
2014-02-17
Show Answer
Hi we are going to Xiamen,Wuyishan mt and Gulangyi Island from 23/2 to 4/3. What is the weather like and what clothes do you suggest we bring
Hi Teresa, the average temperature is from 2° (36°F) to 16 ° (61 °F). The clothes we suggest are wear overcoat, sweater, boots, scarf, etc. Whitney Liao replied on 2014-02-17
If you need any tour service, please feel free to let me know.
Whitney Liao replied on 2014-02-17
shirley
2012-02-05
Show Answer
hi,i want to ask what clothes i need to bring when we go to xiamen an xian on end of february and early march
Hello, It is advised to bring two shirts, a sweater, an overcoat, and an umbrella to Xiamen; two sweaters, a overcoat, a scarf and gloves to Xi'an. Iris Zhong replied on 2012-02-08
Dolly
2011-02-18
Show Answer
Hi my children is going to xiamen on april til may 2011, what is the weather at that time, what clothes can you suggest to bring?Thanks
Hi Dolly, Based on the former data, the temperature ranges from 15-25°C in April and May. There is no typhoon. You can take your shirt, T-shirt. You'd better take a coat in case the temperature reduction. We can customize a China tour for you based on your enquiry. If you need our service, we will be glad to serve you. Lussie Lu replied on 2011-02-20
john wheeler
2010-12-16
Show Answer
what is the temperature in xianmen in feburary
Xiamen (Fujian Province in the South East China Coast) weather in February averages 12oC (54) and the humidity about 79%. Average rainfall is 99mm, and this is this month has the 5th least rain., there are about 12 days rain in this month. Of course on a rainy day with no sun and higher humidity the 10oC can feel cooler. It seems the highest temperature recorded at that time is about 17oC and coldest was about 10oC. Your miss the July to September typhoon season! I wish you a fantastic trip. Andy replied on 2010-12-16
April Offer $25 Coupon
Send your inquiry before Apr. 30, 2014, and we will email you a $25 coupon.
The coupon is valid till Dec. 31, 2014, for paying tour packages worth $250 or up.
The coupon cannot be used for paying flight tickets, train tickets, hotel rooms and day trips.
Travel Advice or Question? Ask us here

China Highlights
Xiamen Travel Guide