Xiamen Weather in March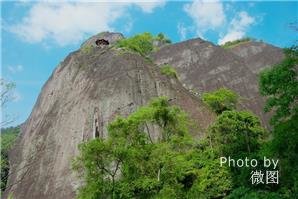 Wuyi Mountain
Weather: Expect cloud or fog. It is the foggiest month of the year.
The average daily minimum temperature is 12°C (53°F), and the average maximum temperature reaches 19 °C (66°F). The temperature gradually increases, as does the relative humidity, creating increasing cloud cover that, in turn, may lead to an increase in temperature.
March has the highest number of days of cloudy and misty weather, and it rains about half of the days of the month for a total of about 125 mm of rainfall.
See the current weather and forecast>>
Clothing: Generally, a jacket and an umbrella or poncho are needed. Ultraviolet radiation is weak.
Things to Do
Take a trip to Gulangyu Island: On one of the cloudy or foggy days, you can take a trip to the small island that is about 5 minutes from Xiamen by ferry and enjoy the restaurants or tea shops and see the old architecture. It was a foreign settlement before WWII, and it is one of the city's main attractions.
In March, the weather warms up enough to enjoy the outdoor attractions, and the gardens start to bloom. You can walk around or take one of the electric carts. Automobiles are not permittedon Gulangyu. It is a pedestrian area now. You can explore the narrow lanes and see the seaside scenery.
Overseas Chinese Museum: On a rainy day, you can head for the local museum for a few hours. Fujian was the homeland of a large percentage of the Chinese laborers who went to work overseas in the 19th century. Find out about the thousands of Chinese who died to build the North American railroads, what their lives were like, and what those few who returned had to say about their experience. People from Fujian spread out to the entire world, and you can learn about their history here. Entrance is free.
Enjoy the restaurants: Enjoy the local high quality international restaurants that the expats have pioneered. Try the local gourmet Chinese seafood too. Xiamen is the richest small cities in China, and as one of the original special economic zones, you can expect good service and good quality food.
Low Travel Season
March is generally a low travel month. The festive holiday season ends in February, and in March, people generally buckle down back to work. Hotel room prices and prices for flight and train tickets moderate. But why wait in line to get tickets? Book in advance, and we can perhaps deliver your tickets to you an easy way, and you'll maybe even get them at a discount.
China Highlights Tours
China Highlights plans personal and group tours throughout the country, to Taiwan, and to other countries. See our Xiamen tours. Through years of experience and customer feedback, we've created a variety of tours.
Take advantage of the newly-opened bullet trains between Hong Kong, Guangzhou and Xiamen. You can travel between Hong Kong and Xiamen in only four hours at 200 kilometers per hour. The cost is economical at 33 USD, and it is worth doing just for the novelty; and it is about 5 times cheaper than a flight. We offer a combined Guangzhou and Xiamen Tour that you can modify as per your interests to include Hong Kong, Macau, and Shenzhen too.
Further Reading

Xiamen Climate Information by Month
Questions and Answers About Xiamen Weather in March
Raymond
2011-02-22
Show Answer
I will be going to xiamen on March 6. How's the weather in Xiamen in March?
Hi Raymond, Xiamen is a coastal city, the weather is not too hot and not too cold. The average temperature is about 15°C. It rains some times. You should take your coat in order to avoid catching a cold. There are some Xiamen tours on our website. click here: http://www.chinahighlights.com/xiamen/tours.htm If you need our service, please don't hesitate to contact us. We will be glad to arrange it for you. Lussie Lu replied on 2011-02-23
April Offer $25 Coupon
Send your inquiry before Apr. 30, 2014, and we will email you a $25 coupon.
The coupon is valid till Dec. 31, 2014, for paying tour packages worth $250 or up.
The coupon cannot be used for paying flight tickets, train tickets, hotel rooms and day trips.
Travel Advice or Question? Ask us here

China Highlights
Xiamen Travel Guide