Beijing Weather in December
Weather: December is the middle of winter in Beijing. It is very chilly, with temperature just rising above freezing during the day, and the air is very dry.
Clothing: In the city, dress for dry winter conditions. If you visit the Great Wall you need to dress like an Eskimo as it is freezing due to the elevation and exposure.
Things To Do In Beijing In December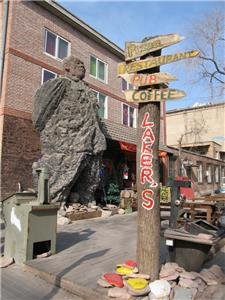 798 Art Zone
During the season of giving many tourist like to receive a once in lifetime gift, the opportunity to see a land beyond their borders, China. Why not spend the most wonderful time of the year in the gem of the orient.
The Great Wall sees few visitors during this time of the year and the scenery is amazing with the snowy mountains. See "What is the best time to visit the Great Wall" and "10 Best Places to See Snow in Beijing" for more.
Chaoyang Acrobatics Theater: If the weather outside is frightful then experience the most mind-blowing theatrical experience anywhere in the world. The acts performed in the Chaoyang Acrobatics Theater are hard to believe, even when you're staring right at these daring performers. The human bike pyramid, the chain tower and acrobatics galore leave audiences with their jaw wide open and drooling for more; it is a must see at any time of the year. Chinese acrobats are the best in the world and Beijing is its epicenter of it all; this is what they do.
Feel Free to Ski: Beijing's northern positioning, its elevation and mountain ranges beckon skiers. Even beginners should give it a try because there is no better way to view the natural settings of Beijing's outskirts; Huaibei for example is surrounded by the Great Wall. Wanlong Ski Resort and Nanshan Ski Resort also run along trails outside the temples and ancient palaces in bygone empires. So come, ski and conquer at any of Beijing's multitude of ski resorts.
Ski resorts around the city begin to open to tourists at the end of December. If you are fond of winter activities and would like to combine your trip with some skiing or similar activities, then it is a good time to visit.
798: The 798 Art District is 600,000 square meters of the sculptures, portraits and crafts that represent Beijing, Chinese and Oriental culture. The galleries burst with artists hailing from every corner of the globe. In December the Christmas Spirit lights up the 798 Art Gallery with Christmas tree displays, caroling and Chinese artistic takes on the holiday. Find this artistic paradise on Jiuxianqiao Road in the north of Chaoyang district.
Low Travel Season: December is not the best time to visit Beijing given the not so pleasant weather conditions. On the plus side however, it is low travel season, and good discounts on hotels and flights can be easily found. Also read: Why Travel to Beijing in China's Winter Low Season?
Beijing Average Daily Temperatures Based on Historical Data
Date
Average High
Average Low
December 1
43 °F
6.11 °C
24 °F
-4.44 °C
December 2
42 °F
5.56 °C
24 °F
-4.44 °C
December 3
42 °F
5.56 °C
24 °F
-4.44 °C
December 4
42 °F
5.56 °C
23 °F
-5 °C
December 5
41 °F
5 °C
23 °F
-5 °C
December 6
41 °F
5 °C
22 °F
-5.56 °C
December 7
41 °F
5 °C
22 °F
-5.56 °C
December 8
40 °F
4.44 °C
22 °F
-5.56 °C
December 9
40 °F
4.44 °C
21 °F
-6.11 °C
December 10
39 °F
3.89 °C
21 °F
-6.11 °C
December 11
39 °F
3.89 °C
21 °F
-6.11 °C
December 12
39 °F
3.89 °C
20 °F
-6.67 °C
December 13
38 °F
3.33 °C
20 °F
-6.67 °C
December 14
38 °F
3.33 °C
20 °F
-6.67 °C
December 15
37 °F
2.78 °C
19 °F
-7.22 °C
December 16
37 °F
2.78 °C
19 °F
-7.22 °C
December 17
37 °F
2.78 °C
18 °F
-7.78 °C
December 18
36 °F
2.22 °C
18 °F
-7.78 °C
December 19
36 °F
2.22 °C
18 °F
-7.78 °C
December 20
36 °F
2.22 °C
17 °F
-8.33 °C
December 21
35 °F
1.67 °C
17 °F
-8.33 °C
December 22
35 °F
1.67 °C
17 °F
-8.33 °C
December 23
34 °F
1.11 °C
16 °F
-8.89 °C
December 24
34 °F
1.11 °C
16 °F
-8.89 °C
December 25
34 °F
1.11 °C
15 °F
-9.44 °C
December 26
33 °F
0.56 °C
15 °F
-9.44 °C
December 27
33 °F
0.56 °C
15 °F
-9.44 °C
December 28
33 °F
0.56 °C
14 °F
-10 °C
December 29
32 °F
0 °C
14 °F
-10 °C
December 30
32 °F
0 °C
13 °F
-10.56 °C
December 31
32 °F
0 °C
13 °F
-10.56 °C
Beijing Climate Information by Month
Questions and Answers About Beijing Weather in December
Jane Suppiah
2014-03-06
Show Answer
Hi, My family & I (7 persons ) are planning a trip to Beijing from Dec 26 - Jan 2. Would you be able to suggest any of your tours to take in the tourist sites ? My children have not seen snow before & we would like to spend a day or 2 in a ski resort close to Beijing .And finally , our flight gets in at 1am in the morning & I plan to stay in the Park Plaza Hotel Wangfujing . Please let me know if transportation can be arranged by your agency & what would the cost be for all of the above ? I look forward to your advise on this matter before making a decision . Thanks for your kind assistance
Hi Jane, thanks for your inquiry. I have sent you a detailed itinerary via email. Please check it. Any questions, please feel free to let me know. Thanks, Whitney
Whitney Liao replied on 2014-03-07
Galadriel
2013-12-08
Show Answer
Hello and thank you for your advice. I would like to know how are the conditions on the train from beijing to lhasa. How are the sleeping cabins. I have been reading some blogs and i am not pleased with that they have to say. The bathrooms are atrocious and the staff is not friendly. I will be traveling with my best friend who is deaf so i hope we will not have any problems. And the taxi situation is no better. One guy said the driver would not relinquish his luggage unless he paid like 3x the fair ughhhh. We booked this tour from dec 17-22 for lhasa. Thank you for any advice you can provide.
Hi Galadriel, Actually on the train,the facility is simple. You need to share the bathroom with ohter passengers. There are four soft beds in a compartment and six hard beds in a compartment. The staff on the train can speak Chinese, Tibetan language and simple English. As it is expensive to buy the food on the train and at the train station, I suggest you'd better prepare some snacks and pure water. By the way, I would like to remind you should apply for a Tibet permit before travelling to Tibet. Wish you a good trip! Lussie Lu replied on 2013-12-09
RAJARSHI ROY
2013-11-26
Show Answer
I am planning a trip to Beijing between January 3rd and 7th , 2014. Will I be able to see all the major toursit attractions like Great Wall of China, Forbidden City or they will be closed due to heavy winter and snowfall during this time of the year.
Dear Rajarshi,
The Great Wall will be closed due to heavy snowfall, but the Forbidden Citystill open during that time. If your tour dates are flexible, it is suggested that you visitBeijingafter March. As a travel agency, we glad to arrange tours inBeijingor other cities inChina. Please feel free contact me at nancy@chinahighlights.net if you need tour arrangement.
Nancy
Nancy Deng replied on 2013-11-26
Helen
2013-11-11
Show Answer
Im going to beijing on 1st - 7th of december 2013.. Will there be snow during my visit?
In Beijing the average temperature in December is probably from 1℃ to 5℃ (33.8℉ to 41℉). It will be windy and may be frozen around the Great Wall area. It is hard to predict if it will snow. I suggest you check detail Beijing weather from following web site. It offers weather forecast for future 7 days.
http://www.weather.com.cn/english/ Carol Wang replied on 2013-11-12
arun kumar kapoor
2013-11-05
Show Answer
we are in bangkok ,we want to visit Beijing from 27 dec to 1 jan.can you informed any tour for this period.
Hi Arun kumar kapoor,
We can customize a tour based on your requirements. But could you please tell me how many people in your group and which type of hotel do you prefer? One of our popular Beijing tour on our website is for your reference http://www.chinahighlights.com/tour/beijingtour/bj-1/You can contact with me at christyluo@chinahighlights.net
Christy Luo replied on 2013-11-06
April Offer $25 Coupon
Send your inquiry before Apr. 30, 2014, and we will email you a $25 coupon.
The coupon is valid till Dec. 31, 2014, for paying tour packages worth $250 or up.
The coupon cannot be used for paying flight tickets, train tickets, hotel rooms and day trips.
Travel Advice or Question? Ask us here

China Highlights
Beijing Travel Guide