Top 5 Shopping Streets in Chengdu
Chengdu is a leisurely city that allows you to experience the fun of a slow life. Chengdu is worth a visit because it is a very developed shopping city, with five famous characteristic streets. By combining the unique street food and shopping experience together, you will be intoxicated by this fabulous city — Chengdu.
Chunxi Road 春熙路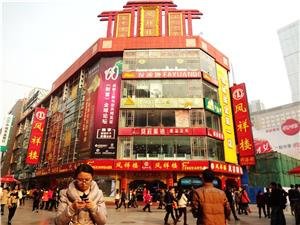 Chunxi Road
Chunxi Road is the most representative, historic, and busy commercial pedestrian street of the city. Compared to other commercial districts in Chengdu, the most significant feature of Chunxi Road is that it brings various brands like Li Ning, Nike and Baleno together with older, more traditional, Chinese shopping malls. Chunxi Road is the favorite shopping area of many foreign tourists and local white-collar workers. Chunxi Road shopping district has no shortage of shopping malls (e.g. Pacific Sogo Department Store, Wangfujing Department Store and hotels (e.g. Holiday Inn, 5 stars; Hyatt Regency, 5 stars; Sichuan Hotel, 4 stars; and more).
There are a number of "traditional Chinese specialties" in Chengdu, all of which are sold on Chunxi Road, such as Zhong dumplings , Lai rice dumplings pork lungs in chili sauce and Korean steamed buns . There are also other fast food restaurants such as McDonald's, KFC, Pizza Hut, Haagen-Dazs, BreadTalk, cafés, tea houses, and so on.
Address: Jinjiang District, Chengdu, Sichuan
Jinli - Chengdu Folk Street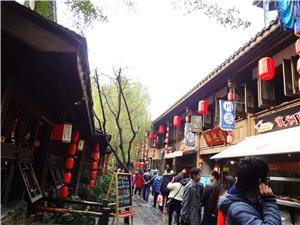 jinli old street
Jinli is located about 350 meters away from the Wuhou Temple. Buildings from the Ming and Qing dynasties can be seen everywhere on this street, giving it a peaceful and classical feeling. You can find pinched clay figurines, sugar paintings and a variety of Sichuan snacks there. The numerous shops have the characteristics of the Three Kingdoms and Chuangxi culture, such as leather shadow puppets, Caoyingba Café, Chopsticks specialty stores, restaurants, bars and pubs, demonstrating that Jinli is a special folk-customs commercial street.
Address: 231, Wuhou Temple Main Street, Chengdu 成都武侯祠大街231号
Bus: take the 57 bus at North Railway Station stop (about 13 stations) to the Wuhou Temple.
The Imperial Examination Lane 科甲巷 - A Trendy Street
The Imperial Examination Lane, near Chunxi Road, is not that long but is very busy. There are more than 40 fashion boutiques and many other personalized shops located in this fashionable street. Trendy young people like to visit both the large and small shops every day, especially since the more famous boutiques are opening in the city center, connecting the Pacific Sogo Department Store, Wangfujing Department Store, and Ito-Yokado of this street. For this reason, the street has been called 'the Highlands in Chengdu'. The representative stores of the whole street are the Chunxi New Museum in the integrated shopping mall, Flower Friends Clothing Store, and the Swiss Butterfly Clothing Store. In addition, there are numerous restaurants and cafes on the street where you can eat, drink, and rest for a while when you feel tired.
Address: Jinjiang District, Chengdu, Sichuan Province
Bus: take the 58 or 81 AC installed public bus, or the 98 to the northern section of Chunxi Road stop.
Wuhou Temple Side Street 武侯祠横街 - Tibetan products Street
This street is opposite the well-known attraction, Wuhou Temple, and is famous as a Tibetan style street. There are dozens of shops selling Tibetan specialty products, with different kinds of Tibetan supplies, Tibetan jewelry, Tibetan food, Tibetan song books, ceremonial statues, and so on. If you like, you can find many unique objects full of Tibetan religious meaning.
Address: Wuhou District, Chengdu, Sichuan
Bus: take the 21 or 8 public bus and get off at the eastern street side of the Wuhou Temple stop.
Songxianqiao Art City 送仙桥艺术城 Antique Art Market
Songxianqiao Art City is less than 300 meters from Qingyang Palace, and 200 meters from Du Fu Thatched Cottage (ranked as the Southwest's fourth largest artwork market). On the second floor of this art city, you will find many reclusive painters who run their galleries as businesses in the market. They have built small museums and art galleries, which is an unprecedented phenomenon in Chengdu's history.
Address: Inside the Huanhua Cultural Scenic Area, Sichuan, Chengdu Province
Bus: take the 19, 35, 58, 82, 165, 170, 309 or 319 public bus to Songxianqiao; then walk 208 meters to the Art City.
Questions and Answers About Top 5 Shopping Streets in Chengdu
April Offer $25 Coupon
Send your inquiry before Apr. 30, 2014, and we will email you a $25 coupon.
The coupon is valid till Dec. 31, 2014, for paying tour packages worth $250 or up.
The coupon cannot be used for paying flight tickets, train tickets, hotel rooms and day trips.
Travel Advice or Question? Ask us here

China Highlights
Chengdu Travel Guide