Giant Panda Breeding and Research Base
The Giant Panda Breeding Research Base is located on Futoushan Mountain in the northern suburbs of the city of Chengdu in Sichuan province. It is about 10 km away from downtown Chengdu, and it can be reached in about 35 minutes by taxi. The Giant Panda Museum is located at the base, and it is the world's only museum that focuses entirely on the critically endangered giant panda. The museum's collection includes displays of panda habitat and of pictures of pandas, and there are many scientific displays that give visitors a comprehensive education on their characteristics, habitat and distribution in the wild, and China's conservation and breeding efforts. The museum also exhibits books and scientific literature that authors around the world have written about giant pandas throughout history.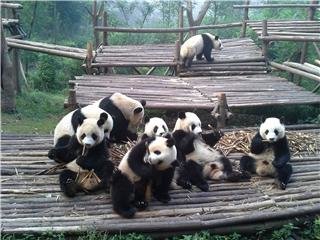 Giant Pandas
The Giant Panda Museum houses giant panda specimens, fossils and dissected pandas. Specimens of panda food is displayed, and the museum also houses many large true-to-life exhibits of giant pandas in their natural environment in ancient times and in their present endangered wild habitats in Qin Ling, Liangshan Mountain, Xiang Ling, Min Shan and Qiulai Mountain. These true-to-life exhibits cover an area of about 300 square meters. The museum educates visitors on their evolutionary history, their ancient and present distribution in the wild, and their current situation as an endangered species, as well as on the present purpose and focus of scientific research. Visitors will see that the Chinese government is making a concerted effort both to protect this endangered animal and its habitat and to promote public awareness and appreciation of this animal that is beloved by people all over the world.
The best time to visit is in the morning, during feeding time between 8:30 and 10:00. After then, it's likely that the bears will be indulging in their favorite pastime. Sleeping!
The Research Center also offers volunteer programs where participants can learn more about giant pandas and help take care of them. See more information of giant panda volunteer program.
Latest Tips on Giant Panda Breeding and Research Base
1. The pandas will sometimes be taken inside. Then you can only see them through a glass wall. 2. Please tell your guide in advance if you want to hold a panda.
Questions and Answers About Giant Panda Breeding and Research Base
Jo
2014-03-01
Show Answer
I see that recently for a donation you are able to sit next to the panda because its too large to hold. I really wanted to be able to hold the panda with it sitting on my lap. Do you have any idea of when the centre would allow visitors to actually hold the panda?
Hi Jo, how long you can hold the panda depends on how much money you pay for it. The prices below is for your informaiton:
Play with 8-month- old panda for about 3 minutes: CNY3000.
Take photos with 8-month-old panda for about 30 seconds: CNY2000.
Feed milk to 8-month-old panda for about 2 minutes: CNY3000
Play with 18-month-old panda for about 3 minutes: CNY2000.
Take photos with 18-month-old panda for about 30 seconds: CNY1000.
Please note this price is only for reference. So if you really would like to interact with the pandas, please prepare enough cash. The price for these activities are very expensive because the behavior itself is a kind of donate to the pandas.
Whitney Liao replied on 2014-03-03
When you say take a photo with the panda does that mean someone else is holding it and you are just standing next to them? Jo replied on 2014-03-04
Hi Jo, it means that you hold a panda, and someone else(e.g. your friend) takes the photo for you. Whitney Liao replied on 2014-03-04
brian
2013-09-20
Show Answer
does the price have to be paid per person to hold the panda? can the price be split between 2 people?
Hi Brian,
Greetings from Cecilia at China Highlights.
The price for holding a panda is for one person, no matter a child or an adult, they should be paid per person and it can't be split between 2 people.
Kind regards,
Cecilia
Cecilia Peng replied on 2013-09-20
Mark
2012-11-26
Show Answer
hello .. if i am staying at crowne plaza is there transport to the Panda Sanctuary?
We're happy to arrange a half-day panda breeding center tour for you. The cost is around USD50 per person for a group of 6 people including the transfers from the hotel to the breeding center. The tour lasts 4 hours. Ruby Zhao replied on 2012-11-26
April Offer $25 Coupon
Send your inquiry before Apr. 30, 2014, and we will email you a $25 coupon.
The coupon is valid till Dec. 31, 2014, for paying tour packages worth $250 or up.
The coupon cannot be used for paying flight tickets, train tickets, hotel rooms and day trips.
Travel Advice or Question? Ask us here

China Highlights
Chengdu Travel Guide