Hangzhou Railway Station
Where the Trains Going to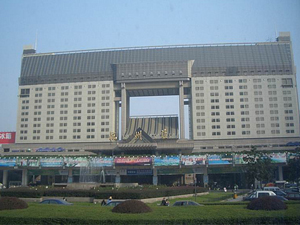 Hangzhou is an important railroad junction in East China. The Huhang Railway (from Guangdong to Hangzhou), the Zhegan Railway (from Zhejiang to Jiangxi) and the Xuanhang Railway (from Anhui to Hangzhou) join here.
Transportation to Hangzhou Railway Station
Bus
The newly-built Hangzhou Railway Station is located in the vicinity of Jiangcheng Road. It can be reached by city buses numbered K7, 11, K11 and 151.
Tips:City buses with single-digit number or double-digit numbers such as Bus No. 5 and Bus No. 19 belong to common buses that charge 1 RMB per ticket. City buses whose numbers start with "1" like Bus No. 153 are electric trams that charge 1 RMB per ticket. City buses whose numbers start with the letter "K" such as Bus No. K33 are air conditioned vehicles that charge 2 RMB for a ticket. Suburban buses with numbers that start with "3" and buses on special lines with numbers that start with "5" have a scaled ticket price depending on distance or destination. For these buses, the initial price is 1 RMB for regular buses and 2 RMB for air conditioned buses. 
Hangzhou Bus Station Service Hotline: 0571-85191122
Hangzhou Bus Station Complaint Phone Number: 0571-85191122
Special Tourist Routes
At present, there are five special tourist bus routes and five holiday touring bus routes in Hangzhou. People can take Tourist Line No. 2 at the train station and Holiday Line No. 5 to tour around Hangzhou.
Holiday Line No. 5travels from Hangzhou Railway Station (8:00—16:30) to Future World Station (8:45—17:15), passing by Kuixiang Station, Guanxiangkou Station, Hubin Station, Liulangwenying Station, Jingci Temple Station, Suti Station, the Zoo Station, Hupao Station, Liuhe Tower Station, Jiuxi Station and Songcheng Station.
Tourism Line 2goes by Hubin Station, Submarine World Station, Silk Museum Station, Jingci Temple Station, Suti Station, Hangzhou Park Station, Yuefei Temple Station, Lingyin Station, Jiulisong Station, Hongchun Bridge Station and Jade Spring Station. Shuttle buses of Hangzhou Railway Station run from 8:00 to 18:00.
Taxi
In the city, the initial taxi price is 10 RMB for the first 4 kilometers and 2 RMB per kilometer after that until 8 kilometers, and then 2.4 RMB for each kilometer past 8 kilometers. There are also more than 70 Mercedes-Benz taxis here. The price is 12 RMB for the first 4 kilometers and 2.5 yuan for each kilometer till 8 kilometers and 3 RMB for each kilometer after that.
Hangzhou Taxi Complaints Phone Number: 0571-85155205
Special Service on Hangzhou Railway Station
Hangzhou Railway Station Ticket Offices in the City
德胜路代售处 德胜路58号
Desheng Road Ticket Office: 58 Desheng Road.
体育场路代售处 体育场路149号
Stadium Road Ticket Office: 149 Stadium Road.
浣纱路联营售票处 浣纱路147号
Huansha Road Ticket Office: 147 Huansha Road.
武林门售票处 武林路199号
Wulin Gate Ticket Office: 199 Wulin Gate Road.
东方铁旅建国中路代售处 建国中路347号
Oriental Railway Travel Agent, Jianguo Middle Road Ticket Office: 347 Jianguo Middle Road.
新塘路代售处新塘路198号
Xintang Road Ticket Office: 198 Xintang Road.
保俶路代售处 保俶路71号
Baoshu Road Ticket Office: 71 Baoshu Road.
高欣航空服务有限公司代售处 学院路122号
Gaoxin Airport Service Ltd Ticket Office: 122 College Road.

萧山代售处 萧山区市中心南路146号
Xiaoshan Ticket Office: 146 South Road, Xiaoshan District.
临平代售处 余杭区临平邱山大街13号
Linping Ticket Office: 13 Qiushan Avenue, Linping Yuhang District.
富阳旅行社代售处 富阳市市中心74号   
Fuyang Travel Agent Ticket Office: 74 City Center, Fuyang City.
Hangzhou Bus Station Ticket Office
杭州文三路客票代售点(杭州市文三西路183号)
Hangzhou Wensan Road Ticket Office: 183 West Road, Wensan Road, Hangzhou City.
杭州半山客票代售点(杭州市沈半路270号)
Hangzhou Banshan Road Ticket Office: 270 Shenban Road, Hangzhou City.
杭州市文晖路客票代售点(杭州市文晖路226号)
Hangzhou Wenhui Road Ticket Office: 226 Wenhui Road, Hangzhou City.
杭州市汽车北站代售点(杭州市莫干山路1155号)
Hangzhou North City Bus Station Ticket Office: 1155 Moganshan Road, Hangzhou.
杭州市石祥路客票代售点(杭州市石祥路69号)
Hangzhou Shixiang Road Ticket Office: 69 Shixiang Road, Hangzhou City.
杭州市下沙高教开发区客票代售点(杭州市下沙开发区6号大街616号商铺)
Hangzhou Xiasha High Technology Educational Development Zone Ticket Office: 616 6th Avenue, Xiasha Development Zone, Hangzhou.
杭州市杭海路客票代售点(杭州市杭海路534号)
Hangzhou Hanghai Road Ticket Office: 534 Hanghai Road, Hangzhou City.
文一路物美超市对面
Hangzhou Wenyi Road Ticket Booth: Opposite the Wumei Supermarket.
Hangzhou Railway Station Overview
Hangzhou Railway Station, which is also called "City Station" by local people, is the most important railway station in Hangzhou. Most of the trains departing from and terminating their route in Hangzhou will stop here. It is located at the intersection of East City Ring Road and West Lake Avenue. From Hangzhou Railway Station, it only takes 10 minutes to go from West Lake Avenue to West Lake by bus.
Hangzhou Railway Station is divided into three floors: the bottom floor, the middle floor and the elevated floor. The bottom floor is a parking lot where taxis and private cars can park. The middle floor is the Hall and Station Plaza where pedestrians and buses can meet. The elevated floor is used to send passengers off.
The Station Plaza consists of two floors below ground level: Lower Ground One and Lower Ground Two. The underground area measures 16,500 square meters in which there are two underground garages for civil defense projects. The two garages which are affiliated with Shanghai Railway Bureau (the station's supervising office) occupy an area of about 6,200 square meters. It is a first-class station that consists of a North Ticket Hall and a South Ticket Hall, five regular waiting rooms, one waiting room for passengers with soft-seat tickets, and seven platforms.
Railway Station Phone Numbers
Hangzhou Railway Station Hotline: 0571-9500117788
Hangzhou Railway Station Automated Information Phone: 0571-9500117799
Hangzhou Railway Station Phone Number: 0571-87829983
Hangzhou Railway Station Inquiries: 0571-87829418, 0571-87929424
Planning a trip? Ask us here

800-2682918 (USA & CA)

86-773-2831999

1800-764678 (AU)

0800-0327753 (UK)

800-8793-007 (China)
Q:
Bianca
Asked on 07:49 AM Jul. 24 2012
Reply
I am arriving at HangZhou Station on the 29 July 2012. Is it anywhere near HangZhou Airprt. I will be arriving from Shaoxing. Which train station is closer to the airport?
Dear Bianca,
Hangzhou railway station is about 27 km from the airport and there are some shuttle buses you could take. It takes about 40 minutes and it costs about CNY20 per person. It costs about CNY80 to take a taxi. Hangzhou south railway station is about 20 km from the airport. There is no direct bus to get to the airport. You need to take a taxi to get to the airport. In my opinion, I suggest you get to Hangzhou railway staton at first which is located in the city center, it's convenient for you to take a bus or a taxi. Lussie Lu Replied on 04:05 AM Jul. 25 2012
Q:
Norah Leatherland
Asked on 03:57 AM Jul. 06 2012
Reply
We arrive in shanghai dupong airport at 7.30am on 26th july and need to get to wenyi road, hangzhou. Please can you advise how we can do that via trains. Thank you
Dear Norah,
You could take the Subway NO. 2 at Shanghai Pudong Airport station to Nanjing East Road station and then change to Subway NO. 10 to Hong qiao Railway Station.
It is easy to buy bullet train tickets to Hangzhou at Hongqiao Railway station.
Nancy
Nancy Deng Replied on 07:55 AM Jul. 08 2012
Q:
beertjie
Asked on 02:43 AM Jun. 04 2012
Reply
can i store luggage at Hangzhou Railway Station?
Hi beertjie,
Yes, you can store your luggage at Hangzhou Railway Station. The price may vary from luggage size and weight. There is no unified price of it. It is suggested to ask the exact price from the "Luggage Service" at railways station. Please ask for its location from the staff at the railway station.
Doris Huang Replied on 8:50 PM Jun. 04 2012
Q:
James Mc Ilvenna
Asked on 06:42 AM May. 07 2012
Reply
Hello. We are travelling on the G Train form Hangzhou to Beijing on the 22nd May. We have 2 large suitcases. Can we place the cases in the same train we are travelling on as freight to arrive in Beijing on the same train. If this is possible can you tell me exactly where in the station to book in ou...
hi james, you can take the suitcases with you to get on the train. It is practice that you take the luggage with you to get on the train. Have a nice trip. Sammi Dai Replied on 9:06 PM May. 07 2012
There is no need to freight the cases, just bring it with you. There is enough room to keep the suitcases on the train. Sammi Dai Replied on 9:07 PM May. 07 2012