Hangzhou Transportation
Air
Hangzhou is served by Xianshan International Airport, which is located some 27 kilometers (17 miles) from downtown Hangzhou. There are daily flights to major cities and larger tourist cities in China. The airport also offers flights to and from Hong Kong and Singapore. Airport buses run from the city center to the airport for 20 yuan. Travelers can also take a taxi for around 100 yuan.
Transportation between Hangzhou and Airports in Shanghai
1. Take shuttle bus at Wulinmen Flight Ticket Hall 武林门民航售票处 (Address: 390 Tiyuchang Road 体育场路390号).
It will stop a while at Hongqiao Airport and head on to Pudong. It takes 2 hours and half to Shanghai Hongqiao Airport and 3 hours and half to Shanghai Pudong Airport. Bus fare is 85 yuan per person.
Schedule:
Shanghai Pudong Airport – Hangzhou (8:40, 10:10, 11:40, 13:10, 14:40, 16:10, 17:50)
Hangzhou – Shanghai Pudong Airport (6:00, 7:30, 9:00, 10:30, 12:00, 13:30, 15:00, 16:00)
Check out Shanghai - Hangzhou Transportation and Beijing - Hangzhou Transportation.
2. Every day there are 6 buses running between Hangzhou Dragon Sports Center (黄龙体育中心) and Shanghai Pudong Airport.
Schedule:
Dragon Sports Center - Shanghai Pudong Airport: 7:00, 8:30, 10:30, 12:30, 14:30, 16:00
Shanghai Pudong Airport - Dragon Sports Center: 10:30, 12:00, 13:30, 15:30, 17:30, 19:00
Railway
Hangzhou is an important railroad junction in East China. The Huhang Railway (from Guangdong to Hangzhou), the Zhegan Railway (from Zhejiang to Jiangxi) and the Xuanhang Railway (from Anhui to Hangzhou) join here.
Hangzhou Railway Station, which is also called "City Station" by local people, is the most important railway station in Hangzhou. Most of the trains departing from and terminating their route in Hangzhou will stop here. It is located at the intersection of East City Ring Road and West Lake Avenue. From Hangzhou Railway Station, it only takes 10 minutes to go from West Lake Avenue to West Lake by bus.
City Transportation
Public Bus
As an important tourism city, Hangzhou has good public transportation. Public buses go virtually everywhere in the city proper. The bus number is important. Bus numbers prefixed by "K" are air-conditioned. Bus numbers prefixed by "3" and "5" run to the neighboring rural areas and special lines, respectively. Tourism buses are indicated by a Chinese"游" (pinyin: you, pronounced: yo).
Bus fares are very cheap. It is 1 yuan for all bus numbers with one or two digits (e.g. Bus No.8 or No.13) and three-digit bus numbers preceded by "1"( e.g. No.132). It is 2 yuan for all air-conditioned buses. Prices for special bus lines and buses running to the neighboring rural areas vary according to the bus condition and distance (the starting price for a general bus is 1 yuan and 2 yuan for a air-conditioned one). All tourism buses are air-conditioned and cost 2 yuan.
Bicycle
Bicycle is one of the best ways to explore Hangzhou, particularly West Lake. Restaurants and stalls by West Lake have bikes for rental.
Taxi
Visitors can also take a taxi to tour the city. Taxis are plentiful and it's usually very easy to stop one in street.
Bus/Coach
Hangzhou is the hub for road transportation in Zhejiang Province. The city has four long distance bus stations: East, West, South and North bus stations. Buses to neighboring cities like Nanjing and Shanghai are plentiful.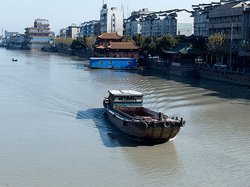 Hangzhou Waterway Transportation
Waterway
Boat trips from Hangzhou to Suzhou or Wuxi along the Grand Canal are available. Boats often depart at night and arrive at the destination in the early morning. This service is usually only available in summer or peak seasons. Travelers should check availability when planning use this means of transport.
Transportation from Thousand Islets Lake to Huangshan City
Huangshan City is about 180kilometers (112 miles) from Thousand Islets Lake near Hangzhou City. There is no direct transportation between the two. Travelers can take ships from Thousand Islets Island to Shendu Dock (深渡码头) near Huangshan. Every day there is one ship departing at around 10 in the morning.
Transportation between Thousand Islets Lake and Hangzhou
Direct buses are available at Hangzhou West Long Distance Bus Station(杭州汽车西站). Buses are available from 6:00 till 18:40 every 40 minutes.
Direct buses from Thousand Islets Lake are available at Qiandaohu Long Distance Bus (千岛湖长途汽车站). From 5:20 till 18:00, buses depart every 40 minutes.
Questions and Answers About Hangzhou Transportation
yinsee
2013-10-09
Show Answer
is it easy to move around in Hangzhou? planning for a 4 days free and easy trip..might need help with airport transportation and hotels
Hi Yinsee,
Hangzhou has developed subway and bus system. But a local guide is very necessary so that you can thoroughly experience this beautiful city.
We can offer a 4-day private tour in Hangzhou. Guide will take you where you want. Before I make a quotation, could you please tell me how many people and when are you planning to visit Hangzhou? You can also see some tours on our website:
http://www.chinahighlights.com/hangzhou/tours.htm
If you are interested in our tours, please contact me at christyluo@chinahighlights.net
Christy Luo replied on 2013-10-10
mrs lim sc
2013-06-13
Show Answer
hi, how do we reach hangzhou from shanghai pudong airport. our hotel is yue wang lu, shangcheng. understand tt we can take the airport shuttle fm shanghai pudong airport to hangzhou wulin sq - is this correct?
Hi Mrs lim, you are right. There are direct buses from Pudong Internation Airport to Hangzhou at 8:40 10:00 11:00 12:00 13:00 14:00 15:00 16:00 17:00 18:00 19:00 20:00. The price is about CNY100 and the duration is around 3hrs. After you arrive in Hangzhou, you can take a taxi to your hotel.
Whitney Liao replied on 2013-06-14
nizzam
2013-04-13
Show Answer
i am travelling from hangzhou to yu wi..how can i boking bus for 30person include food for 7d 6n trip
Hi Nizzam, we can arrange it for you. When do you need it, please? Do you need it for trip or business? Only bus and driver or with English speaking tour guide?
Whitney Liao replied on 2013-04-14
Scoundrel
2013-04-01
Show Answer
Can anyone tell me how to travel from Shendu Dock to Thousand Islets Island near Huangshan? Or if there''s any other way to go to Huangshan by river from Hangzhou? How much? How often? Thank you!
Dear Scoundrel, Huangshan is an inland city, there is no ferry getting there. I suggest you take a bus from Hangzhou west bus station to Huangshan. There are about four buses every day. It sets off at 7:30am, 9:30am, 12:00pm and 15:10pm. It takes about 3 hours and the cost is about CNY80/US$13 per person. Hangzhou bus station is at No. 357 Tianmu Road, West Lake District(西湖区天目山路357号), you could get more information and buy the tickets there. Lussie Lu replied on 2013-04-01
Dana
2013-03-01
Show Answer
hi..I will be vising Shanghai and I love to visit Hangzhou.. my questions are:1.How many days are enough to see the most attractive places in Hangzhou?2.If I travel from Shanghai to Hangzhou buy train, how long it takes?Thank you
Hi Dana, usually 2-3 days in Hangzhou is enough to see the most attractive places. From Shanghai to Hangzhou, it takes about 1hr by high speed train(G train).
If you need any tour service, please feel free to contact me. Have a nice day!
Whitney Liao replied on 2013-03-03
April Offer $25 Coupon
Send your inquiry before Apr. 30, 2014, and we will email you a $25 coupon.
The coupon is valid till Dec. 31, 2014, for paying tour packages worth $250 or up.
The coupon cannot be used for paying flight tickets, train tickets, hotel rooms and day trips.
Travel Advice or Question? Ask us here
You might like

Free Things to Do in and around Hangzhou

China Highlights
Hangzhou Travel Guide