Shenzhen Railway Station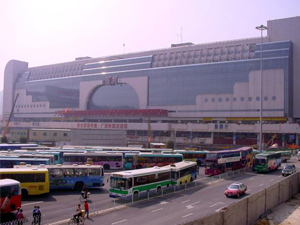 Shenzhen Railway Station is at the Hong Kong Luo Hu border crossing area. It is an important terminal for tourists or travellers because it is at the main border crossing into Hongkong and hundreds or thousands of non-Chinese cross the Luo Hu border each day. It is well equipped with a frequent hi-speed bullet train to Guangzhou and is the southern terminus of the conventional Guangshen Railway between Guangzhou and Shenzhen. The eastern terminal of the Shenzhen Metro Line 1 (subway) is conveniently located in the station's main plaza below ground. On or under this big plaza there is a local bus station, a regional bus station, a taxi station, and the bullet train station. On the southern side of the plaza in front of the railway station is the big Luohu Immigration Border Crossing building. After passing through the Chinese passport-check building, crossing the bridge into Hong Kong and going through the Hong Kong passport checkpoint, you walk directly into the Lo Wu Station for the Hong Kong MTR and can go to most towns in Hong Kong. (You have to buy a ticket and board. It isn't an option to go directly back into China.) There is also another Shenzhen city bus station and another long-distance bus station just outside the Shenzhen Railway Station southeast of the plaza. All these transportation modes in easy walking distance makes the station convenient for travellers if you know where these facilities are and how to navigate around the area.
Transportation to Shenzhen Railway Station
Shenzhen Metro Line 1 (subway)
The Luo Hu subway station is conveniently located below the Shenzhen Railway Station's big plaza. You can see the escalator accesses while standing in the plaza. However, depending on where you enter from, finding the ticket machines and ticket windows may be difficult. It is a big area. If you enter the underground area from the escalators that are directly in front of the border crossing building on the ground floor on the south side of the plaza, then the MTR gates and ticket machines are directly in front of you.
Taxi Station
The taxi lot for catching taxis is on the west side of the station plaza area underground. It is best to catch taxis here. There are people all around the area on the look-out for non-Chinese travellers offering rides, baggage handling, etc, and they may not be trustable. Also, they will probably charge you much more than the regular taxis at the taxi lot. The flag down rate for regular taxis is about 12.50 RMB for the first 2 kilometers. 
Taxi Fares: Taxi fares in Shenzhen start at 10 yuan within 2 kilometers. After that it is 2.6 yuan per kilometer. Over 20 kilometers, 30% will automatically be added for its returning empty.
Local City Buses
The main local city bus station is on the ground level on the southern side of the plaza across from the conventional train station. It is a big uncovered bus lot and is easy to see from the plaza.
Bus routes to Shenzhen Railway Station: 01, 102, 12, 17, 1, 205, 211, 215, 220, 25, 302, 306, 337, 352, 387, 38, 7, 82, 83, 97, K302, K307, K568, N14, N15, N18, N2, N7 and Night Special Line 2.
Bus routes to Shenzhen Railway Station East Plaza: K533, N16.
Bus routes to Shenzhen Railway Station West Plaza: 18, 207, 228, 28, 2, 309, 321, 330, 386, 389, 61, 8.
On the southeast side of the plaza there is a another local bus station, but it is difficult to find because of few signs. You can't see it from the plaza. You must go to the southeast corner and find stairs or an escalator that leads to an overpass and walk some distance to the descending stairs. Mainly locals use that bus station.
Long Distance Buses
There is a large long-distance and regional bus station on the ground level in the southwest area of the main plaza. This large lot is under a large building, and finding the right bus may be difficult if you don't speak Chinese. You pay for the ticket on the bus or before you board. You can see uniformed bus attendants standing around or sitting at their stations, but they may not speak English. There are frequent buses to Guangzhou, but the price is almost the same as that for a bullet train ticket, and the wait and hassle of finding the right bus makes it better to take the train unless you know of a specific bus station in Guangzhou to which you want to go to directly by bus.
There is another long-distance bus station southwest of the station area that can be reached via going up onto a walkway out of the station. This exit isn't well marked in English or Chinese. About 200 meters away from the station at some small windows you can buy tickets for long-distance "bed buses" to Guanxi Province or other provinces. Many of the buses leave in the evening because the routes are for overnight travel to arrive the next morning or the next day. The bus parking lot is in the back. People stand around this area trying to sell "tickets". Usually they are asking for very high prices, and sometimes they are scamming. So it is best to avoid them and buy tickets at the ticket windows.
From Shenzhen Railway Station to Bao'an International Airport
Metro line 1, which is also called the Luobao Line, has a direct link between Shenzhen Station and Bao'an Airport. When you get off of metro line 1 at the terminal station, Airport East Station, the airport is situated to the west. Metro line 1 runs from 6:30 to 23:00. The journey to the airport takes approximately 1 hour and 40 minutes at a cost of 9 RMB.
From Shenzhen Railway Station to Guangzhou
There are 86 D-trains operating from Shenzhen Station to Guangzhou which offer a convenient and fast journey. Of these, 65 run daily to Guangzhou East Railway Station from 06:40 to 22:40. There is a train every 15 to 30 minutes, with the journey lasting for 1 hour and 19 minutes. The ticket price is 79 RMB for a second class seat and 99 RMB for a first class seat.
The other 21 D-trains go to Guangzhou Railway Station from 06:20 to 20:37. A train departs every 30 to 45 minutes with the journey taking between 90 and 100 minutes. The ticket price is the same as the other trains.
The table shows some of the train schedules for reference:
From Shenzhen Station to Guangzhou…
Train
Destination
Departs
Arrives
Duration
D7158
Guangzhou East
06:40
07:59
1h 19min
D7170
09:21
10:40
D7130
13:58
15:17
D7020
20:48
22:07
D7064
22:40
23:59
D7012
Guangzhou
06:20
08:03
1h 43min
D7014
10:12
11:52
1h 40min
D7184
16:27
18:03
1h 36min
D7134
20:37
22:08
1h 31min
Shenzhen Railway Station Overview
CRH Bullet Train
The new CRH bullet trains leave about every 5 minutes during peak hours, and every 10 or 20 minutes at other times. It is one of the heaviest used intercity routes. There are about 120 CRH trains every day from the Guangzhou Railway Station and the Guangzhou East Railway Station. The trains stop at both train stations in Guangzhou. The trip to Guangzhou takes about an hour or less, and the top speeds are usually a little more than 200 kilometers per hour. The trains may stop quickly in Dong Guan, a city that lies between Shenzhen and Guangzhou. The CRH train's ticket office and waiting rooms are in the eastern side of the plaza, between the conventional long-distance train station and the border check-point building. But it is strangely not well marked, and people often complain that it is difficult to find. From the front of the conventional train station, walk about 100 meters or so south along the eastern side of the plaza on the ground level. The ticket windows are in a small area, and the waiting rooms are adjacent to it. Once you get a ticket (about 75 RMB for a regular ticket or about 80 or 85 for first class) you can wait in the adjacent waiting rooms. You'll only need to wait for a few minutes. The ride is quiet and comfortable with soft cushioned seats. A bottle of water is provided.
Conventional Rail Lines
For the conventional trains, walk to the train station building on the north-east side of the main plaza area on the ground floor. This station maybe confusing to find sometimes because there are few English signs in the entire area, and also few Chinese language signs. This station has conventional trains departing for Guangzhou and other directions as well. The ticket offices are in a big area on the first floor, and the waiting room for passengers of the Guangzhou-Dong Guan-Shen Zhen line is on the first floor. The waiting room for other long-distance trains are on the second floor.
The special direct train line between the Hung Hom Station in Hong Kong, Guangzhou, Shanghai and Beijing does not stop at this station.
Destination List of Shenzhen Railway Station:
From Shenzhen Station to…
Type
Train
Destination
Departs
Arrives
Duration
D-trains
D7170
Guangzhou East
09:21
10:40
1h 19min
D7080
Guangzhou
14:43
16:15
1h 32min
T-trains
T8370
Meizhou
15:25
20:42
5h 17min
T96
Hankou
17:30
06:51
13h 21min
T102
Shanghai South
15:45
10:33
18h 48min
T108
Beijing West
14:10
14:15
24h 5min
T186
Shenyang North
20:06
06:47
34h 41min
Z-trains
Z24
Wuchang
18:05
06:17
12h 12min
K-trains
K9122
Hengyang
21:35
05:32
7h 57min
K9018
Changsha
20:15
06:32
10h 10min
K442
Jinggangshan
18:50
05:27
10h 37min
K9004
Yueyang
21:05
09:10
12h 5min
K952
Guilin
16:44
06:10
13h 26min
K9076
Changde
18:25
08:18
13h 53min
K116
Jiujiang
16:36
07:09
14h 33min
K562
Fuyang
10:12
09:22
23h 10min
K1040
Zhengzhou
09:42
09:34
23h 52min
K26
Nanjing
12:21
14:01
25h 40min
K446
Xi'an
08:58
15:17
30h 19min
K1688
Qingdao
10:50
21:54
35h 4min
Travel Advice or Question? Ask us here

800-2682918 (USA & CA)

86-773-2831999

1800-764678 (AU)

0800-0327753 (UK)

800-8793-007 (China)
Q:
norman wilkinson
Asked on 11:38 AM Aug. 27 2012
Reply
can british person get a day visa from hong kong to shenzhen NOW AUGUST 2012


Hi Norman, from HK to Shenzhen, you can apply for the 144-hour Convenient Visa, which allows you to stay there for 6 days.


To apply for the 144-hour Convenient Visa, visitors





must join a tour organized by a registered Hong Kong Travel Agent





must travel in a group consisting of a minimum 3 persons and a maximum of 40 persons





can have a choice of ports of entry or exit in

Guangdong

Province





must enter and leave the areas together via the above-stated ports of entry.



Whitney Liao Replied on 04:15 AM Aug. 28 2012
Q:
Victor
Asked on 00:49 AM Aug. 25 2012
Reply
Hi, is it still possible to get the 5 day stay Shenzhen visa at the Luo Hu border crossing for Australians?


Hi Victor, yes, it is possible. And you can stay for no more than 6 days.
Whitney Liao Replied on 11:43 PM Aug. 26 2012
Q:
priyanka
Asked on 02:37 AM Aug. 17 2012
Reply
hi please tell is there a train between shenzhen to guilin and also from hongkong to guilin the train service with its schedule as i want to plan a family trip

Dear Priyanka,
There is only one train from Shenzhen to Guilin. Its number is K952/K949, setting off at 17:46pm and arriving in Guilin at 7:30am in the next day. It costs about CNY444(US$70).
There is no direct train from Hong kong to Guilin. You could take a train to Shenzhen at first, and then take a train or flight to Guilin. You also could take a flight to Guilin from Hong Kong directly.
Please check the information about the flight on our website. Click:http://www.chinahighlights.com/china-flights/
guest Replied on 10:59 PM Aug. 17 2012
Q:
jana
Asked on 7:42 PM Aug. 10 2012
Reply
Am planning to take a train to Shanghai...is there any possible place i can purchase a ticket in Hongkong area?


Dear Jana,


Thank you for your inquiry. My name is Doris Huang and I am a travel advisor. It is my pleasure to assist you.


You can buy the train ticket at Hong Kong Kowloon railway station, the address is:Changyun Road, Youjianwang District, Kowloon.


You can take a taxi and tell the driver you want to go to Kowloon railway station and buy train ticket, the driver will take you there.
Doris Huang Replied on 02:44 AM Aug. 11 2012
Q:
azhan
Asked on 01:27 AM Aug. 10 2012
Reply
hai how do i go frm hong kong intl airport to shenzhen i arrive at 1925pm and how much is the cheapest way n fast
Dear azhan,
There are many buses setting off from HongKong airport to Shenzhen Luohu port. It costs about HK$150 per person. Please click this link to check the details:http://www.hongkongairport.com/CBT/Itinerary?actionType=list&locale=eng&locType=t&locCode=lw&arr_dep=D&locations=-LW&operation=&deptDate=13%2F08%2F12&schehr1=10&schemin1=00&schehr2=23&schemin2=59 Lussie Lu Replied on 9:47 PM Aug. 10 2012