Shenzhen West Railway Station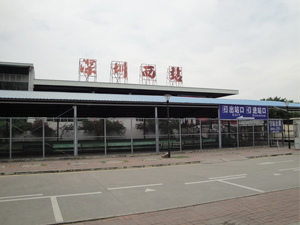 Shenzhen West Railway Station, also known as the Nantou Railway Station or the Nantou West Railway Station, is a station for long-distance passenger service. When a new train station called the LongHua New Railway Station opens soon, the Shenzhen West Railway Station will stop being a long-distance train station.
Transportation to Shenzhen West Railway Station
Bus routes to Shenzhen West Railway Station: 20, 227, 229, 234, 353, 36, 58.
There are no bus routes from the Shenzhen West Railway Station to Shenzhen Bay. Passengers can take the No. 229 bus to the Nanhai Oil Hotel and transfer to No. 217 or 245.
Taxi Fares: Taxi fares in Shenzhen start at 10 yuan within 2 kilometers. After that it is 2.6 yuan per kilometer. Over 20 kilometers, 30% will automatically be added for its returning empty.
Planning a trip? Ask us here

800-2682918 (USA & CA)

86-773-2831999

1800-764678 (AU)

0800-0327753 (UK)

800-8793-007 (China)
Q:
Chris Chia, Kuala Lumpur
Asked on 11:46 PM Apr. 11 2012
Reply
Hi, we are planning a first trip to Chaozhou/Shantou and our plan is to fly to Shenzhen and then take a train. is there any train service from Shenzhen to Chaozhou or Shantou, and where to purchase the tickets, and an indication of how long the journey and much of the ticket price? Appreciate your...
Dear Chris Chia, Kuala Lumpur,
I am afraid there aren't any trains running between Shenzhen and Shantou or Chaozhou. But you could go by coach, which would cost you about 120 RMB and take you at least 5 hours to get to the destination. Moreover, you could go to the local bus station to buy the ticket immediately.
Hope it helps. Candice Song Replied on 04:28 AM Apr. 12 2012
Q:
Adelaide
Asked on 07:12 AM Feb. 20 2012
Reply
Do you know if there are any trains that go from Shenzhen to Xiamen (and back)? Also if so, what is the price range? My school will be participating in the MUN conference in Xiamen, and am looking for a good way to get there. If there are no trains, we will have to take the bus-which is 8 hours! T...
Hi Adelaide, there is no train from Shenzhen to Xiamen. You can take a flight or bus to get there. Michael Hu Replied on 06:33 AM Feb. 21 2012
Q:
joseph
Asked on 08:05 AM Nov. 13 2011
Reply
how to tours from shenzhen Airports to Guangzhou
Dear Joseph,
There are some long distance bus from Shenzhen airport to Guangzhou Dongdu/ Huangpu bus station. It takes about 2 hours and it costs about US$10 per person. There are about 7 buses available from 9:50am to 18:55pm. Lussie Lu Replied on 9:57 PM Nov. 13 2011
Q:
YYHEN
Asked on 02:51 AM Sep. 05 2011
Reply
The better way from shenzhen airport to Lushan
Hi Yyhen
Could you give a more specific position of Lushan? Because there are many places in Shenzhen with this name, and a Mountain in China also have same pronouciation.
Please feel free to contact me: William@chinahighlights.net
William Huo
Travel Advisor William Replied on 10:43 PM Sep. 05 2011
Q:
YYHEN
Asked on 08:28 AM Aug. 31 2011
Reply
Can easy way to go this station from Shenzhen airport?
Hi Yyhen
It is very easy to get airport from West Train station, only around 1 km, walking 20 mins, and taking No.1 subway just one stop, or you could take taxi by paying flag down fare.
William Huo
Travel Advisor
William Replied on 04:23 AM Sep. 01 2011