Chongqing Transportation
Chongqing is located in the joint area between the east where China's economy develops quickly and the west where there are abundant resources. it is the economic combination of the Yangtze River valley and the southwest region. So, Chongqing becomes the hinge of transportation, post and telecommunication in southwest China. The water, land and air transportation in Chongqing extend in all direction. Chongqing has formed convenient and high-efficient stereoscopic traffic network with all parts of China and even a lot of large and medium cities in the world. "It's difficult to reach Sichuan" that has long become the past.
Air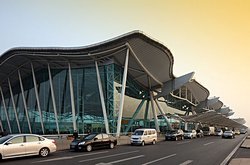 Chongqing Jiangbei International Airport
Jiangbei International Airport

Chongqing Jiangbei International Airport, ranking among the top 10 airports in China for five consecutive years, began reconstruction and expansion in early 2000. After the project is completed, Chongqing will become the largest aviation hub in the central and western regions. Two small airports are also under construction in the municipality, which when completed will accommodate the take-off and landing of Boeing-737 airplanes. Wuqiao Airport in Wanzhou of Chongqing, to be built at an estimated investment of 370 million yuan, has started construction, and will be put into service in 2003. The program for the construction of Zhoubai Airport in Qianjiang has been approved.
Company Name: Chongqing Airport Group CO., LTD
Airport Code: CKG
Website: www.cqa.cn
Telephone: 86-023-67152338 / 67152351
CAAC flight: Tel: 023-63862643;
WAAC flight: Tel: 023-63600444.
Railway
Chongqing Railway Station is the center of railway transportation in the Chongqing area. There are three main national rail lines in Chongqing: the Chuan-Qian Railroad is from Chongqing in the north to Guiyang in the south and the overall length is 463 kilometers; the Cheng-Yu Railroad is from Chengdu in the west to Chongqing in the east and the overall length is 504 kilometers; the Xiang-Yu Railroad is from Xiangfan, Hubei in the east to Chongqing in the west and the overall length is 915 kilometers.
City Transportation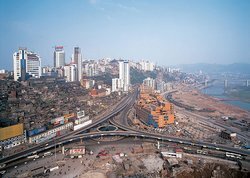 Chongqing City Transportation
The urban transportation system mainly consists of buses that go everywhere, taxies, and a subway and monorail mass transit system that is still under construction.
City Buses
Most people travel by bus. Since the signs are in Chinese and the routes and streets are often not in straight lines, taking the bus might be confusing. So go with a Chinese friend or be really sure about the bus number and the names of the stops. Tourists in Chongqing are warned that it is easy to get lost due to the many hills and valleys and the two rivers. The layout of the streets is confusing. Ticket prices run between 1 RMB and 2 RMB. The fare for some buses depends on the distance traveled.
If you are going to one of the city centers, here are the names. The four city centers in Chongqing are called Shapingba, Jiangbei, Nanping and Jiefangbei.
Taxis
Taxis are relatively cheap. They start at 5 RMB with an additional 1.8 RMB per kilometer. After mid-night, they start at 5.9 RMB with an additional 2.3 RMB per kilometer. Make sure you know how to say where you want to go to in Chinese, carry the address on a piece of paper, or go with a Chinese person. Few taxi drivers speak English.
Bus/Coach
There are a lot of national highways in Chongqing, such as, Highway 210, 212, 313, 319, 321, etc. These national roads have formed a comprehensive transportation network which have linked Chognqing with other parts of China.
There are many large or small bus stations, such as, the Chongqing Bus Station, the Shaping Dam District Bus Station (Chongqing). Find information on some important bus station follow:
Chongqing Bus Station
Chongqing Bus Station is located near the Railway Station. There are daily bus services to Chengdu, luzhou, Neijiang, yibin, Zigong, Nanchong, Langzhong, Shuining, Bazhong, Yuechi, Fushun, Leshan, Guangaan, Dazu, Changning, Gongxian, Rongxian, Daxian.
Shaping Dam District Bus Station
Shaping Dam District Bus Station is next to Chongqing North Railway Station. Every day, many buses set off to Nanchong, Quxian, Guangan, Nanchuan, Shehong, Yibin, Luzhou, Lezhou, etc.
Chongqing North Bus Station
Chongqing North Bus Station is located in the Red Flag River Ditch. Every day, many buses set off to Cizhu, Dasheng, Nanchong, Wanzhou Leqing, Jiulong, Baiyan, Shuining, Daxian, Zhongxian, Kaijiang, Gaozui,Dawan, Liangcha, Neijiang, etc.
Waterway
3 Gorges Dam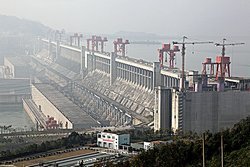 The Three Gorge Dam in Chongqing
River travel on the Yangtze just got a boost from the completion of the 3 Gorges Dam in 2008. Before that, big ships could pass, but now there is 7 times more shipping than there was before the dam was built. Before the dam was built, the Three Gorges site handled about 18 million tons of freight. Since the dam was built, the freight capacity of the river increased six times and the cost of shipping was reduced by 25 percent. At present, locks raise and lower ships from the artificial lake behind the dam, and the trip through the locks takes about four hours. But a new ship lift is being built that can handle ships up to 3,000 tons. The vertical distance traveled will be about 113 meters, and it is expected that ships will pass through the ship lift in less than an hour.
3 Gorges Scenery
Many people think that the scenery of the Three Gorges was ruined by the dam, but some people who travel up the river and lake say that the view is better from a boat than it was before the dam was built because the walls of the valley used to block the view, but now you can see much more of the mountains and the region on the lake. A trip from Wuhan to Chongqing or Sichuan takes about 5 or 6 days. On a 4 or 5 star cruise ship, you can relax and enjoy the food and the meals.
Chongqing Passenger Dock
Chongqing is the biggest inland river port in western China. In the past, most people went to and from eastern China on the Yangtze River. The Chongqing Passenger Dock (Chongqing Chaotianmen Dock) is located in Chaotianmen at the junction of the Yangtze River and the Jialing River. It's the best starting point for a Three Gorges cruise by ship.
If travelers want to enjoy the sights along the Yangtze River and the Three Gorges by ship, they first must choose a cruise ship. There are three categories of passenger ships: the foreign tourist boat, the domestic tourist boat, and the common passenger boat. The foreign tourist boats are graded from one-star to five-star. To enjoy your time, relax and have good meals, it is suggested you sail on a four or five star river cruiser.

China Highlights
Planning a trip? Ask us here 800-2682918 (USA & CA)
86-773-2831999 (Int'l)
Q:
Eng Sok
Asked on 2013-02-04
Reply
Hi, I plan to import motorcycles from Chongqing to Cambodia stuff with container. What normally way the transportation the cargo from Chongqing to Cambodia (next to Thailand). What is the name of Chongqing sea port? Haw far is it from Chongqing city to sea port and how many days does it take?How much travel cost by plan from Cambodia to Chongqing?SOK, Cambodian
Hi Sok, Chongqing has many ports for cargo shipment, such as Jiulongpo九龙坡, Maoertuo 猫儿沱, Lanjiatuo蓝家沱, etc. For the detailed duration and price on shipping, please consult some shipping companies. We are a travel agency in China, if you need any tour service, welcome to contact me. Have a nice day!
Whitney Liao Replied on 2013-02-06
Q:
Andy
Asked on 2013-01-25
Reply
Does anyone know the schedule for buses from the Jiang be I airport to zigong?
Dear Sir or Madam, I searched the time schedule on line and only find three buses every day, it sets off at 18:30pm, 21:30pm and 23:59pm. Lussie Lu Replied on 2013-01-27
Q:
danyal kakakhel
Asked on 2013-01-17
Reply
i want to go from nanchong,sichuan to Qongqing medical university,what is the path by bus or by train, which one is easy??i am foreigner medical student..
Dear Sir or Madam, Chongqing Medical University is in Chongqing city, so you could take a bullet train from Nanchong to CHongqing. It takes about 2.5 hours and it costs about CNY85/US$14 per person. You will arrive at Chongqing north station, which is about 18 km. I suggest you take a taxi to get to the university. You could print the name and address of the university in Chinese and show it to the taxi driver, he will know how to go. It costs about CNY80/US$13. Lussie Lu Replied on 2013-01-17
Q:
mark mears
Asked on 2012-12-11
Reply
I need the mailing information from us to chongquin china through international travel service? ph# 18680835572 part of is district chao tian men, seaquest yingzhou b5-9 thanks
Hi Mark, you can call them or send text message for it .
Whitney Liao Replied on 2012-12-11
Q:
Esther Wangui
Asked on 2012-12-07
Reply
what time is the earliest bus from chongqing to neijiang? or zizhong?
Dear Sir or Madam, You could take a bus from Chongqing bus station(重庆汽车站), the earliest one sets off at 7:00am. It costs about US$8 per person. Lussie Lu Replied on 2012-12-09
Chongqing Travel Guide