Hong Kong Shopping Festival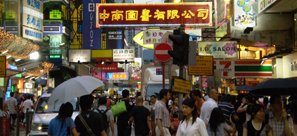 Shopping in Hong Kong
Hong Kong is a "paradise for shoppers." You can find everything you could possibly need and even things you don't need! It doesn't take long to figure out that it is not only tourists who love shopping in this awesome city because people living in Hong Kong love it as well. Shopping malls and streets are full of people shopping. This is especially true on the weekends. But don't be alarmed. Just get in there and enjoy the fun! Looking for some chic clothes or some real designer clothes? With long opening hours, you can literary shop all day and night by going from one mall to the next and go to street markets or the fashionable shops in any of the high-end stores. One simply cannot avoid shopping when visiting Hong Kong. There is something for every wallet and every desire. Not only the women will have the time of their life, but also the guys can come home with cool new gadgets because you can find the latest on the market in Hong Kong.
Don't be concerned about the summer heat because every mall in Hong Kong has air conditioning. This makes shopping a pleasant experience. However, we do recommend getting out on the streets to enjoy the life and do some bargaining in any of the street markets. You can try the street food and eat outside when the weather is good.
Shopping Malls
Hanging out in shopping malls is one of the favorite past times for local Hong Kongers, and this city has shopping centers everywhere. New ones are coming up as we write, so there is always room for more people to shop. The malls offer all brands from top to bottom and have a variety of shops selling everything from clothes, cosmetics, books, music, electronics and sports. In addition, there are a lot of places to sit down for a meal of fast food or international cuisine at the higher quality restaurants. Some of the malls in Hong Kong such as Pacific Place in Admiralty, New Town Plaza in Sha Tin, and Festival Walk in Kowloon Tong also have theaters. If you want to try something unusual, you can go ice skating in Kowloon Tong too. Ocean Terminal is also a huge shopping center that is located conveniently by the Star Ferry terminal in Tsim Sha Tsui.
Hong Kong Island has some of the area's best malls in a big area stretching from Central District to Causeway Bay, and the priciest malls are next to each other in Central District. These luxury malls are the Landmark and the new IFC Mall that is under the IFC skyscraper. The Landmark was once considered the ritziest and poshest luxury mall, but now the IFC Mall is the ritziest. Access to Central District is easy via the Star Ferry terminal in Central or the Central MTR station. From the Star Ferry terminal in Central, there is a long covered walkway above the ground that goes directly to the IFC skyscraper.
On the island, there are also parks, good free zoos, natural parks and beaches, hiking areas, and the big and renovated Ocean Park amusement park. So along with shopping, you can recreate and have some fun. Strolling around the area, you can see the British Colonial buildings and visit the parks and zoos. Much of the island is covered by public forest land that makes the island scenery beautiful and that makes for good and safe natural hiking areas. All of these attractions on the one island makes the place a good place go shopping with kids. The boat restaurants at Aberdeen are famous for the seafood cuisine.
Street Markets
Hong Kong is known for its many markets where you can find everything from flowers, goldfish, jade, clothes and purses. Although often crowded, these markets are exciting and are a must to visit when in Hong Kong. If you venture out and around the Mong Kok area in Kowloon, there are several street markets. Temple Street Night Market, Ladies Market and Jade Market are located here and are worth exploring. In addition, the flower market and goldfish market are fun to look at. It might be time to test your bargaining skills in these colorful streets that offer a wide variety of products. Another market is Fa Yuen Street that is also known as sportswear street where you can find everything trendy in sportswear and equipment.
Hong Kong Island also has several smaller shopping streets with small stalls located both in Central and Wan Chai area. This makes it easy to stop by on your way through. If you want to experience the feel of a stall-filled small street in China in Hong Kong, if you take the long escalator that goes up Victoria Peak called the Mid-levels Escalator from the IFC Mall area, you'll find narrow streets below it filled with stalls and small shops.
Stanley market that is on the south side of Hong Kong Island is also worth a visit. The market used to be an old fishing village, and the lanes here are packed with Chinese artwork, souvenirs, and larger-sized clothing. The scenic trip out there is beautiful, and Stanley offers more than just shopping. Take a walk along the water front and enjoy and good meal. If you schedule your visit for Stanley's Dragon Boat Festival on June 6, 2011, June 23, 2012, or June 12, 2013, you can watch the exciting Stanley Dragon Boat Races that are the biggest in Hong Kong as well. Dragon boats are long boats paddled by teams of about 22 people.
High-end Brands
Luxury brands are of high demand in Hong Kong, and they are very popular among the tourists and the people of Hong Kong themselves. Also, a lot of mainland Chinese are now heading to the ritzy stores to shop for the luxury goods. So if the latest model of purses or clothes from these luxury brands are on the top of your list, this is the place to shop. On the Kowloon side, Canton road is one of the places to shop. Crossing the bay, Central offers more. Shops on Chater Road, Pedder Street and Des Vouex Road in Central offer luxury brands. With a growing number of shoppers from mainland China, these stores offer the latest in fashion.
Electronics
People in Hong Kong have a high demand for quality electronics. Therefore, the latest is always available when it comes to cameras, computers, printers, mobile phones, music and gadgets. Stanley Street on Hong Kong Island and Sai Yeung Choi Street on the Kowloon side are where the professional photographers prefer to go for new lenses or cameras. However, Hong Kong is full of stores offering all kinds of electronics for every level from the snap-shot photographers to the most advanced. Most audio and video equipment stores have a wide variety of the major brands and let you try them for comparison in the shop. When it comes to computers, Windsor House shopping center in Causeway Bay on Hong Kong Island and Star House in Kowloon's Tsim Sha Tsui are two locations that have several floors devoted to hardware, software and accessories. The Star House is easy to get to since it is only about 200 meters away from the Star Ferry terminal.? In addition, Wan Chai, Mong Kok, Causeway Bay and Sham Shui Po are famous for their exciting computer markets where you can find everything you need from plugs to cables and jacks. Check prices and shop around.
Cosmetics
In the bigger shopping malls in Central in Hong Kong, you can find most brands of cosmetics. These stores offer you more service and are willing to cater to your needs. Prices are often good, and you can find both Asian and Western brands alike. If you want something less expensive, the stores Colourmix, Sasa, and Bonjour can be found all over Hong Kong, and they have a reasonable range of products both for make-up and skin care. These stores are worth a bargain hunt.
Outlet Stores
Not quite willing to spend too much money on shopping, but want something good? Pressed for time before leaving or have a long layover? Hong Kong has several outlet stores. One of them is Citygate that is conveniently located in Tung Chung on Lantau Island and is only 5 minutes from the airport. The big mall has several of the big brands of sports attire, cosmetics and clothes. In addition, there are several restaurants and a big food court to sit down at for a little something to eat. Citygate Mall also has several outlet stores for high-end brands.
China Highlights can customize a Hong Kong shopping tour for you.
Questions and Answers About Hong Kong Shopping Festival
Joie
2012-02-21
Show Answer
where can I buy cheap gold or white gold jewelry?
Which city do you mean? You can buy gold or white gold jewelry in a large shopping mall in every city. But whether they are cheap or not, I think it depends on yourself. : ) Lynn Ye replied on 2012-02-22
If you are going to visit beijing ,there's famous market named hongqiao pearl market.just close to the temple of heaven. the stop is tiantan at line 5 of the subway. sheishei replied on 2012-02-24
Nobuzwe Ncwana
2011-02-15
Show Answer
When are the exact dates for the Hkg shopping festival in 2011?
We haven't got the exact date about Hong Kong shopping festival. Based on the information about the festival several times before, it was held from Jun. 24 to August. 30. We will update the information on website while we get the news. If you need the details, please keep an eye on our website. We are good at customizing a China tour based on your need. If you need our service, please contact us, we will be happy to do our best to serve you. Lussie Lu replied on 2011-02-16
So, why the web site show 1Aug-20Sept which differ from usually ??? guest replied on 2011-03-25
piyanuch
2011-02-10
Show Answer
Is it definitely start on August 1,2011? since I will book a ticket at advance. I also would like to know where to buy Gucci handbag? Where is the biggest store of Gucci in Hong KOng.
Shopping is always a festival.. we have a lot of places in jalandhar for 12months shopping festival enjoyment.. http://www.oyewhatshot.com/explore/businesslist/26/all guest replied on 2011-10-18
Hi piyanuch There are many Gucci stores in Hongkong. Here I list two stores for your consideration: 1. No. 30 Queen Queen's Road 2. Enping Road, Wan Chai District If you have any further questions, please donot hesitate to contact me. Thanks for your support Nero Hou replied on 2011-02-12
April Offer $25 Coupon
Send your inquiry before Apr. 30, 2014, and we will email you a $25 coupon.
The coupon is valid till Dec. 31, 2014, for paying tour packages worth $250 or up.
The coupon cannot be used for paying flight tickets, train tickets, hotel rooms and day trips.
Travel Advice or Question? Ask us here