Giant Panda Characteristics
The giant panda is a type of bear. The Chinese call it the 'big bear-cat' (大熊猫 da xiongmao /daa-sshyong-maoww/).
Quick Facts
Chinese Name: 'big bear-cat' (大熊猫 dàxióngmāo /dah-sshyong-maow/).
Size:75 cm (2½ ft) tall, 1½ m (5 ft) long
Weight: Up to 150 kg (330 lb)
Habitat: Mountainous western central China; Sichuan, Shaanxi, and Gansu. See the map
Diet: 99% bamboo, 13 kg (30 lb) or more a day.
Life Span: Up to 30 years in captivity, 15–20 years in the wild
Protection Status: Endangered.  1,500–3,000 in the wild.
How Tall and Weight of Giant Pandas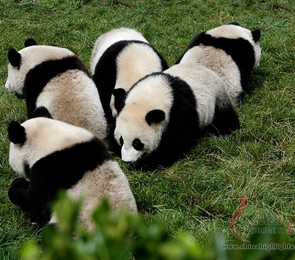 Grown pandas are about 75 centimeters (2.5 foot) tall and 1.5 meters (5 ft) long (see the diagram showing a man and a giant panda). They weigh up to 150 kg (330 lb). Females are smaller, weighing up to 125 kg (275 lb).
body length 120~180cm
shoulder height 65~70cm
hip height 64~65cm
Chest girth 87~89cm
hind leg length 12~20cm
tail length 10~20cm
wild panda weight 60~73kg (110kg maximum)
artificial-feeding panda weight 80~125kg
life expectancy of wild pandas 20 years
life expectancy of artificial-feeding pandas 30 years or longer
Giant Pandas' Appearance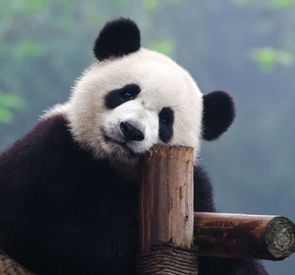 Giant pandas have a distinctive appearance. Their thick black and white fur equips them for life in cool forests. Their white coat with black markings is unique, with black patches round the eyes and ears, black legs and a black band around the shoulders.
Giant pandas' paws have five "fingers" and one "thumb" – an enlarged bone at the heel of the paw used for gripping bamboo, climbing, etc.
Giant pandas' round body shape helps them keep warm despite their low-calory bamboo diet. Their round faces hold big jaw muscles and molars for crushing bamboo.
They have good geographical memory, hearing and sense of smell, but their sight is poor.
Teeth of Giant pandas
The giant pandas start to grow permanent teeth as they gradually draw to 7 months old, whose back-teeth are about 7 times the size of those of human being, featuring a wide surface area. The powerful jaw bones and strong teeth of giant pandas help them crush and grind bamboos.
Food & Dining
Bamboos are the favorite food of giant pandas, which account for 99% of food for panda. Giant pandas consume about 25-kilogram bamboos per day, only 17% of which are absorbed. The bamboos consumed by giant pandas are classified into 40 kinds of 9 genera in the panda habitats now, and the well-selected feeds, vegetables, and fruits are also provided for pandas in captivity to ensure their demand for nutrition. The wild giant pandas would hunt for small animals such as mice once in a while.
Top Giant Panda Tours
You will visit the Panda Breeding and Research Center to see the cute black-and-white animals, the romantic lanes in Chengdu, and the Giant Buddha cut in the Tang Dynasty.
This tour combines Bifengxia Giant Panda Base, and the highlight attractions in Chengdu including Jinli Ancient Street and Sanxingdui Museum.

Planning a trip? Ask us here

800-2682918 (USA & CA)

86-773-2831999

1800-764678 (AU)

0800-0327753 (UK)

800-8793-007 (China)
Q:
Vivian
Asked on 7:14 PM Mar. 06 2012
Reply
How large are they when 2 yrs old?
Hi Vibian, a 2-year-old male Giant Panda weighs about 78kg, and the body length is about 130cm. Doris Huang Replied on 02:03 AM Mar. 07 2012

What kinda dumb fool would ask this question dumb ass guest Replied on 5:01 PM Mar. 27 2012
Q:
Brannia
Asked on 5:58 PM Feb. 09 2012
Reply
who wrote this?
Hello Brannia,
I am Mia Yang, a web editor at China Highlights. I wrote the article "Giant Panda Characteristics". Do you have any comments or suggestions? If any, feel free to contact me via email at mia@chinahighlights.com
Thanks&Regards,
Mia Yang Mia Yang Replied on 03:10 AM Feb. 10 2012
Q:
sadie
Asked on 1:18 PM Feb. 09 2012
Reply
i think pandas are cute and i would like a pet!!!!!!!!!!!!!!!!!!!!!!!! yay
Q:
alaina
Asked on 4:01 PM Feb. 05 2012
Reply
why do pandas have the black aroun dtheir eyes
Q:
Kamaya Blount
Asked on 08:53 AM Jan. 30 2012
Reply
Are pandas really mean and fierce and protective about their babies?
Baby panda is protectively taken care by its mother, until it is 1.5 years old (or even as long as 2.5 years old, if the mother does not get pregnancy. Lynn Ye Replied on 02:08 AM Jan. 31 2012

Mother Pandas are very protective if thier cubs. They wouldnt attack anyone but at any sign of danger they would hurry and run, or climb up a tree. Until the panda is about a year and a half old and can take care of itself guest Replied on 6:35 PM Mar. 16 2013