Great Wall of China Facts
Top Sections

Show full list
Quick Facts
Chinese Pinyin: Cháng Chéng
Location: North China
Length: 6,260 km (3,890 miles)

Name: the Great Wall of China / the Great Wall
Meaning: 'Long Wall'
Other name: the 10,000-Li-Long Wall
Meaning: 'the 5,000-Kilometer-Long Wall'
Features
The world's longest wall and biggest ancient architecture
A stunning array of scenery: from the beaches of Qinhuangdao, to rugged mountains around Beijing, to a desert corridor between tall mountain ranges at Jiayu Pass.
Badaling, Mutianyu, Simatai, Jinshanling, Jiayu Pass, Shanhai Pass (Old Dragon Head)
See our Great Wall Tours.
Most popular souvenirs and local products: Great Wall paintings, "I've climbed the Great Wall" T-shirts, Great Wall fragments (some genuine, some not)
History
7th century BC: Construction of the Great Wall begun by feudal warlords.
Qin Dynasty (221-206 BC): Lengths of the Great Wall were joined together (alongside the union of China).
206 BC–1368 AD: Extension and rebuilding to protect the northern borders of the Chinese Empire from invaders.
Ming Dynasty (1368–1644): The Great wall reached its greatest extent.
Qing Dynasty (1644-1911): The last Chinese dynasty was ushered in by a beach of the Great Wall at Shanhai Pass by Manchu invaders in league with a disenchanted general. Great Wall maintenance ceased for more than 3 centuries.
Late 20th century: Various Great Wall sections became tourist attractions. Read more »
Non-history: see Great Wall Legends
Most famous legend: Meng Jiangnü and her wall-destroying weeping.
Geography
Significance: the longest fortification ever built
Purpose: to defend the Chinese Empire from Mongolian and Manchu enemies to the north.
Tourism: China's biggest and most popular tourist attraction.
Provinces and municipalities crossed: Liaoning, Hebei, Tianjin, Beijing, Shanxi, Shaanxi, Ningxia, Gansu
Location: From Shanhai Pass (39.96N, 119.80E) to Jiayu Pass (39.85N, 97.54E). Straight line distance: 1900 km (1200 mi). Most popular sections are around Beijing.
Closest section to Beijing: Juyong Pass (55 km or 34 mi)
Most visited section: Badaling (63,000,000 visitors in 2001)
Terrain: Mostly mountainous, taking advantage of natural obstacles. From the Bohai coast at Qinhuangdao, around the north of the Great Plain of China, across the Loess Plateau, and along the desert corridor of Gansu between the Plateau of Tibet and the loess hills of Inner Mongolia.
Altitude: From sea level to over 500 meters (1,600 feet)
Best time to visit the Great Wall: Beijing sections: spring or autumn. Jiayu Pass: May to October. Shanhai Pass: summer and early autumn.
Great Wall tours: If your goal is to reach the Great Wall, we at China Highlights are here to help you get over all the difficulties.
Top Great Wall FAQs: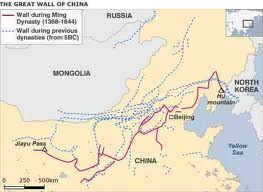 There is no easy answer, because over the dynasties the Great Wall has been eroded, built, rebuilt and extended many times. It was over 6,000 km (3,700 miles) long. Read more »
The first parts of the Great Wall were built in the 7th Century BC when China was still divided into many small states. Read more>>
In order to save this cultural heritage, many wise men suggest we should make the Great Wall better understood by the world, and make laws to protect it. Then the world can share this outstanding part of Chinese history and culture in this century and centuries to come. Read more »
Over the years, dozens of world celebrities have left their foot steps on the Great Wall. Read more »
The Great Wall offers a timeless charm to tourists, but scenery varies with the seasons. Visit in a different season and you will get a quite different experience. Read more »
Facts about Major Cities and Attractions