Guilin Weather in February
Weather: The coldest month has gone, but there are sharp rises and falls of temperature at intervals. Sometimes it is gloomy, but it is still pleasant when the sun is out. On the cold days, the wind and damp adds to the chill. There is usually no heating in most places except the top hotels and the cruise ships, and this makes it feel doubly chilly on those days.
The average daily low and high temperatures are respectively 13 °C (55 °F) and 7 °C (45 °F). There is about 98 mm of total rainfall each month, and though it rains most of the days of the month, it is one of the driest months of the year. See the current weather and forecast>>
Clothing: Generally a thick coat or a thick sweater and an umbrella are enough to cope with the weather.
Things to Do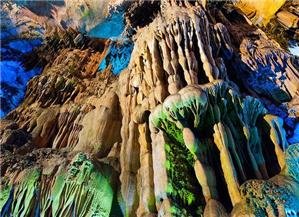 Reed Flute Cave
Explore "warm" caves: Although Guilin is in the cold tail end of winter in February, there are quite a few places which are warm and comfortable for sightseeing compared to outside, such as the natural karst caves. Inside these caves, there are limestone formations of all shapes. Lit with colorful lights, they look like natural palaces. The most frequented caves include Reed Flute Cave, Seven Star Cave, and Crown Cave.
Relax at the hot springs: Longsheng is another good place to go. There are five-star hotels at the hot springs site, and you can also find more economical ones to suit you. During the Spring Festival, the hotels might be fully booked, so try to reserve one in advance.
Take an enchanting cruise: Drizzles and fog might make the scenery of the Li River enchanting, but the water level is low. Cruises still operate, and they provide a nice lunch and a warm cabin.
Chinese New Year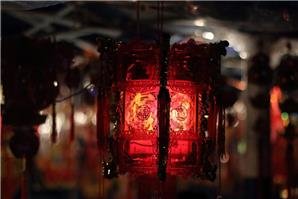 the Chinese lantern at Guilin New Year Decoration Market
Experience the Chinese New Year: The Spring Festival usually falls in February, and it's a good time to experience authentic Chinese culture and cultural activities in the biggest Chinese holiday season. Explosions and colorful fireworks all around at mid-night of the Eve are a memorable experience. You can have fun with fireworks, try the holiday food, buy souvenirs, and experience the customs.
You may find the city of Guilin empty, because a large percentage of the city's workers go home for a traditional reunion on Chinese New Year's Eve, departing on Chinese New Year's Eve or shortly before. People mainly spend New Year with family and friends, celebrating with special food and setting off fireworks. You might enjoy the quiet uncrowded streets of Guilin, or you might find it boring during the holidays. Most shops close during the festival, except big department stores and big restaurants. Small snack shops mostly close and street food vendors are scarce.
However Yangshuo particularly can be crowded, usually with traffic jams in the town and roads to major attractions, especially if it is a warm New Year holiday. Attractions and main streets are colorfully decorated for the New Year, e.g. with hanging red lanterns.
Low Season
Winter (November to March) is the low travel season, and traveling to Guilin is easier, and it is cheaper than usual. However, the Chinese New Year period is the busiest travel time all over the country. During that two week period, expect high rates for hotel rooms and greater difficulty obtaining flight and train tickets. An easier way to go is to let us help you get your rooms and tickets and even give you discounts.
Guilin Tours
China Highlights offers Guilin tour packages. We can tailor-make a tour to suit your needs. We've created a variety of tours through our years of experience and customer feedback.
Further Reading
Guilin Climate Information by Month
Questions and Answers About Guilin Weather in February
Alexandra
2013-01-10
Show Answer
Hi, I''m planning to stay in Guilin from 11-15 February 2013. Are all shops, markets open during this time? Greetings from Switzerland Alexandra
Hi Alexandra, most of them will still be open.
Whitney Liao replied on 2013-01-11
GOH
2012-12-29
Show Answer
Hi, I''m planning to visit Guilin during this coming Chinese New Year(Feb 10-17). Want to know cold is the whether?
Dear GOH, Based on the former data, the average temperture will be 8-14℃(46.4-57.2℉). It will a bit cold, you could take some sweater and a cotton padded clothes. Here is an useful website to check the new information, I suggest you check it before leaving for Guilin. Please click: http://www.weather.com.cn/en/weather/101300501.shtml Lussie Lu replied on 2012-12-30
Kevin
2011-02-15
Show Answer
Hi I'm planning to visit Guilin in next week (feb 21-25). The weather indicates that there's a chance of rain. How bad is it? Raining all day? light rain?
Hi Kevin, You are right, the weather forecast indicates that it would rain next week. We have rains in these two days, most of the time they are light rains but they can last for a whole day. You may need an umbrella for the tour. Candy Wei replied on 2011-02-16
April Offer $25 Coupon
Send your inquiry before Apr. 30, 2014, and we will email you a $25 coupon.
The coupon is valid till Dec. 31, 2014, for paying tour packages worth $250 or up.
The coupon cannot be used for paying flight tickets, train tickets, hotel rooms and day trips.
Travel Advice or Question? Ask us here

China Highlights
Guilin Travel Guide