Li River
Why Visit the Li River?
The most popular and picturesque scenic area in Guilin, and eulogized throughout China, the Li River is listed as one of the world's "Top 10 Watery Wonders" by America's National Geographic Magazine and the World's "15 Best Rivers for Travelers" by CNN Travel.
In recognition of its beauty, an image of the Li River is featured on the current series of the 20 yuan banknote.
Some world famous people have visited the Li River, including former US President Bill Clinton, former US President George Bush, and Bill Gates.
Chinese pinyin: Lí Jiāng, pronounced "Lee Jyang"
Li River activities: a Li River cruise, a Two Rivers Four Lakes cruise, hiking, bamboo rafting, photography, watching the night show Impression Liu Sanjie on the river
Li River Cruise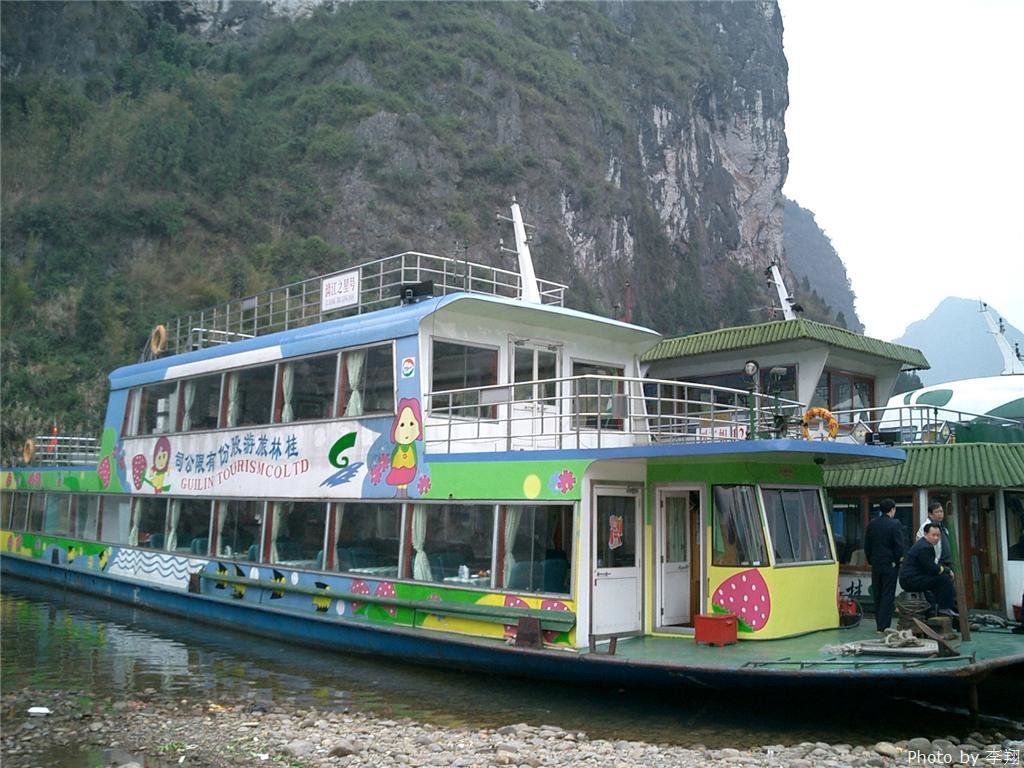 The Li River Cruise
A Li River cruise from Guilin to Yangshuo is one of the most popular activities in a Guilin holiday. Zhujiang Pier is the usual boarding point for a Li River cruise. It is about 32 kilometers' (20 miles') or 40 minutes' drive from Guilin city center. A Li River cruise is included in all of our Guilin Tour Packages.
World-class view
See the karst landscape beautifully complimented by the Li River
Clean, comfortable, and classy 120-passenger cruise boat
English-speaking guide
English-speaking companions from various countries
Hotel pickup in the morning
Relaxed atmosphere
6-person table seating
Chinese buffet lunch included some free drinks
Also read Sports Illustrated's Super Models Photographed in Picturesque Guilin.
Scenery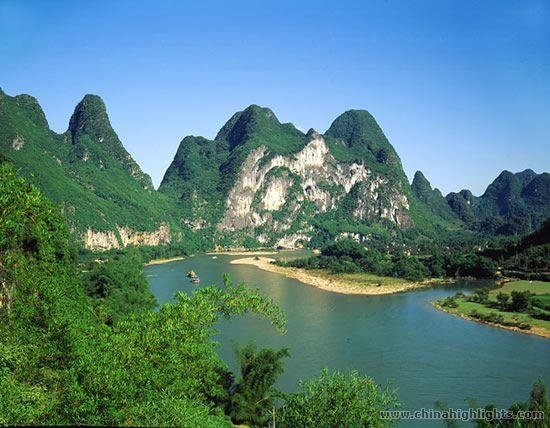 One of the famous sites along Li River-Nine Horse Painting Hill
Bamboo groves, jagged, sharp-edged hills like broken teeth, a wide placid river and peaceful farm and village terrain. Look down in the clear river to see the river bottom and rocky shoals. Highlights along the way include Nine Horse Fresco, Yellow Cloth Shoal, 20-Yuan Bill Hill, and Xingping Town.
Food
The quality and quantity of the free buffet lunch is below what would be expected on land due to limited space and resources onboard ship. You can ask your hotel to pack a lunch box for you at extra cost (about 100 yuan / person), or you can order fresh-water dishes at the start of the cruise (about 100 yuan or more per dish).
Sample Itinerary
8 to 8:30 am: Pre-arranged pickup of passengers at their hotels.
8:30 am: Van or bus transport to Zhujiang Pier.
9:30 am: Cruise begins. The tour guide gives an interesting detailed narration of the tour, the geography of the area, and the trip itinerary. A tourist map pamphlet is given to passengers on boarding for reference.
12 to 12:45 pm: Lunch.
1:30 pm: Arrive at Yangshuo. One hour of free time for sightseeing, shopping, etc. Walking West Street is recommended.
2:30 pm: Optional tour countryside bus tour to see cormorant fishermen, water buffalo, and countryside scenery. Optional river rafting excursion.
5 pm: Return to Guilin hotel. The return bus trip takes about 90 minutes. Inform your travel advisor when booking if you wish to return to Guilin earlier or later.
See also our Li River Cruise Day Tour.
Li River Bamboo Rafting
A typical raft cruise: Passengers are picked up from their hotels and transfered to Yangdi Village to begin the 2-hour bamboo raft journey to Xingping Village. Sit on the comfortable bamboo armchairs while enjoying the scenery and breeze. The boatman is happy to stop anywhere possible on the river for you to take photos. Lunch can be arranged at a local restaurant on the river bank.
The rafts are built in traditional design, but many are made from 150mm (6") diameter plastic pipes rather than bamboo now for extra buoyancy, and powered by a long-tail outboard motor. Such rafts have been used by farmers and fishermen for centuries. The rafts are open at the front, rear and sides, but have a steel canopy to protect passengers from the sun and rain. Each raft can seat 4–6 people excluding the boatman.
Want to know the differences between a Li River cruise by cruise boat and bamboo raft? Read "Li River Cruise vs Bamboo Raft — An Australian Expat's View".
Li River Hiking
For outdoor lovers hiking along the Li River is a good chance to get closer to nature and local life. The most popular route is from Yangdi to Xingping, which takes about 5 hours. See our Li River hiking video and our Li River hiking tour, or contact us for a tailor-made tour including hiking and anything else you would like to include.
The entire hiking route is about 22 kilometers long, divided into two sections: Yangdi–Jiumahua Mountain (10 km) and Jiumahua Mountain–Xingping (12 km). There are three choices for visitors planning to travel this section of Li River.
Only hike. If you do not want to continue hiking after arriving at Jiumahua Mountain, you can take a battery car to Xingping for free.
Hike half of the route. You can choose each of the two sections: Yangdi-Jiumahua Mountain, or Jiumahua Mountain–Xingping to hike, and for the rest section, you can take a raft for replacement, but be prepared for extra fee.
No hiking. You can take a raft to visit this section of Li River. It costs a little bit more than hiking.
Also read best hiking trails in China.
Best Time to Visit
The rainy season is from April to July. In the hotter months of June and July the rain is often heavy but short-lived, with the afternoon sun quickly drying up the rain. In the heat of the summer the river mist is best seen in the early morning. See more on Guilin Weather. The high season is from April to October. During sunny days, tourists can see the inverted reflection of the hills on both sides clearly in the water. During cloudy days, the hills are surrounded by mist and tourists may feel they are cruising in a mystical paradise. When the rain comes, drizzle is like a veil covering the hills and the river.
In the winter low season (November till March) the water level gets much lower, so the cruise length is shortened to about 2 hours. It is quieter during this period because there are fewer tourists. Wear heavy coats when you take the cruise, because the temperature is lower than in the city.
Li River Facts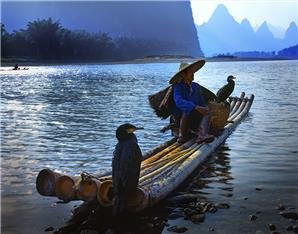 The fishman is fishing with his cormorants on the Li River
The Li River is the main river system of Northeast Guangxi, i.e. Guilin Prefecture. Its longest tributary originates near Mao'er Shan (Cat Mountain), highest mountain in South China, north of Guilin. The Li River is first named as such at the Ling Canal, which links the Li and the Yangtze via the Xiang River.
It winds its way south passing through Guilin and Yangshuo. The 83-kilometer-long section between Guilin and Yangshuo is the essence and the most beautiful part. At Pingle it is met by the Lipu River and the Gongcheng River and is then called the Gui River. The Gui River joins the Xi ('West') River at Wuzhou, and finally flows into the South China Sea at Macau.
Further Reading
Li River Photos
Questions and Answers About Li River
Eddie chan
2013-02-28
Show Answer
Hi! I will be in Guilin on 23/3/13 and I''m planing to take the cruise to Yangshou on 24/3/13( 2 adults and 2 children age 5 & 7 ) we will be staying in Yangshou for 1 night can you help to arrange the ticket for the cruise and what are the cost ( without hotel )
Dear Eddie, yes, we are very glad to arrange the ticket for you. I have sent you the quotation via email. Please check it. Any questions, please feel free to let me know. Have a nice day!
Whitney Liao replied on 2013-03-04
Prachi`
2013-01-21
Show Answer
Hi , We are a group of 4 adults, 2 kids(5-6 years) and an infant. We are looking to book a Li river cruise on Feb 9th from Guiln to Yangshuo.Can you advise the timings, duration and rate.
Hi Prachi,
The cost for the cruise ticket is USD324 for the group. The cruise lasts for 4 hours.
The cruise time is from 9:30AM to 1:30PM or 10AM to 2PM based on the availability.
we can only get the ticket 1 day in advance before Feb.9th. So you will need to come to our office just besides the Elephant Trunk Hill in downtown area in Guilin to get the cruise ticket.
If you need a transfer or a guide's accompany, please let us know as soon as possible. The Chinese new year holiday is from Feb.9 to Feb14. It is very hard to find a tour guide unless you arrange it now.
Thanks for your understanding.
Sammi
Sammi Dai replied on 2013-01-22
Brett Gillanders
2013-01-09
Show Answer
What cruises are operating at end of January? What is the cost of the hiking tour? and, are the rafts still operating?Brett
Hi Brett, the Li River Cruise is operating everyday. Do you want to hike from Yangdi to Xingping? Or somewhere else? The rafts are also operating. Please rest assured.
Whitney Liao replied on 2013-01-10
Hi Whitney, Thanks for that. I will be there from 25th - 29th this month, on my own. Want to do some hiking, maybe some biking at the end of the river cruise, do the Hua River walk as described by Gavin. Do you have an office in Guilin? I have booked accommodation, will meander down by rail from Pingdingshan, and would like to call in early on the 25th, or late on the 24th, to see what I can do with my time :) Cheers Brett guest replied on 2013-01-12
Hello Whitney, I was also wondering if I can book some train tickets, and 2 air tickets, at your office while I am in Guilin? Could you tell me where your office is? I will be staying at the Guilin JingGuanMingLou Museum Hotel, is it anywhere near there? Cheers Brett guest replied on 2013-01-19
Hi Brett,sorry for being late. Yes, we can help book it. But it is near the China's Spring Festival, so the ticket is not easy to obtain. We will try all of our effort. We are based in Guilin. Welcome to our office! Add: 11 Binjiang Road Guilin 541002 China桂林市滨江路11号(541002) It is about 15mins walking from JingGuanMingLou Museum Hotel to our office. Whitney Liao replied on 2013-01-22
Ling
2012-11-05
Show Answer
hi, I am intending to visit guilin, yangshuo and Li River in end March or early april. could you advise how do i go about, accomodation, price ?We are a couple from Singapore going to Chengdu, than Guilin. Aty the end of the tour we will visit Chengdu for a couple of days before returning back to Singapore.thank youLing
Hi Ling, we are very glad to arrange this tour for you. Please kindly let me know below the information:
1. do you mean you will enter and depart China from Chengdu?
2. do you need any tour service in Chengdu?
3. class of hotels: 3/4/5 star?
After getting these information from you, we will send you a detailed itinerary soon.
Whitney Liao replied on 2012-11-06

China Highlights
Guilin Travel Guide