Guilin Weather in May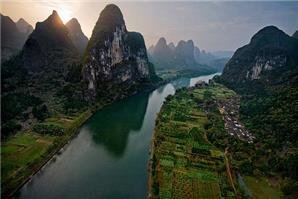 The Li River in May
Weather: May is the wettest month with heavy thunderous downpours. On some days, there is continuous rainfall that sometimes lasts for more than a day at a time (average monthly rainfall 350 mm or 14 inches).
The temperatures are pleasant, and the rain is refreshing. The average daily low and high temperatures are respectively 20 °C (68 °F) and 27 °C (81 °F). See the current weather and forecast>>
Clothing: Prepare an umbrella for the rainy season. Sometimes it feels very warm, so a T-shirt and a light sweater or waterproof jacket are enough for traveling in and around Guilin and Yangshuo.
Things to Do
Longsheng Terraces: If you like taking photographs, don't miss Longsheng in late April and early May. The terraced fields are filled with water, and they are just as flat as a mirror reflecting the sky and hills. This is the best time to visit the Longsheng area. You'll get amazing photos and views like the irrisdescent photo to the right. About 8 ethnic minority groups are in the Longsheng region.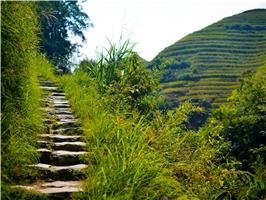 The Longji Terraced Fields
Late spring is the best time for hiking in the area. The temperatures are warm, and everything feels fresh and clean with the vegetation and new crops sprouting and flowering. If you like hiking, bring rain gear and good waterproof hiking shoes or boots. You'll need them for the slippery stone steps and the muddy farmer's paths.
You can go off the beaten tour trails and explore little villages yourself and enjoy the local cuisine. There is about 60 square kilometers of these terraces to explore and various ethnic villages. The terraced hills reach 1,000 meters (3,200) feet high, so you'll need some warmer clothing.
See the local festivals: The ethnic minority festivals in April or May (depending on the date in the lunar calender) include the Zhuang Cattle Festival.
See the Li River mists: You are most likely to see the Li River mists in May, a popular natural painting theme in China. This rain raises the water level of the Li River and the other smaller rivers and creates some beautiful green scenery for a rafting trip or a Li River cruise. It is also the best time to go hiking along the Li River as the weather is very comfortable.
High Season
The tourism high season is well under way in Guilin, and the first week or the first ten days of May are a time you might want to avoid. The Labor Day holiday is a time of mass holiday travel in China leading to crowding and increased prices. Hotel rooms or flight and train tickets are difficult to get, but we can help you book them even at a discount. It is especially difficult to get bus and train tickets since the lines at the stations are long.
Guilin Tours
China Highlights has arranged a variety of Guilin tours that you can modify to fit your plans and dreams for everything from hiking to biking to kayaking to sightseeing. We can tailor-make a tour to suit your needs. We know the area well and create your tour by our years of experience and customer feedback.
Further Reading
Guilin Climate Information by Month
Questions and Answers About Guilin Weather in May
April Offer $25 Coupon
Send your inquiry before Apr. 30, 2014, and we will email you a $25 coupon.
The coupon is valid till Dec. 31, 2014, for paying tour packages worth $250 or up.
The coupon cannot be used for paying flight tickets, train tickets, hotel rooms and day trips.
Travel Advice or Question? Ask us here

China Highlights
Guilin Travel Guide