Guilin Weather in May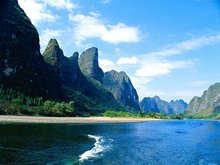 Weather: May is the wettest month with heavy thunderous downpours, and continuous rainfall that sometimes lasts for more than a day at a time (average monthly rainfall 350 mm or 14 inches). The temperature averages a warm 23°C (72°F).
Clothing: Prepare an umbrella for the rainy season. Sometimes it feels very warm, so a T-shirt and a light sweater are enough for traveling in May.
Things to Do
Li River: Guilin's rainy season is in May. Heavy rains usually fall during this month. You are most likely to see the Li River in mists and fogs which is a popular natural painting. It is also the best time to go hiking along the Li River as the weather is very comfortable.
Longsheng Terraces: if you like taking photographs, you can´t miss the Photography Festival in Longsheng. In May, the terraced fields are full of water and are just as flat as a mirror reflecting the sky and hills.
High Season: The tourism high season is well under way in Guilin, with the first week of May being a time to avoid. The Labor Day holiday is a time of mass holiday making in China leading to crowding and increased prices. See our Guilin Tours.
Guilin Climate Information by Month

China Highlights
Guilin Travel Guide