Li River Hiking
The Li River, in Guilin, is considered to be the most beautiful river in China. There are three ways to tour the Li: taking a cruise boat, a bamboo raft, or hiking. While a cruise is the most popular way to explore the river, a bamboo raft is a more sedate, flexible, and natural. But hiking is enjoyed by an increasing number of travelers.
The beauty of the Li River cannot be fully appreciated on a boat. Instead, hike slowly along the river, stopping here and there by the river, and immerse your feet in the water. Follow the trail through bamboo groves, treading between golden rice fields (in early and autumn), and even camp for one night to experience the sunrise and sunset. This is how to fully appreciate the beauty of the Li Jiang.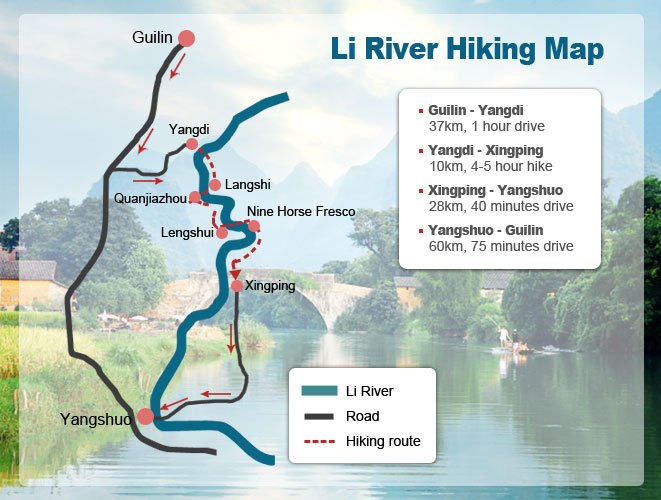 The entire hiking route is about 22 kilometers long, divided into two sections: Yangdi – Jiumahua Mountain (10 km) and Jiumahua Mountain – Xingping (12 km). (Jiumahua is the famous 'Nice Horse Fresco'.)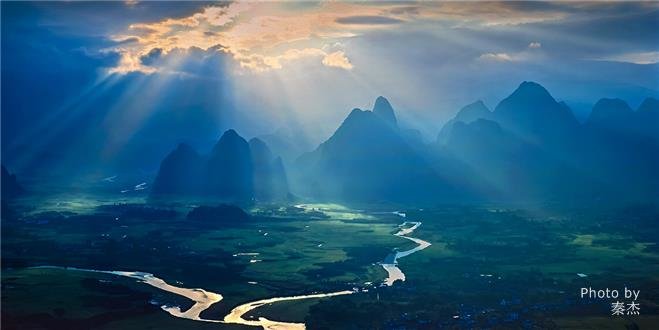 There are three choices for visitors planning to travel this section of the Li River, using hiking and bamboo rafting.
Only hike, no raft: If you do not want to continue hiking after arriving at Jiumahua Mountain, you can take a battery car to Xingping for free.
Hike half, half by raft: You can choose either of the two sections: Yangdi–Jiumahua Mountain, or Jiumahua Mountain – Xingping to hike, and for the other section you can take a raft, but be prepared for a fee.
No hiking, just rafting: You can take a raft to see both these sections of the Li River. It costs a little bit more than hiking.
The Yangdi to Xingping Route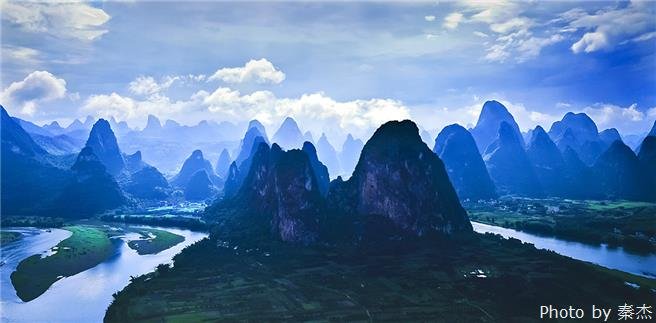 The most popular Li River hiking route is from Yangdi to Xingping. The 22 km route covers the essence of Li River. It crosses the Li River three times and passes six nature villages. The entire trip takes five to six hours by foot. Hikers come across many scenic spots, such as Langshi Scenery, Nine Horse Mural Hill and Yellow Cloth Shoal.
This route is rougly divided into two parts, Yangdi-Jiumahua Mountain part and Jiumahua Mountain–Lengshui Ferry–Xingping part.
Yangdi–Jiumahua Mountain (10 km)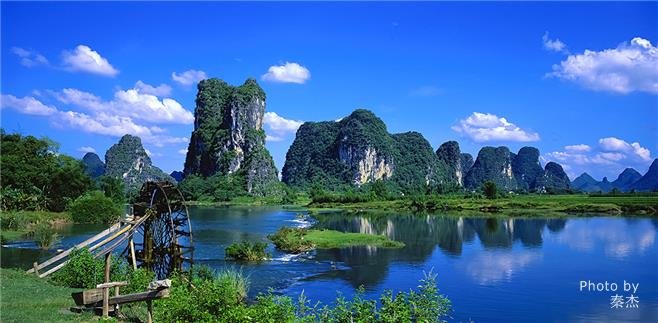 Yangdi is 46 km from Guilin, about one hour by bus. Hikers can enjoy Guilin rice noodles (a bowl costs only 2 Yuan) in many small restaurants at Yangdi ferry while waiting for boats. Many villagers sell items with bamboo baskets, including taros, Zongzi, chicken and duck eggs, rain gear, and other delicacies. Prices are slightly higher, but such items are still very reasonable. You can also buy food and daily necessities here. The beautiful Yangdi ferry is surrounded by a bamboo forest.
There is a public toilet near the ferry which is of great significance for you, as you won't find a more decent on the way. Toilets indeed are available in some villages you will pass but you may consider to avoid them. There are several crossings that you have to take. The first one is right at the Yangdi ferry.
After crossing the river at the ferry, there is a fairly long section of dirt path, which may became very muddy after heavy rains. About 30 minutes walk further leads to a riverside village, called langshi Village. Scenery around this area is marvelous. The river has its way southward calmly, pinnacles lining in the other side. There came the second crossing point. Be noticed that this point is often very busy and crowded, and expect to see long queues. Many locals taking opportunity of the developed tourism industry in the area; they have their small bamboo rafts stopped at the ferry for business. Travelers are suggested to avoid this local means of transportation for safety concern.
The road condition after the crossing is a bit tough with many slope sections. Many venders offered their services in this part. Steamed red skin potatoes, a kind of vegetable widely planted in the area, fried peanuts, and steamed eggs were available on sale.
Along the bank further downstream. the road reaches the Nine Horses Mural Hill which is one of the highlights along the river. It was so named because of the naturally shaped image of nice horses in different positions on the cliff.
Jiumahua Mountain–Xingping (12km)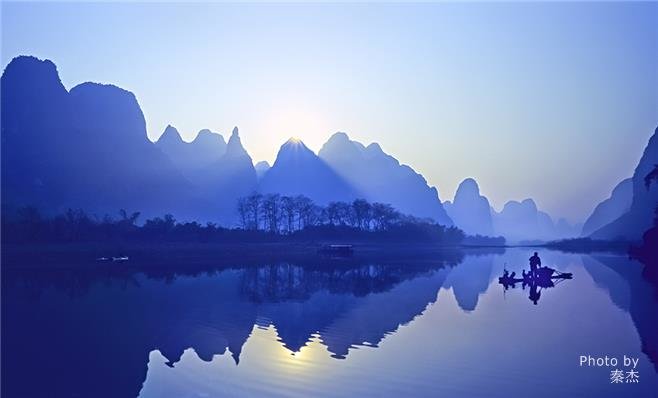 When almost at Xingping, you will come across a famous sight, Yellow Cloth Shoal, that serves as the pattern on the 20 Yuan RMB bill. After landing at Lengshui village and walking straight through it, take a boat in front of Jiumahua Mountain to cross the river. Then, you only need to walk along the field path for three hours to reach Xingping.
Xingping is around 5o minutes' drive away from Yangshuo, and there are regular buses from Xingping Bus Station to Yangshuo.
China Highlights is your China travel expert. We can help you customize a trip to hiking along the Li River, or just see our Li River Hiking Tour.
Useful Information
Best Hiking Time: Spring; visitors can see large field of rape flowers in full blossom.
Road Condition: the road along Lijiang River consists mostly of rice field trails and footpaths. Hikers do not need to climb mountains, and will not get lost since there is only one way.
Wear good walking shoes.
Bring an umbrella or a rain coat in rainy seasons, and a hat in sunny days. Sun scream should be prepared to protect your skin.
Prepare enough water and food.
Prepare small changes if you want to buy water or other snack en route&
Bamboo rafting on the Li River is not recommended as it is illegal.
Chinese lunch can be arranged at simple local restaurants along the way or when you get to Yangshuo.

China Highlights
Questions and Answers About Li River Hiking
April Offer $25 Coupon
Send your inquiry before Apr. 30, 2014, and we will email you a $25 coupon.
The coupon is valid till Dec. 31, 2014, for paying tour packages worth $250 or up.
The coupon cannot be used for paying flight tickets, train tickets, hotel rooms and day trips.
Travel Advice or Question? Ask us here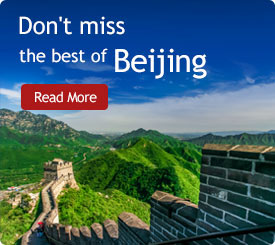 The Most Popular Articles
The Latest Travel Articles