Lantau Island
Feature
Biggest of the Hong Kong islands.
A sparsely populated island of mainly theme parks, tourist sites, parks and natural areas.
It has become a regional recreational area.
Hong Kong Disneyland, Tai O, Po Lin Monastery, and Discovery Bay are the best known sites.
It is a regional transportation hub due to Hong Kong International Airport and 2 MTR lines.
Lots of hiking trails, hills, accessible shorelines and facilities for hikers.
It has good seaside trails and trails that go up to the top of the second and third highest peaks in Hong Kong.
About 25 minutes from Central by ferry. About 27 minutes from Central by MTR train.
Overview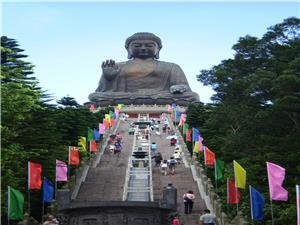 Lantau Island
Many visitors to Hong Kong are surprised to learn how big the territory is and that so much of it is sparsely inhabited. Hong Kong isn't just a big city. People are surprised to find some of Asia's best empty beaches, theme parks, resorts, and hiking places. Lantau Island is Hong Hong's biggest island. It is about twice the size of Hong Kong Island. While much of Hong Kong Island is densely populated, Lantau Island is mostly natural parkland with a big Disneyland theme park, the big Hong Kong International Airport that serves the whole region, resorts and small tourist attractions. There are a lot of hiking trails including trails going up to Lantau Peak and Sunset Peak that are the second and third highest mountains in Hong Kong. There are also quiet seashore areas and beaches that you can hike along. This combination of modern tourist facilities in a setting of parkland, beaches and hiking trails is rare in East Asia. Transportation to Lantau Island is now quick and easy from the city of Hong Kong since two Hong Kong MTR metro lines and the very big Tsing Ma Bridge now connect the island to the urban center.
Hong Kong has several wonderful aspects. One of the several wonderful things about Hong Kong is the sparsely populated country areas and shorelines. Another wonderful thing is the modern transportation facilities. A third wonderful thing is the modern skyline that is the highest of any urban skyline in the world that fits well with the natural environment around Victoria Harbor and that is lit-up in a sound and light show called the Symphony of Light. Lantau has two of these three characteristics. Though high rises have gone up in Discovery Bay that is an expat enclave and around the airport, most of the island is sparsely populated. Only about 60,000 people live on it compared to 1.4 million people who inhabit Hong Kong Island. Lantau Island is mostly undeveloped natural park area. So it is a wonderful place to go to escape from the urban crowds of Hong Kong. The popular sites are the Hong Kong Disneyland that opened in 2005 and the Ngong Ping Tian Tan Buddha and the associated Po Lin Monastery. Another popular tourist site is Tai O with its quaint houses over the water and small tourist attractions. These are places that residents from Hong Kong and the surrounding region go to for recreation or religion. Discovery Bay is a residential area popular among foreigners. The natural recreation attractions include Sunset Peak and Lantau Peak with their hiking trails, a grassy plateau on the island where people can hike, the 73 kilometer-long (45 mile-long) Lantau Trail and several beaches including the two kilometer-long Chueng Sha Beach.
Lantau Island has excellent transportation facilities. For international travelers wanting to visit Lantau Island, Hong Kong International Airport that is on it is often considered the best in the world. It is the world's 13th busiest airport. It is the gateway to Hong Kong that is the gateway to the whole region. In order to give access to Lantau Island when they were building Hong Kong's airport, the Hong Kong government built the Tsing Ma Bridge. The bridge is the world's seventh longest suspension bridge, and it is the longest suspension bridge that is able to handle trains. It was an architectural achievement, and it is a part of the Hong Kong International Airport construction project that is considered one of the world's ten greatest construction projects completed during the 20th century. Once the bridge was completed in 1997, three MTR lines opened that go to the airport, the Asia World Expo convention center, Disneyland, and Tung Chung. The Tung Chung station has a tram to Ngong Ping and the Po Lin Monastery.
Also read Hiking Sunset Mountain on Lantau Island.
Here is a list of the island's main attractions detailing important information:
Man-made Attractions
Opened in 2005.
Four theme lands: Main Street U.S.A., Fantasyland, Adventureland, and Tomorrowland.
The 5th Disneyland theme park in the world.
1.8 billion dollars.
Only 1 big thrill ride called Space Mountain, but more are planned.
It has its own special Disney MTR Line that connects it to the MTR metro system.
One of the biggest sitting bronze Buddhas in the world. The recently constructed Tian Tan Buddha is 34 meters or 37 yards tall.
Known for delicious vegetarian meals with big portions in their cafeteria.
The Ngong Ping plateau that is about 520 meters or 1,706 feet high gives good views.
Buddhists visit it to worship. It is a big Hong Kong Buddhist center.
If you wish to do some hiking, you can follow the Wisdom Path to the start of a trail that goes up to the top of the Lantau Peak, the 2nd tallest mountain in HK.
It has its own special MTR tram that was recently opened. This tram is about 5.5 kilometers long and links the MTR Tung Chung Station to the Ngong Ping Terminals near Po Lin Monastery. This ride as like an amusement attraction and offers great area views and fun travel to the monastery.
A real, ancient Hong Kong Chinese village on the western extreme of Lantau Island.
Known as a village of houses on stilts in the water.
The houses on wooden stilts seem out of place and out of time.
Hong Kong residents visit it as a break from the norm, for meals and to see the two graded buildings.
This town has two "graded buildings" designated by the Hong Kong Antiquities and Monuments Office. The Taoist Yeung Hau Temple has a history dating to 1699 and is a "Grade 1" preserved building. There is also a "Grade 3" Old Tai O Police Station that was built in 1902.
People go to walk around in the area and eat. There are hiking trails in the area.
Inspiratio Lake Recreation Center:
It is a newly built reservoir for Disneyland and surroundings and is a Hong Kong public park.
There is a big fountain in the middle of the lake.
There is a 1.5 kilometer-long jogging track, a waterfall, and park facilities such as bathrooms and exercise stations.
Next to Disneyland.
Discovery Bay:
6,000 people.
Favorite expat enclave for foreigners working in the city.
This is mostly a place for foreigners to live, and not a tourist spot.
This is an excellent location for frequent international travelers and businessmen since it is close to the airport and is about 35 minutes from Central District (including the walk at the ferry terminal).
Seventh longest suspension bridge in the world.
Beautiful and sturdy.
There is a visitor's center.
It looks like the Golden Gate Bridge, but is heavier.
Natural Attractions
Peaks
Lantau Peak is 934 meters or about 3,070 feet tall and has trails to the top. It is in the center of the island.
Sunset Peak is 869 meters or about 2,851 feet tall and also has trails to the top. It is east of Lantau Peak in the eastern part of the island.
The 75 kilometer (46.6 miles) Lantau Trail goes to both peaks.
Trails
An excellent way to see the sites is to go hiking. Imagine descending down to Tai O from above on foot instead of taking a bus. The 75 kilometer-long Lantau Trail takes people from Mui Wo to Cheung Sha Beach to the Shek Pik Reservoir that is the third or fourth biggest reservoir in Hong Kong to Tai O to the Tian Tan Buddha and Polin Monastery to Sunset Peak and then back to Mui Wo.
The Lantau Trail was opened in 1984, and it has distance posts every 500 meters, sign boards and/or maps at trail junctions, and good facilities for hikers. It is well maintained.
No dangerous wild animals except for some snakes and wild boars. It is rare for anyone to die from wild animal attacks in Hong Kong.
Hostels, restaurants, shops for hikers.
Other trails branch off from the Lantau Trail.
There is a variety of scenery from mountain grassland to jungle, and seashore to city to see.
Beaches and Shorelines
The Cheung Sha beach is about 2 kilometers long, and it is relatively empty. It is divided into 2 parts by a headland. The eastern side has a village, beach side restaurants, and sandy shore for playing in the water. The longer western side has rocky boulders.
The Silvermine Bay Beach is a good beach only 5 minutes away from the Mui Wo ferry pier. There are lifeguards on duty at the swimming area.
The Pui O Beach is a camping spot with wild camping facilities. It is a part of Lantau South Country Park that is the largest natural park in Hong Kong with an area of 56 square kilometers or about 22 square miles.

There are other beaches as well.
History
The island may have a prehistoric Neolithic stone ring at Fan Lau. Archeologists are not certain about this. There are Bronze Age rock carvings at Shek Pik where a big reservoir is now. During the end of the Southern Song Dynasty, the Song court fled the Mongols to the island in 1277. Portuguese traders established a settlement on the island in the 1510s, but it was abandoned after they were defeated by the Chinese. The English used it as a trading post afterwards. During WWII, the island's terrain gave cover to resistance fighters. They fought the Japanese until Japan surrendered. Tai O was a major point of entry for people fleeing China after 1949. They came in boats from the north or west, landed at Tai O and then continued eastward to the eastern side of Lantau Island and the Hong Kong urban area.
Touring Activities
Fun at Disneyland.
Buddhism at the Po Lin Monastery.
See the Tsing Ma Bridge.
Relax in a quiet environment.
Hiking.
Go to the beaches.
People sometimes go dolphin watching in boats near Tai O.
Enjoy the natural recreation and appreciate the natural beauty.
Ride in the Ngong Ping tram for 20 minutes and see the island from high in the air.
Travel Essentials
Location
The island is only about 11 kilometers or 7 miles due west of Hong Kong Island.
How to go there
MTR Trains: There are two lines that both start from Hong Kong Station that is under the tall International Finance Center that is between Man Cheung Street and Harbour View Street. The Tung Chung MTR goes to Tung Chung Station. The Airport Express goes to the airport and then it goes on to the Asia World Expo. Travel takes about 35 minutes including waiting for the trains. The Disneyland Resort Line can be caught at the interchange with the Tung Chung Line at the Sunny Bay Station.
Flights: Hong Kong International Airport (HKG) is the 13th busiest in the world.
Ferries: Between Mui Wo and Central's Pier 6, transportation time takes about 30 to 50 minutes, depending on the vessel. A 24-hour ferry service connects Pier 3 in Central and Discovery Bay. Transportation time is 25 minutes plus about 10 minutes for walking on the pier.
Best Time to Visit
There is a lot of rain in the summer. Hong Kong is still fairly warm and is drier in October and November.
Also read Lamma Island's Family Walk in Hong Kong.
Nearby Attractions
Next to Lantau Island is a small island called Ma Wan. The islands are connected by the Tsing Ma Bridge. Tsing Ma Bridge is a tourist destination in itself. On Ma Wan, the newest theme park in Hong Kong that is called Noah's Ark opened in 2009. There is a life-sized replica of the ark.
Hong Kong's biggest and most popular theme park is Ocean Park on Hong Kong Island. It has big thrill rides. Hong Kong Park and Hong Kong Botanical and Zoological Gardens are unusually good and free public parks. Hong Kong Park has a big, free aviary, and the zoological garden has a wonderful free zoo containing mostly small primates. They are both within walking distance in Central.
Questions and Answers About Lantau Island
tammy fischer
2014-01-13
Show Answer
Getting to Lanutau island from cruise terminal! What is the easiest way and the prices?
You can take subway to Tung Chung Station then change to take Ngong Ping cable to Lantau Island. Leon Long replied on 2014-01-13
Willis Murray
2013-04-13
Show Answer
I would like to stay at Lantau Mountain Camp. I have read that this is possible but have not been able to learn who to contact.
Dear Willis, I regret that we have not arranged this item for our clients. I searched on line and found out people can do it by themselves. If you are interested in it, I suggest you could ask the travel agency or the staff of the hotel when you arrive in Hong Kong. Lussie Lu replied on 2013-04-16
Deena
2010-05-19
Show Answer
My neighbor is flying via HKG with 2 kids (6&12) and has 10hours in the airport. What can they do while waiting for connecting flight?
Hello Deena, There are shopping, dining and entertainment options at the airport. you can refer to (http://www.hongkongairport.com/eng/shopping/entertainment/t2/entertainment.html) for more information. Mia Yang replied on 2010-05-20
April Offer $25 Coupon
Send your inquiry before Apr. 30, 2014, and we will email you a $25 coupon.
The coupon is valid till Dec. 31, 2014, for paying tour packages worth $250 or up.
The coupon cannot be used for paying flight tickets, train tickets, hotel rooms and day trips.
Travel Advice or Question? Ask us here

China Highlights
Hong Kong Travel Guide
Hong Kong Top Attractions