Repulse Bay
Feature
One of Hong Kong's most popular beaches.
An ideal place for relaxation.
Clean water and big white sand beach.
Lifeguards on duty during the season.
Free playground.
The backdrop is some of the most expensive residential apartments in the city and a small mountain.
Overview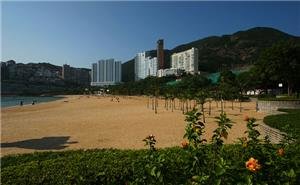 Repulse Bay
Repulse Bay's beach has become one of Hong Kong's most popular beaches because it is close to the city on Hong Kong Island and because it is relatively clean, cozy, has good public facilities like bathrooms and showers and is south facing. People on the beach can face the water and the sun, and the sun reflects off the glittering water and waves. People can walk to the nearby restaurants and get refreshments and swim out into the small bay that is watched by lifeguards during the regular season. The temperatures are perfect in the summer for basking in the sun and enjoying the cool water. The regular season extends from March to November. There are also statues of Taoist gods, a mountain backdrop, and expensive apartments near the beach. It is a free place to do some sightseeing and swim near the city.
Swimming
Repulse Bay is a free public beach, one of about 40 such beaches in Hong Kong. Lifeguards are on duty from March through November, and the facilities like the showers and bathrooms are good and free for the public to use. This helps to keep the beach clean and makes it a pleasant place to go. The beach draws huge crowds when the weather is good during the hot summer months. The lifeguards keep watch for problems and any dangers. There hasn't been a problem with shark attacks.
Part of the reason Repulse Bay is so popular is because the water is clean. The bay is on Hong Kong Island's southern coast and so out of the way of pollution from China. The Pearl River in Guangdong Province is highly polluted and affects the water quality on many beaches. Many of Hong Kong's beaches are somewhat polluted.
Facilities
The facilities include a light refreshment kiosk, changing rooms, showers, bathrooms, a playground, barbecue grills and a beach volleyball area. There is a raft that people can swim out to. There are also two activity rooms for groups or organizations. People should schedule to use them. There is a public parking lot that requires a fee for parking.
Taoist Gods
On the eastern side of the beach are two large and colorful Taoist gods called Tin Hau and Kwun Yum. Some people say that Kwun Yum was an actual person who lived in China. Fishermen and sailors worship it. Many Chinese worship these gods.
History
Repulse Bay is a fine harbor for small ships because the inlet in narrow and is guarded by small islands that protect it. The water isn't very deep. It is said that pirates based their boats in the bay until the British took control. In the last few decades, it has become one of Hong Kong's favorite beaches. Transportation to nearby Central District is easy. Central District is Hong Kong's government district and is the main business district. Tall apartment buildings have been built along the beachfront, and the property values are said to be among the highest in Hong Kong. People are drawn to the bay area that is sheltered by small mountains and has the wonderful beach and is so close to Central District.
Touring Activities
Sunbathing.
Swimming.
Eating, barbecuing, relaxing.
Have fun.
Walk and hike in the nearby parks and small mountains.
Go over to nearby Deep Water Bay Beach.
Travel Essentials
Location: Repulse Bay Road on the southern coast of Hong Kong Island.
How to go there: Buses No. 6, 6A, 6X, 66, and 260 go there from Central's Exchange Square or Central's Star Ferry Pier. The Star Ferry connects Central with Tsim Sha Tsui. From Causeway Bay, take Minibus No. 40.
Open Times: People can go anytime, but the lifeguards have a schedule. In March, April, May and in the fall, they are there from 9 to 6. In June, July and August, there are there 9 to 6 from Monday to Friday; and on Saturdays, Sundays and public holidays, they are there from 8 to 7. But in December, January and February, lifeguard services are not available.
Fee: No fee. Open to the public.
Nearby Attractions
Deep Water Bay Beach is another popular beach you can walk to from Repulse Bay. It is less than two kilometers away. You can take Buses No. 6, 6A, 6X or 260.
Ocean Park is Hong Kong's most popular theme park and amusement park, and it is only about three kilometers or two miles to the west. There are land and sea animals on display, many different kinds of rides, and performing sea animals. A tram in Ocean Park gives a good view of Repulse Bay.
Victoria Peak is about 6 kilometers away. From the nearby town of Aberdeen, there is a hiking route up to the peak that has excellent scenery. One path goes through Aberdeen Country Park. The town of Aberdeen itself is known for its seafood restaurants and especially for the big floating restaurants on ships.
If you want to hike, there are great secluded beaches and mountain trails all over Hong Kong.
How to get there?
There are two methods to get to Repulse Bay on your own.
Take the No.6, 6A, 6X, 260 or 262 bus which start at Central Trade Plaza or Star Port and get off at Repulse Bay.
Take No.40 minibus which starts at Causeway Bay's Tang Lung Street at the border of Hennessy Road with Percival Street and also get off at Repulse Bay.
Recommended time for tourists:A whole day
Questions and Answers About Repulse Bay
April Offer $25 Coupon
Send your inquiry before Apr. 30, 2014, and we will email you a $25 coupon.
The coupon is valid till Dec. 31, 2014, for paying tour packages worth $250 or up.
The coupon cannot be used for paying flight tickets, train tickets, hotel rooms and day trips.
Travel Advice or Question? Ask us here

China Highlights
Hong Kong Travel Guide
Hong Kong Top Attractions