Top Reasons to Visit Hong Kong
Hong Kong is best known as a shoppers' paradise. However, there is so much more to Hong Kong than shopping. This dynamic and vibrant cosmopolis is a fusion of many cultures. Remnants of its colonial past and the British culture and values, share space with the Chinese tradition. Visitors will have no problem getting around Hong Kong. English is widely used throughout the islands and almost all the street signs are bilingual. Here, China Highlights has listed for you the top reasons to visit Hong Kong. You can also check out recommended top things to do, attractions and destinations to visit in China.
See China Highlights' Hong Kong tours or how to plan a budget trip, mid-price trip and luxury trip to Hong Kong.
1. Cultural Kaleidoscope
Hong Kong is a sophisticated fusion of the east and the west. It is under the cultural influences of Cantonese, Mandarin, British, and there are also substantial communities from Hakka, Fujian and Shanghainese people. All the cultures are unique themselves while harmoniously mixed together at the same time.
2. Shopping Paradise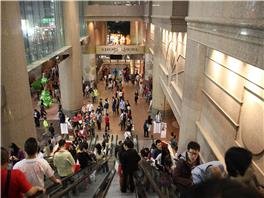 Shopping in Hong Kong
A famed shoppers' paradise, Hong Kong offers a unique shopping experience. From trendy boutiques to traditional Chinese product stores, from luxurious shopping malls to the bustling street markets, you can find everything from the latest designer fashions and electric products to best-value collectibles and antiques.
3. International Cuisine
Renowned as the culinary capital of Asia, Hong Kong is a world of exquisite, mouth-watering international dining options. Apart from trying the regional Cantonese food, tourists can also enjoy a full choice of authentic Asian and western cuisines. The local dim sum and fresh seafood are must-tries!
4. Colorful Nightlife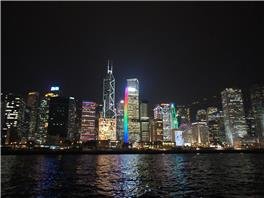 Night views of the Victoria Harbor
Don't miss the fun at night in Hong Kong. You will find the place that fits your interests. Most bars and pubs are mass in east Tsim Sha Tsui, Lan Kwai Fong and Wan Chai. You can also take a night cruise at the Victoria Harbor to enjoy the view and the Symphony of Lights. Of course, there are many more.
5.Perfect Family Destination
Hong Kong is a perfect destination for family tours, with parks, temples, museums, and natural reserves. Children will have fun meeting cartoon characters in Disneyland, taking a boat ride at a fishing village, and riding the tram all way up to the Victoria Peak.
6. Numerous Festivals and Fairs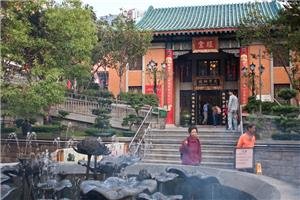 Wong Tai Sin Temple
There are many festivals throughout the year, and whenever you visit Hong Kong, you may have a good chance to experience the unique culture of Hong Kong. Lion and dragon dances, fireworks, festive feasting, carnivals and parades come together to create the festive atmosphere.
7. Convenient Transportation
Hong Kong boasts an excellent transportation network. It bears the reputation as having one of the best transportation systems in the world. It is also very convenient when it comes to getting around within Hong Kong.
8. Gateway for Exploring the Rest of Asia
Hong Kong's location made it the main gateway to China as well as much of East Asia. Therefore, its international air service is excellent and competition keeps the fares relatively low compared to neighboring countries.
Related Links
- Top - or Hong Kong Travel Guide
Questions and Answers About Top Reasons to Visit Hong Kong
Mary Grace Napil
2014-04-03
Show Answer
Hi, me and my friend will be traveling to hongkong this coming Nov. 4, 2014 for 3nights. can you give us a list of hotel that is close to Ocean park or any attraction areas and shopping malls and also transportation. Thank you
I would like to recommend YMCA, for more hotels in Hong Kong, you can search from our webpage at http://www.chinahighlights.com/hotel/ guest replied on 2014-04-04
hesham
2013-10-01
Show Answer
I am hesham from libya .i would like to visit hong kong .i have a visa to china can i enter to hong kong or no? answer me please
Hi,
Hong Kong visa will be needed from you if you enter Hong Kong even though you have got a China visa. You could know more about the Hong Kong visa here: http://www.chinahighlights.com/hong-kong/visa.htm
Regards,
Coco
Coco Yang replied on 2013-10-02
charlene acosta
2012-12-10
Show Answer
Its my son''s 2nd birthday.as a treat i want to bring him to disneyland.is it a perfect time to go.we will be in hongkong jan20-23 2013...how will the weather be like? Thanks a lot
Hi Charlene, the average temperature in Hongkong in Jan. is 14 °C (57 °F) ~19 °C (66 °F), very comfortable weather, so it is the perfect time to go.
Whitney Liao replied on 2012-12-10
Margaret
2012-11-05
Show Answer
Hi can you advice what are the best places to go in Dec 10 to 20th in Asia, we are an old couple 65 over with a son 35 . Cannot stand too cold and do not like to carry too many thick winter clothes as cannot manage lugguages. Taiwan, HK Japan, korea , China perfers but Cina is very cold now . Need tour to guide us all the popular landmarksthanks
Hi Margaret, you can go to Sanya and Hongkong in China where it is warm in winter. Vietnam, Malaysia and Burma are also worth going.
Whitney Liao replied on 2012-11-07
Debby
2012-10-19
Show Answer
Hi,I''m from Indonesia and am planning to go to Hong Kong this December, perhaps from 25-30Dec. Could you please suggest me good hotel, I prefer apartment type that I can book for my stay? Also, what would be goodlace to visit within those days? Do you have any info on Moslem tour, or restaurant and hotel which provides moslem food? Thanks much!DebbyI''m planning to
Hi Debby, for hotels in Hong Kong, please check here http://www.chinahighlights.com/hotel/hong-kong-hotels/
The Disneyland, Ocean Park, Repulse Bay, Aberdeen Harbor, Victoria Peak, etc are all can't missing in HK.
Sorry, there is no Moslem tour available at the moment. Here is a halal restaurant for you.
Namaste Club(印度食店)
Add: Building 1, No. 506, Lok Street, Causeway Bay, Hong Kong 香港铜锣湾洛克道506号1字楼
Tel: 00852-2893 0587
Whitney Liao replied on 2012-10-22
April Offer $25 Coupon
Send your inquiry before Apr. 30, 2014, and we will email you a $25 coupon.
The coupon is valid till Dec. 31, 2014, for paying tour packages worth $250 or up.
The coupon cannot be used for paying flight tickets, train tickets, hotel rooms and day trips.
Travel Advice or Question? Ask us here

China Highlights
Hong Kong Travel Guide