Lijiang Weather in March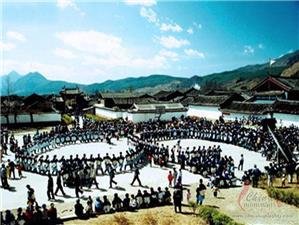 People dance together on Sanduo Festival, a traditional festival of Naxi Minority.
In March, the temperature difference during the day remains large, with a hot sun that shines strong. The temperature in the morning and evening is between 4 °C (39.2 °F) and 6 °C (42.8 °F) while it can hit 16 °C (60.8 °F) and 20 °C (68 °F) during the day. Be careful of the ultraviolet rays.
Wear autumn clothing with boots, and prepare well by using sunscreen.
Considering the high altitude, you may have a slight reaction to the altitude and may feel uncomfortable. Prepare yourself and bring the appropriate medication.
A traditional festival called the Sanduo Festival occurs this month, at which you can enjoy classical dance performances of the Naxi Minority. On March 5th, another festival called "dōng bā huì" shows you how local national minorities make sacrifices to their ancestors. Bring some delicious food cooked in a hot pot and enjoy a picnic in a beautiful place. See our Lijiang Tours.
Lijiang Climate Information by Month

China Highlights