Monte Fort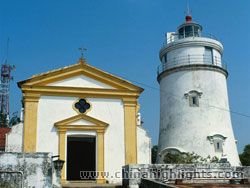 Monte Fort, known as St. Paul Monte Fortress, Central Monte Fortress, or Great Sanba Monte Fortress, was constructed from 1617 to 1626. It was completed during the ruling years of Emperor Xizong in the Ming Dynasty. Monte Fortress played a very important role in defending Macao against the invasion of Holland.
Monte Fort is square shaped. Each side is about 100 meters long. The gate of the Monte Fortress faces southeast. The four corners of the fortress project out as bastions; its outside wall was built with rammed earth and thus very stable. The walls had many cutouts which served as supports for the 32 cannons used to defend against foreign attacks. Monte Fortress was a defense center in Macao at that time.
The walls of the Monte Fort are around nine meters high. The Fortress faces the NerWall in China which is only two meters high and has no supporting cannon facility.
Monte Fort was equipped with a reservoir, warehouse and barracks. There was sufficient storage space for two years worth of ammunition and supplies.
Monte Fort was the residence of the Chief of Staff on City Defense and Superintendent of Macao before 1740. Later it became a forbidden military zone. It was not until 1965 that barracks on Monte Fortress were replaced by a weather station. It was opened to the public the following year. The weather station building was removed by the then Macao Government between 1996 and 1998 and replaced with today's Macao Museum.
Page Rating:
4.54

/

5
based on
1
ratings.

China Highlights
Planning a trip? Ask us here 800-2682918 (USA & CA)
86-773-2831999 (Int'l)
Q:
Mei, Malaysia
Asked on 2012-09-30
Reply
how far is monte fort from Ruins of St. Paul & Macau Tower? what bus to take if i go from Casa Real Hotel to monte fort? what are the places of attraction near monte fort? tks!
Dear Mei, monte fort is near Ruins of St. Paul, you could take No. 8A to visit these places, then take No. 18 to get to Macau Tower. I suggest you take a taxi to monte fortj, it'll convenient to get there. Besides Ruins of St. Paul, there is no famous attractions near monte fort. Lussie Lu Replied on 2012-10-02
Macau Travel Guide