Yaxi Town
Yaxi Town in Gaochun County became the first Slow City in China in November of 2010. Located south of Nanjing, it spans an area of 112 km², with a total population of 50,000. Yaxi Town is about 2 hours away from Nanjing, and the main road that connects it with the outside world is still dirt. Unlike the ancient towns which are kept original, Yaxi Town is more focused on its scenic area and the 6 villages connected by the country roads.
The villages are dotted here and there in the hills. Driving on the country roads, we find them lined with the green grass and colorful flowers on both sides and wheat fields wave in the distance.
Local people have lived in their traditional houses for hundreds of years without much change despite the changes in the outside world. Every season there is something to expect, spring tea, summer lotus, autumn crabs and winter roasted seeds. The ancient Baosheng Temple and Yuquan Temple add a holy touch to the cultural atmosphere.
As a Slow City, local traditional handicraft skills are highly valued and protected. Yaxi Town boasts of great shoe-makers. There are also many chances to get close to the nature by working in the fields, picking bamboo shoots, digging up sweet potatoes, and collecting lotus seeds. Working on the farm, help one feels more intimate with nature.
You might like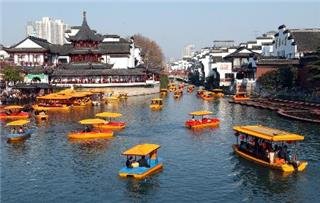 Free Things to Do in Nanjing

China Highlights
Planning a trip? Ask us here 800-2682918 (USA & CA)
86-773-2831999 (Int'l)
Q:
John
Asked on 2012-10-18
Reply
How long does it take to get from Hangzhou to Wuzhen Water Town or Xia Water City? I was looking to do a day or half day trip to one of them from Hangzhou in November. thank you
Hi John, it is about 80km, 1hr by car.
Whitney Liao Replied on 2012-10-21
Q:
John
Asked on 2012-10-18
Reply
I will be in Nanjing for 2.5 days in November on business. I will arrive on a Sunday morning from Shanghai via bullet train. Will that give me time to see the Nanjing Massacre Memorial Hall, the Nanjing National Museum (if that is the right name) and the Ming tombs in a single day? Are they close to each other? Are there one day tours? I will stay at the Nanjing Central Hotel. Thanks so much.
Hi John, yes they are not far away. We can arrange this one day tour for you. How many people are there in your group, please?
Whitney Liao Replied on 2012-10-21
Q:
Christine Zinder
Asked on 2012-08-27
Reply
I am in Nanjing now for the next 6 days. Is it possible to do a day tour to Yaxi. Would you be able to arrange transportation and an English guide for me? What would the cost be? I am staying close to Nanjing University.

Hi, you can rent our guide service and he/she will bring you to there, Just pay the guide''s transportation fee and meals. i have sent you an email, please check it for the price details. guest Replied on 2012-08-29
Nanjing Travel Guide