City God Temple
City God Temple, originally called Jinshan Temple, is located in Huangpu area near the most bustling Yuyuan Market. It was built in the years of Yongle (1402—1624) Emperor in the Ming Dynasty. With a 600-year-long history, City God Temple is one of the most important scenic spots in Shanghai.
Nowadays, City God Temple has an area of over 1000 square kilometers. There are many companies around it, and here is supposed to be the original bustling areas in Shanghai. The local products and specialties selling here attract many tourists and businessmen from all over the world.
With wide effects both in and out of China, City God Temple is a wonderful resort that every tourist in Shanghai will pay a visit. And the Municipal Government of Shanghai has started a plan to change City God Temple into a large modern shopping center for tourists and named it "Yuyuan Commerce Center" since 1991. Most buildings in this center were built earlier than 1911 and they all keep their original ancient style up to now. Generally, the roads in that area are a bit narrow and the shops in the commerce center are laid out row upon row, selling a variety of goods with their own characteristics. And these shops are always crowded. However, the original styles and features of this ancient city have been well kept.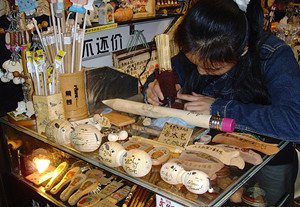 The souvenir shop in the City God Temple
It is really a beautiful attraction with traditional and modern styles that tourists should not miss.
Travel Essentials
Highlight: In the old City God Temple, what you can not miss is the delicious snacks. Snacks from different parts of Shanghai gather in this temple.
How to Get There: You can take No. 932, 569, 920, 926, and 930 buses to get there.
Questions and Answers About City God Temple
ogunrinde anthony femi
2012-07-10
Show Answer
i will love to travel on 25 to 29
Hi Anthony, We specialize in tailor-made tours. Could you please advise how many people will be in your group and your exact tour month? I will taior a Shanghai tour for you based on your speical requirement. Regards, Coco Coco Yang replied on 2012-07-11
April Offer $25 Coupon
Send your inquiry before Apr. 30, 2014, and we will email you a $25 coupon.
The coupon is valid till Dec. 31, 2014, for paying tour packages worth $250 or up.
The coupon cannot be used for paying flight tickets, train tickets, hotel rooms and day trips.
Travel Advice or Question? Ask us here

China Highlights
Shanghai Travel Guide