Zhujiajiao Water Town
Zhujiajiao Water Town near Shanghai is a popular tourist location. People go there to see the old buildings, shop, and eat in the many restaurants and coffee shops.
In the centuries past Zhujiajiao was a trading area due to the many canals, which were used to ferry products along in little boats and barges. Boats are still very much part of the charm of the place. Now young people and those who want to unwind after a day's work go there from Shanghai to relax.
What to See
Zhujiajiao is a township in the Qingpu District of Shanghai. The Qingpu District has a lake and is being developed as a tourist resort area.
Zhujiajiao Ancient Town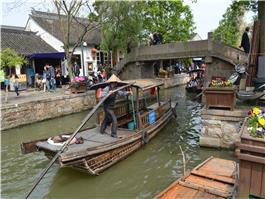 Zhujiajiao Ancient Town
The Zhujiajiao Ancient Town has a population of 70,000 people and covers about 3 square kilometers (700 acres). It is large enough to wander around, to shop and eat; there are many restaurants, bars and coffee shops, some managed by foreigners.
The main streets are touristy, with artsy bars, cafes and shops, and some attractions, but most streets are lined with new apartments and old residences; some of the buildings date to the Qing Dynasty era (1644-1912) or the early 1900s.
You don't need a ticket to walk around, but it is an official tourist area, so some attractions and buildings require a ticket, available at the main gate.
Kezhi Yuan
Kezhi Yuan at the northern edge of the old district on Xijing Street is a garden dating to 1912. The word "kezhi" means to learn to plant, a lesson on plants or a class of plants, so it was a place to see and learn about them.
The area consists of a main hall, a garden, and an artificial hill. The landmark of the gardens is a five story building with a pavilion on its roof - the tallest structure in old Zhujiajiao.
Qing Dynasty Post Office
On Xihu Street there is a post office built in the Qing dynasty,said to be the best preserved of its era in China. There are many exhibits, among them old letters written on bamboo and antique post cards of old Shanghai.
Fangsheng Bridge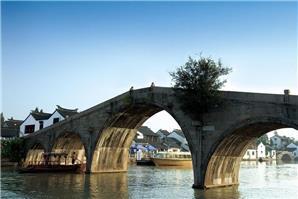 Fangsheng Bridge
Fangsheng Bridge is one of the main attractions among the ancient 36 stone bridges, some only one yard wide. It was built in 1812 and is said to be the largest stone arch bridge in Shanghai, resting on five arches, about 70 meters long, and 5.8 meters tall.
One way to see the bridges is to go by boat; these small boats seat 5 adults or 6 children. The fare is about 80 RMB (13 USD).
Zhujiajiao Cruise
Small boats are ubiquitous here, functioning as a nice way to get a view of the town and experience the local life, as the boats serve as important transportation method for local people. See our cruise guide on Zhujiajiao.
Bars and Teahouses
There are many restaurants, bars or teahouses, such as the Viking Bar on Donghu Street and a teahouse called Book Room with thousands of books and magazines you can read while sipping your tea.
China Highlights can help you customize a tour to visit this ancient town, or just see our Shanghai tours.
Nearby Attractions
If you want to go boating on the Dianshan Lake, the only freshwater lake in the Shanghai area, boats are available at No. 60 Dongjing Street. The tickets cost about 50 RMB (8 USD).
The area around Dianshan Lake is also a resort and park; in the town you can visit Eastern Oasis and the Sun Island Holiday Villages.
Jinze Bridge Township of Qingpu District nearby has seven bridges from the last four Chinese empires: Song (960-1279), Yuan (1279-1368), Ming (1368-1644), and Qing (1644-1912). They are not very big, but varied in style, and entitle Jinze, the "No.1 Bridge Town" of the southern Yangtze area.
Transportation
Address: Zhujiajiao Ancient District, Kezhi Garden Road, Qingpu District.
Taxi: A trip costs about 200 RMB. You can show the address above to the driver.
Bus: There is a tourist bus from Shanghai Stadium (Gate 5) in the mornings. There is also an inexpensive small pink bus that leaves from the Puanlu Bus Station or the Shanghai Ti Yu Guan Station. Take the bus line called Hùzhū Gāosù Kuàixiàn. The trip takes an hour and costs 12 RMB.
Questions and Answers About Zhujiajiao Water Town
racine
2013-02-25
Show Answer
Hi there, I want to go from zhouzhuang to zhujiajiao.. is there any public buses?
Dear Racine, There is no public bus between Zhouzhuang and Zhujiajiao. It is about 30 km, you could rent a van or taxi to get there. Lussie Lu replied on 2013-02-25
Susan
2012-12-17
Show Answer
Hi this Susan, me and my husband planning to visit Shanghai September 2013 and we will stay at Sun Island this is the address: 2588 Shentai Road, Zhujiajiao TownQingpu District, Shanghai 201714. This is our first trip to China, we would like to visit the near by city and attraction, is it easy to get around by bus or mtr? Thank you.
Hi Susan, It is easy to get around by bus or private car.
Whitney Liao replied on 2012-12-18
Irre cris
2012-08-02
Show Answer
Hi this is irre....im also interested in visiting this place,but im confuse how to get there? Im afraid taking bus but mtr will be Alright.From peoples square station(mtr) how to get there? Thank you
cathyzhou
2012-06-05
Show Answer
how to get to zhujiajiao from Shanghai
Hello Cathyzhou, zhujiajiao is in Shanghai, you can take a taxi there. guest replied on 2012-06-06
Jerry Ng
2011-12-18
Show Answer
To: Ms Vanessa Tseng, Dear Vanessa, We have 4 nites and 5 days at end March/early 2012 and would like to come to China again. We are thinking of Beijing/Tianjin or Shanghai/Hangzhou or you may want to suggest something else for us. Please let us know what is best. Regards Jerry Ng
Hi Jerry, this is Vanessa, I have sent you the email about your China tour, please check your email box, and feel free to let me know your opinions. I'm waiting for it. Vanessa Zheng replied on 2011-12-19
April Offer $25 Coupon
Send your inquiry before Apr. 30, 2014, and we will email you a $25 coupon.
The coupon is valid till Dec. 31, 2014, for paying tour packages worth $250 or up.
The coupon cannot be used for paying flight tickets, train tickets, hotel rooms and day trips.
Travel Advice or Question? Ask us here

China Highlights
Shanghai Travel Guide