Shanghai Restaurants
Shanghai has a vast range of restaurants catering not only to local palettes, but also serving dishes from all over China and all over the world. If you want to eat it you can probably find it in Shanghai!
If you are spending Christmas in Shanghai you may choose one of the restaurants below for a special Shanghai flavor, or maybe one of Shanghai's fine Western restaurants, or a Shanghai hotel to celebrate with a meal.
Lü Bo Lang Restaurant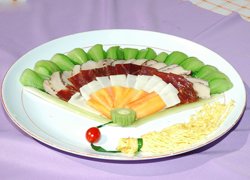 Shanghai-style food, Shanghai-style snacks, shark's fin dishes and a crab feast. English Menu available.Reservation recommanded. It is featured for its 4 distinguished food series of Shanghai-style food, Shanghai-style snacks,shark's fin dishes and crab feast. The restautant has hosted heads of state from more than 40 foreign countries such as President Clinton.
Chinese name: 绿波廊 Lü Bo Lang /lyoo bo lung/
Average price per person: 114 yuan
Address: Inside Yuyuan Garden, 238 Fuyou Road, Huangpu District (黄浦区福佑路238号豫园内)
Tel: 021-63280602
Lü Bo Lang Wenchang Road Branch (文昌路店)
Average price per peson: 110 yuan
Address: Inside TownGods Temple, 10 Wenchang Road, Huangpu District (黄浦区文昌路10号城隍庙内)
Tel: 021-63550500
Shanghai Oriental Pearl Revolving Restaurant
Located on top of Shanghai Oriental Pearl TV Tower, Oriental Pearl Revolving Restauran is considered to be the highest one in Asia, with its unique spectacle, outstanding cuisine and leisurely environment it is open to be a giant in Shanghai. Hundreds of Chinese and western food are placed on marvelously decorated buffet tables, alluring landscape is revolvingly changed per two hours, it definitely leaves you a deep impression while dining there.
Chinese name: 东方明珠塔 Dongfang Mingzhu Ta /dong-fung ming-zhoo ta/
Average price per person: 132 yuan
Opening hours: 8:30am–9:30pm
Address: Inside the Oriental Pearl TV Tower, 1 Pudong Century Avenue, Pudong New District (浦东新区浦东世纪大道1号东方明珠塔内)
Tel: 021-58791888
Zhu Jia Jiao Hong Lou Restaurant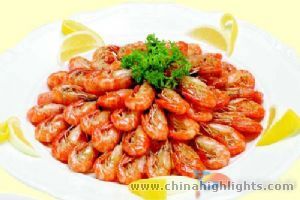 This 200 seater restaurant is located in the center of Zhu Jia Jiao Town, an ancient place in Shanghai, which specializes in authentic local cuisine. Homemade decoration creates an atmosphere of water town, and the popular dishes delight your taste buds with genuine flavors and ingredients.
Chinese name: 红楼酒家 Honglou Jiujia /hong-loww jyoh-jyah/
Averge price per person: 45 yuan
Address: 18 Zhujia Jiao Sijing Yuan Road, Qingpu Distric t (青浦区朱家角泗景园路18号)

Wujiang Road Snack Street
Wujiang Lu (吴江路 /woo-jyang loo/) Snack Street, located in Jing'an District, is famous for snacks. Wujiang Road Snacks Street has the same status as the prosperous and parallel business street of Nanjing West Road (南京西路 /nan-jing sshee loo/), but different in style. The Business Street is well-to-do fashionable, while the Snack Street is very close to the fashion of ordinary people. Some of the small shops there are so attractive to the ordinary Shanghainese customer that they unconsciously open their hearts, and no longer remember losing weight or going on a diet! Everything is under the control of the taste buds.
On this street, some of the well-known restaurants have been Base (a Chinese and Western restaurant), MR COFFEE (where foreigners often have a cup of coffee in the open air), and Jiro (characterized by curry and coffee, as well as afternoon tea, a good place for leisure and relaxation).
Wujiang Road Snacks Street has been largely "relocated". Many patrons said they were reluctant to see its shops go. No matter how Wujiang Road changes, it is hard to shake its reputation as a paradise of snacks. For every visitor to Shanghai, Wujiang Road Snacks Street should not be missed. Read How to Eat Like a Local in Shanghai by Day for the latest on Wujiang Lu.
Getting there: Take the metro, or bus 20 or 37, to Nanjing West Road.
Jade On 36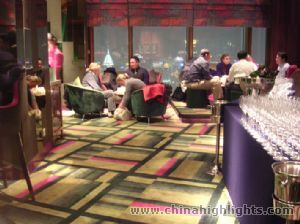 Jade on 36, on the 36th floor of a five-star hotel called Shangri-La Hotel, is located at No.33 Fu Cheng Road, Pudong New Area. The chief chef in this restaurant is a Frenchman. Ranging from the environment to dishes, Jade on 36 is a symbol of top grade. Inside the restaurant, there are decorations of emerald glass and purple-colored interior leather, making the restaurant looks gorgeous.
On one side of the restaurant, the view of the Bund will take you back to the 1930s, when Shanghai was known as the "Oriental Paris". On the other side of the restaurant, the Oriental Pearl TV Tower and the high-rises in Lujiazui financial business district, constantly remind you of the fact that the current Shanghai has opened a new chapter. Exquisite dishes, exceptional design and the breathtaking landscape, will leave you special feelings.
Especially at night, when enjoying the night view of the Bund from distance, you may feel that you are standing on the most prosperous land in the world. It can be said that tourists can experience an unusual visual and gustatory venture at Jade on 36.
Chinese name: 翡翠36餐厅 Feicui 36 Canting /fay-cway 36 tsan-ting/
Average price per person: 880 yuan
Address: Floor 36, Zijin Building, Grand Shangri-la Hotel, 33 Fucheng Road, Pudong New District(浦东新区富城路33号香格里拉大酒店紫金楼36楼)
Tel: 021-68828888
Transportation: You can get there by taking No. 2 subways and get off at Lujiazui Station, or taking No. 01, 82, 81, 85, 583, 621, 776, 778, and 795 buses.
M On The Bund
M on the Bund continues to wow Shanghai with its delectable cuisine, stylish service and a sophisticated, yet comfortable ambience and it is the only restaurant in mainland China twice named to the Miele Guide Top 20 List (2008 and 2009).
M on the Bund is located on Shanghai's historic riverfront Bund, on the top floor of the seven-storey former Nissin Shipping building. The building is created with re-imagining the 1927 structure, an award-winning modernist interior blending 21st century touches with hints of Shanghai's past. Both the Dining Room and the Crystal Room offer spectacular vistas overlooking the Bund, the Huangpu River and the skyscrapers of Pudong.
Besides European dishes, M on the Bund has introduced new flavors from the cuisines of the Middle East and North Africa, in response to increasingly sophisticated palates, while remaining true to its culinary roots: even the most unfamiliar dishes are filtered through the prism of classical European technique. The combination of cuisine, ambience and view has made it a modern Shanghai icon.
Note: If you can't get a table, enjoy the scene at the very cool Glamour Bar.
Hours
Lunch: Monday – Friday 11:30 – 14:30
Brunch: Saturday – Sunday 11:30 – 15:00
Afternoon Tea: Saturday – Sunday 15:00 – 17:00
Dinner: Every evening 18:00 – 22:30
Address: 7/F 20 Guangdong Road
Tel: 021-6350 9988
Xian Qiang Fang
The restaurant mainly serves Shanghai style dishes, which feature exquisite, creative, fresh, fragrant and delicious. Besides its dishes, the restaurant is famous for its unique design and decoration, which shows you the typical and luxurious Shanghai lifestyle in 1930s. The unadorned floor, wooden tables, cane chairs, hollowed-out doors and windows, all of which create the in-store overwhelmed by a holiday atmosphere elegant with classic simplicity. The most unique is that there are performances of opera and Pingtan (storytelling and ballad singing in Suzhou dialect) in the evening.
Chinese name: 鲜墙房 /sshyen qyang fung/
Recommended dishes: Fried shrimps with sauce (桑拿虾), smoked duck breast (烟熏鸭), tofu cooked with minced crab meat (蟹粉豆腐) and braised pork in brown sauce (红烧肉)
Average price per person: 2128 yuan
Address: Floor 4 and 5, 600 Jiujiang Road, Huangpu District (黄浦区九江路600号4-5楼)
Tel: 021-6351 5757
Transportation: Take Subway Line 1, get off at People Square (人民广场) and get out from Exit 4, the restaurant is about 10-munite walk from the exit.
Xian Qiang Fang Hongqiao Road Branch (鲜墙房虹桥路店)
Average price per person: 197 yuan
Address: 1468 Hongqiao Road, Changning District (长宁区虹桥路1468号)
Tel: 021-6295 1717 or 6270 9615
Transportation: Take Subway Line 10, and get off at Yili South Road (伊犁南路).
Xian Qiang Fang Pudong Branch (鲜墙房浦东店)
Average price per person: 202 yuan
Address: Floor 4, Lekai Mansion, 660 Shangcheng Road, Pudong New District (浦东新区南城路660号乐凯大厦4楼)
Tel: 021-5888 9797
Bus routes: 1, 130, 818 and 985
Indian Restaurants
Naam Thai 纳摩
Address: No.508, Jiashan Road, Xuhui District (徐汇区嘉善路508号Loft尚街1107-1108室)
Average Price per person: 143 yuan
Hours: 10:00–22:00
Tel: 021-5465 6005
Kebabs On The Grille 克比印度料理
Address: No.505, Zhongshan Nan Road, Huangpu District (黄浦区中山南路505弄老码头8号楼)
Average Price per person: 144 yuan
Tel: 021-6152 6567
Tandoor 天都里印度餐厅
Address: No.59, Maoming Nan Road, Luwan District (卢湾区茂名南路59号锦江饭店南楼大堂)
Average Price per person: 220 yuan
Hours: 11:30–14:00; 17:00–22:00
Tel: 021-64725494
Afternoon Tea 新天地
Address: No.123, Xingye Road, Luwan District (卢湾区兴业路123弄6-7号楼新天地南里商场3楼)
Average Price per person: 65 yuan
Hours: 11:00–23:00
Tel: 021-5306 5135
China Highlights
Planning a trip? Ask us here 800-2682918 (USA & CA)
86-773-2831999 (Int'l)
Q:
Shafinaz mustapha
Asked on 2013-07-23
Reply
Hi I''m Shafinaz, may I know if there''s any Chinese Muslim restaurant at pudong avenue preferably nearby Eton hotel. Thank you
Hi Shafinaz , sorry, we don't have those information. You can walk around to see if there is one or not. Good luck!
Whitney Liao Replied on 2013-07-23
Q:
Anuradha
Asked on 2013-04-11
Reply
i want to book a dinner for three of us at Revolving restaraunt in Oriental Pearl tower. kindlly let me know i can book it in advance
Dear Anuradha, I regret that we don't book the seats for our clients, you need to contact the restaurant directly by yourselves. Here is their telephone number: +86 21 58797138 or +86 21 58791888. Lussie Lu Replied on 2013-04-13
Q:
Bibi
Asked on 2012-11-25
Reply
Hi, I am planning to go Shanghai but not sure which month is the best for traveller. I would also like the hotel somewhere near muslim restaurant.
Hi Bibi, Apr. May. Jun. Sep. Oct. are the best months. For hotels in Shanghai, please check here: http://www.chinahighlights.com/hotel/shanghai-hotels/ I also recommend the Pearl Hotel (Ming Zhu Da Fan Dian)上海明珠大饭店 to you. They have both Muslim and Chinese foods. Add: No. 212 Zhaojiabang Road, Luwan District, Shanghai (entrance of Shannxi Nan Road) 上海市卢湾区肇嘉浜路212号(陕西南路口 Whitney Liao Replied on 2012-11-26
Q:
Asif Shaikh
Asked on 2012-07-14
Reply
hi,i intend to arrange a get together dinner of about 50-80 person in Shanghai on 4th of Sep 2012.Can you suggest any Halal/muslim restaurant such as Iranian, Turkish, or lebanese near people square vicinity or in pudong area?best regards
Hello Asif , here are 2 Muslim Cuisine Restaurants recommended to you.
1.Local Muslim Cuisine Restaurants
Pudong Qingzhen Restaurant(浦东清真饭店)
Add:No. 121, Licheng Road, Pudong, Shanghai
Phone:021-58510385

2.Xinjiang Uygur Cuisine Restaurants
MAN TUO LING XIYU RESTAURANT(漫驼铃西域餐厅)
Add:No.601, Zhangyang Road, Pudong District.
Phone:021-58361678
Hope you like it.
Whitney Liao Replied on 2012-07-16
Q:
mohammed tausheef k
Asked on 2012-06-06
Reply
pure indian food in pudong
Hi Mohammed, here are 2 restaurants recommended to you. Muse Curry Specialties: Muse Curry offers dishes featuring numerous kinds of curry including yellow, red, green and black curry. The diced beef, curry crab, curry prawn and mint chicken are worth trying. The Indian pancake and Indian tea should also not be missed. Operating hours: 10:00 - 14:00, 17:00 - 22:00 Average cost per person: CNY 80 – 120(USD 13-20) Pudong Branch: No. 1260, Dongfang Road, Pudong New Area (near Eshan Road) Indian Kitchen Specialties: This is a popular Indian restaurant with an open kitchen, from which diners can clearly see the chefs at work. The tender tandoori chicken and curry mutton with coconut milk are highly recommended. Also, you can try the delicious Indian pancake, tea and yogurt. Operating hours: 11:00 - 14:30, 17:00 - 22:30 Average cost per person: CNY 80 - 150(USD 13-24 ) Pudong Branch: No. 480, Minsheng Road, Pudong New Area (between Pudong Avenue and Zhangyang Road) Whitney Liao Whitney Liao Replied on 2012-06-07
Shanghai Travel Guide