Travel Permit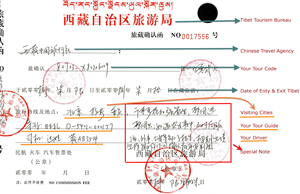 There are overall four documents that may be required for foreign tourists to travel freely in Tibet.
Chinese Visa

—

you can apply for in Chinese Embassy in your country;
Tibet Entry Permit

—

It is issued by Tibet Tourism Bureau and is a must for foreigners entering Tibet;
Travel Permit

—

It is required when you are planning to travel to the closed areas in Tibet,which you can obtain it after you arrive in Tibet
Military Permit

—

You have to obtain if you are planning to travel to some military sensitive areas.
As a local travel agency, China Highlights is able to assist you to process all of those above documents if you book a Tibet tour with us.
Passports & Visas
All individuals entering Tibet must hold a passport valid for at least six months. If you are entering Tibet from China, your Chinese visa must be valid. Only travelers with tourist visas (not business, resident or student visas) are permitted.
Entering Tibet from Nepal, either by Friendship Highway or by air requires a separate visa valid for Tibet from the Chinese embassy in Katmandu (30-60 day visas are the normal and it normally takes 2 weeks to obtain it.).
You may apply for a group visa from us (minimum of two people in a group and you must leave China with this person unless you can change the visa inside China). For more read Latest FAQs about China Visa.
Tibet Entry Permits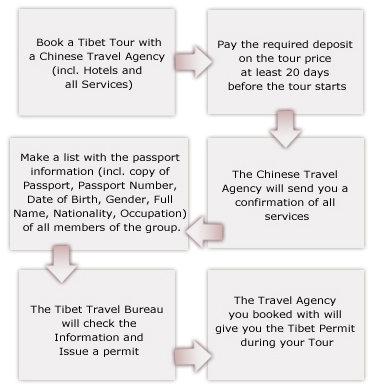 Customers whose travel arrangements are made by China Highlights will receive their Tibet Entry Permit from our local office in the city where they depart for Tibet e.g. Chengdu if by air, or Golmud if by the Qinghai-Tibet Highway. You are required to present this document when boarding the flight to Tibet.
China Highlight will make all necessary arrangements to obtain the correct documentation for you if you book a tour with us.
How to Apply for a Tibet Entry Permit
A Tibet Entry Permit is not available by independent travelers at the moment. Travelers have to travel in a tour group and ask their travel agent to apply it for you. The entry city to Tibet must agree with the city shown in the permit that has been issued. Differences in any detail will result in non-allowance of entry to Tibet.
Please prepare the following documents before asking your travel agent to apply permit:
a copy of your passport;
a copy of your China visa (tourist visa); and

fill in a form with full name, gender, date of birth, passport number, nationality, and occupation.
Note: Different nationalities need separate Tibet Entry Permits, even if in the same group, one application per nationality. Tibet Entry Permits must be shown to board transport to Tibet.
Additional Requirements for F visa & Z visa customers
If you are F visa (business visa) or Z visa (working visa) holders, you are required to provide additional information to Tibet Tourism Bureau to get a Tibet Entry Permit.
If you are working in China, a certification in Chinese by your company in China is required.
If you are invited to China for business, research, lecture, scientific-technological or culture exchange, short-term advanced studies, or intern practice for a period of no more than six months, a certification by your Chinese travel agency is required.
On the certification, you are required to provide your full name, nationality, passport number, dates of entry and exit of China, and the stamps of your company or your travel agency.
Travel Permit
What's a Travel Permit?
A Travel Permit, also called Aliens' Travel Permit (ATP), is required to visit closed areas. It is issued by the Foreign Affairs Section of the Local Public Security Bureau (PSB). The Law on the Control of Entry and Exit of Foreigners (Order of the President of the People's Republic of China No. 31, 1985-11-22, Chapter 4) says:
Article 20: Foreigners who hold valid visas or residence certificates may travel to places declared open to foreigners by the Chinese Government.
Article 21: Foreigners who desire to travel to places closed to foreigners shall apply for travel permits from local public security organs [i.e. the police].
How to Apply for It
We will assist you in applying for a Travel Permit after you enter Tibet. Our guide will ask you for your passport and the Tibet Entry Permit and submit it to the Foreign Affairs Section of the local PSB. It normally takes several hours and the cost is 50 yuan/person.
Which Parts of Tibet are Listed as Closed Areas?
At the present, you have to apply for a Travel Permit if you are planning to visit the following places:
Tsetang: Samye Monastery, Tomb of Tibetan King, Changdruk Temple, Yumbulakhang
Gyangtse: Pelkor Chode Monastery & Kubum Stupa
Basumtso lake in Nyingchi Region
Lhasa and Nagqu regions are open to foreign travelers and no need for Travel Permit.
Military Permit
A Military Permit is required if you are planning to travel some areas of Ngari, Nyingchi, and Nagqu which are regarded as military sensitive areas in Tibet. It is issued by the Military Office in Lhasa and we will need you to provide your passport and Tibet Entry Permit to apply for it. It normally takes 1–2 working days and the cost is 100 yuan/person.
This page was last updated on November 27, 2012. Please contact us for the lastest policy or share the latest news related to this if you have any good resources.
DISCLAIMER: China Highlights will try our best to arrange Tibet permits for our customers who book tours with us, but we are not 100% sure that you will obtain a permit from the Tibet Tourism Bureau or other authorities even you provide all of the information they need. China Highlights is not responsible for any cancellation of your Tibet tour if you are refused a Tibet permit.
Related FAQs on Tibet Permits:

China Highlights
Planning a trip? Ask us here 800-2682918 (USA & CA)
86-773-2831999 (Int'l)
Q:
Darren
Asked on 2013-03-11
Reply
Hi thereIf i book a tour to go to Llasa.........when i arrive in Llasa, am i free to travel around on my own within the city for the duration of my trip, or am i restricted at all.Basically, am i wanting to visit my friend and it seems that the only way i can get to Llasa is to join a tour group.I await your advicesThanksDarren
Hi Darren, you need a tour guide to escort you when traveling around in Lhasa, it is the Government regulation, even though you don't need this service. Right the moment, we are also waiting for the latest news on group size limit set by the government for Tibet Permit. Whitney Liao Replied on 2013-03-12