Yangshuo Travel Guide
Yangshuo, 65 kilometers to the southeast of Guilin, is an internationally acclaimed tourist destination, characterized by crystal clear rivers, limestone crags, lush vegetation, traditional Chinese architecture and customs, which have been immortalized in Chinese classical landscape paintings and poetry.
The beautiful natural scenery so admired by painters and poets has made Yangshuo famous throughout China and internationally. Word of Yangshuo's charm has spread like wildfire among travelers worldwide, greatly boosting its popularity and made it a paradise for backpackers.
The yang in Yangshuo is the well known yang in Taoist yin-yang philosophy: the positive, male and bright element. Yang can also mean the sun. The shuo in Yangshuo means a new moon. Whether by sunlight or moonlight Yangshuo has a holiday atmosphere and a fun flavor. Day and night (up to about 2am) West Street (now imagined by some to have the meaning Westerners' Street) is busy with tourists buying souvenirs, eating a mix of Chinese and Western foods and finding entertainment.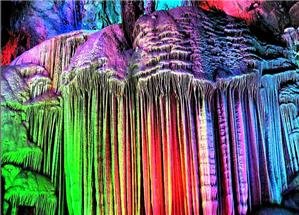 The scenery of karst landscape of Silver Cave, a famous scenic spot in Yangshuo
Yangshuo County has a good portion of the world's most impressive karst landscape. Multi-shaped pinnacles, caves, pristine rivers, and mesas are clustered over the 1,400 square kilometer area. The karst along the famous Li River is given an extra dimension of beauty by the water. In this splendid setting are numerous Zhuang villages, where the paddy fields are farmed and local traditional customs are carried on. Yangshuo coexists as a tourist mecca and a developing country farming community's county town.
In and around Yangshuo, visitors can find the Li River, which is reputed to be the most beautiful river in the world, West Street, a street filled with a combination of traditional Chinese culture and potent Western flavor, Moon Hill, Big Banyan Tree and many other attractions, including Impression Liu Sanjie advertised below.
Yangshuo Facts
There is a saying: "The landscape of Guilin is the most beautiful in the world, but the landscape of Yangshuo is the most beautiful in Guilin." The section of the Li River between Guilin and Yangshuo is the most attractive stretch. West Street in Yangshuo is also very famous, because many who live there can speak English well, thanks to the thousands of foreign tourists who join the Chinese holiday makers there every year.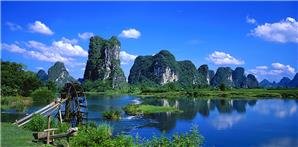 Picturesque scenery of Li River in Xingping, a beautiful town in Yangshuo
Chinese Pinyin: Yángshuò, pronounced yang-shwor.
Location: 65 kilometers south, down the Li River, from the city of Guilin.
County area: 1,428 square kilometers.
County population: 310,000.
How to get to Yangshuo: By bus from Guilin or by cruising on the Li River.
Facts: Yangshuo was founded 2000 years ago. The average annual temperature is 19.1℃. In the Eighties, The Lonely Planet Guide to China, which was (and still is, despite the internet and competition from other travel books) the bible for backpackers, introduced Yangshuo to the world. Gradually, more and more tourists went to Yangshuo from every corner of the world. Some of them decided to live in Yangshuo forever. Nowadays, many hotels and restaurants in Yangshuo are being run by foreigners who were once tourists in Yangshuo.
Also read The Best of Yangshuo.
Guilin Tour Add-ons
Cormorant Fishing: The cormorant, the fisherman's excellent helper, is a kind of big water bird. With a cord attaching its leg to the boat and a ring around its neck (so it doesn't swallow the big fish), at night it will go fishing its master. It is one part of the old local culture.
Check out more Guilin Add-ons
Impression Liu Sanjie Show
Impression Liu Sanjie is a spectacular night show combining sound and light, ethnic songs and dances, using the beautiful Li River and surrounding karst mountains as the backdrop of the stage. See photos. It was directed by Zhang Yimou, one of the most notable Chinese film directors. The show is a must-do activity for visitors to Yangshuo. (Note: The show is scheduled to fold on December 26, 2011, and resume on January 25, 2012).
Questions and Answers About Yangshuo Travel Guide
Helen
2013-08-03
Show Answer
Will Yangshuo be very cold early jan? Can we walk/bicycle then?
Dear Helen, Yes, it is very cold during that period. It is in winter, the average temperature is about 4-10℃(39.2-50℉)and it is windy. It's not suitable for bicycle. I suggest you could visit Guilin in October. Lussie Lu replied on 2013-08-04
Dorien
2012-11-24
Show Answer
We are planning to visit Yangshuo in December. What activities can you recommend?
Dear Dorien,
Thank you for your inquiry!
Yangshuo is famous for its beautiful countryside and rivers. For activities in Yangshuo, I suggest you rent a bicycle and have a Yangshuo Countryside Trip.
If you love hiking, you can hike from Gongnong Bridge to Yima village.
For nightlife in Yangshuo, you should never miss the bars on the West Street.
Also the Show of Impression Liusanjie is a must see.
Hope this will helps.
Doris Huang replied on 2012-11-25
Jossie
2012-05-03
Show Answer
hi, I''ll be visiting Guilin next month. Is it cheaper to go to Longsheng from Guilin or Yangshuo?
Hi Jossie, Longsheng and Yangshuo are both two counties of Guilin city and they are in the two different directions. Longsheng is in the north of Guilin city and it takes about 2~3 hours to go there from Guilin by car. Yangshuo is in the south of Guilin and it takes about 1.5 hours by car. So if you go from Yangshuo to Longsheng, it will take longer time and cost more. You could visit our websit below to see our suggested tour: http://www.chinahighlights.com/tour/guilintour/gl-7/ We could also tailor made a tour for you. Please feel free to inform me about the number of people in your group, date and hotel class you prefer at nora@chinahighlights.net. Nice day! Nora Ou replied on 2012-05-03
Amy Lee
2011-03-24
Show Answer
Where can I get a free travel map of Yangshuo? Can you email me the said map?
Hi Amy, Usually hotels offer simple free map of the area, do you need me to check whether your hotel offers free maps? If yes, just forward me the hotel name and address. Candy Wei replied on 2011-03-25
Hi Candy, I have got the free map from the hotel but it is just too brief. I have printed out a more details one from this site but when I enlarge it, it is not clear really. If you can get a clearer A4 size one for me, it will be great and I appreciate that. Thanks. guest replied on 2011-03-25
ee
2011-01-01
Show Answer
when will be the best time to visit yangshuo ?
Hello EE, The best time to visit Guilin and Yangshuo is from June to November, the weather is just fine and the landscape during this period is the most beautiful in the year. guest replied on 2011-01-01
April Offer $25 Coupon
Send your inquiry before Apr. 30, 2014, and we will email you a $25 coupon.
The coupon is valid till Dec. 31, 2014, for paying tour packages worth $250 or up.
The coupon cannot be used for paying flight tickets, train tickets, hotel rooms and day trips.
Travel Advice or Question? Ask us here
Yangshuo Travel Guide
Yangshuo Facts
Chinese Name: 阳朔
Chinese Pinyin: yáng shuò
Location: South of China
Latitude: 24° 78' N
Longitude : 110° 50' E
Elevation: 273 M (896 FT)
Time Zone: (UTC+8)
Area Code: 0773
Population: 310,000