How to Order Chinese Food
In the West you can order any Chinese food with only 10 words of Chinese (the numbers 0 to 9) as everything on a Chinese takeaway menu is numbered! However, most takeaway staff in the West speak English (and Cantonese, not Mandarin), so efforts to be cross-cultural tend to fall flat. In China, by contrast, ordering food can be a real cultural experience, and there are no English speaking staff to help often or even English menus, and certainly no numbers. This page is designed to give you some tips and useful phrases for ordering food in China.
With China Highlights the hard work is taken out of ordering. We select popular dishes, representing regional flavor and customer taste, based on over 12 years of experience. With our guides' help you can get the menu translated, ask questions and get recommendations.
If on the other hand you would like to be more independent and engage with Chinese culture directly when ordering food, be prepared to be patient and use every means of communication available.
Reading Menus
When arriving in a restaurant, after sitting down at the table, and the customary pot of tea has been served, the next thing that will arrive is the menu (菜单 caidan /tseye-dan/).
Learning Restaurant Chinese Video
We have produced a video with several useful phrases, tips and cultural notes.
Menus with Pictures
If the menu has pictures you are in luck as this offers an easy way to order. Just point to what you want and say yi fen (一份 /ee fnn/ 'one portion'). In northern China 'one portion' is pronounced yi fenr (一份儿 /ee frrh/). (See numbers in our phrasebook for if you want more than one portion.) You could also do the same if you see someone else eating something you would like by pointing at their food. However, although people will usually excuse you for being foreign, this is a little impolite and bizarre.
http://www.chinahighlights.com/travelguide/phrasebook/
English/Chinglish Menus
Some Chinese menus, particularly in big restaurants or those that have a Western theme, have English menus. This is the ideal situation, but beware — sometimes the English is incorrect factually, quite apart from the Chinglish and spelling mistakes. In English menu restaurants the staff will still often not be able to speak English, so you will still have to point at the menu and say yi fen as above.
Our Chinese food menu covers major Chinese dishes.
Recognizing some Chinese
If you have a phrase book with you or an ability to remember Chinese characters then you could point to the Chinese for the food you want as above. Below is a list of some commonly ordered and favorite Chinese foods among Westerners.
| | | | |
| --- | --- | --- | --- |
| Dish | Chinese | Pinyin | Pronunciation |
| Rice | 米饭 | mǐfàn | mee-fan |
| Egg fried rice—a simple cheap dish that can be found all over China | 蛋炒饭 | dànchǎofàn | dan-chaoww-fan |
| Wheat noodles—another Chinese staple, more popular in the north | 面条 | miàntiáo | myen-tyaoww |
| Sizzling beef—served on a very hot plate with peppers/onions | 铁板牛肉 | tiěbǎnniúròu | tyeah-ban nyoh-roh |
| Kungpao chicken or diced chicken and cashews | 宫保鸡丁/宫爆鸡丁 | gōngbǎojīdīng/ gōngbàojīdīng | gong-baoww-jee-ding |
| Sweet and Sour Pork Ribs | 酸甜排骨 | suāntiánpáigǔ | Swann-tyen peye-goo |
| Deep-fried pumpkin sticks | 黄沙南瓜条 | huángshānánguātiáo | hwung-shah nan-gwaa-tyaoww |
| Fried eggplant | 红烧茄子 | hóngshāoqiézi | hong-shaoww chyeah-dzrr |
| Fried eggplant, potato and peppers | 地三鲜 | dìsānxiān | dee-san-sshyen |
| Fried shredded potato | 土豆丝 | tǔdòusī | too-doh-srr |
| Fried Chinese cabbage | 炒大白菜 | chǎodàbáicài | chaoww daa-beye-tseye |
| Steamed buns with condensed milk dip | 炼乳馒头 | liànrǔmántou | lyen-roo man-toh |
| Caramelized banana/apple | 拔丝香蕉/苹果 | básī xiāngjiāo/píngguǒ | baa-srr sshyang-jyaoww/ping-gwor |
Ordering Verbally
You could use the list above or any other food names that you have learnt in Mandarin. A useful phrase is youmeiyou (有没有 /yoh-may-yoh/ 'Do you have ...?'). If the restaurant has it the reply will be you, if not then meiyou.
Common phrases
| | | | |
| --- | --- | --- | --- |
| Phrase | Chinese | Pinyin | Pronunciation |
| I don't want chilies. | 我不要辣。 | Wǒ búyào là. | Wor boo-yaoww laa. |
| I don't want MSG. | 我不要味精。 | Wǒ búyào wēijìng. | Wor boo-yaoww way-jing. |
| I don't want it too salty. | 我不要太咸。 | Wǒ búyào tài xián. | Wor boo-yaoww teye sshyen. |
How much to order
Typically one more dish is ordered than there are people eating, but this often leaves food spare. The Chinese custom is always to order too much to show generosity and hospitality. A dish per person is usually enough. (There is a Chinese superstition about the number 4, as it sounds like the word for death in Chinese, so four dishes are seldom ordered. Likewise in the Canton area seven dishes are seldom ordered as it is a custom there to eat seven dishes the day after a funeral. Largely such customs are ignored now apart from on special occasions, and Westerners would certainly not be expected to follow them.)
What to order
Try to order a range of different dishes if there are a number of people eating, including different types of meats and vegetables. Soup/broth (汤 tang /tung/) is an almost customary starter in China. Sweet desserts are not a tradition in China, but the caramelized banana/apple or steamed buns with condensed milk dip (see above) are available at many restaurants.
Ordering Dumplings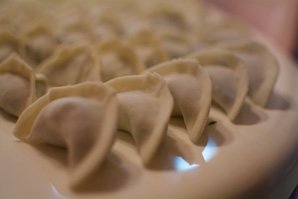 Chinese dumplings
Chinese dumplings (饺子jiǎozi /jyaoww-dzrr/) are a favorite with Westerners and some restaurants specialize in just dumplings. About 20 or 30 is usually enough for a meal, 40 if you're really hungry. Dumplings are ordered in (traditionally bamboo) trays called long of 10 or 20 dumplings. So you can say yī lóng (一笼 /ee-long/ 'one tray') followed by your choice of filling to order. Popular fillings include pork (猪肉zhūròu /joo-roh/), beef (牛肉niúròu /nyoh-roh/), cabbage (白菜báicài /beye-tseye/) and garlic chives/leek (韭菜jiǔcài /jyoh-tseye/).
Ordering Steak
Large cities in China have steak restaurants usually with English menus, but still without English-speaking staff. If you feel short of meat (which you probably won't in China) or are missing Western food they are a satisfying option.
The main phrases to know are niupai (牛排 /nyoh-peye/) for steak, and baifenzhi (百分之 /beye-fnn-jrr/ '... percent'), followed by a number in Chinese for the percentage of grilling (0 for rare, 100 for well done), and shu (熟 /shoo/ 'cooked'), e.g. baifenzhi wushi shou (百分之五十熟 /beye-fnn-jrr woo-shrr shoh/) means 50% done. See Chinese numbers.
http://www.chinahighlights.com/travelguide/phrasebook/
Ordering from Fast Food Restaurants
You may decide to try China's fast food restaurants. There are familiar names like MacDonald's and KFC, but the food is not always the same. Milk shakes, for example, are hard to find in the south. There are also many chains with distinctly Chinese names and flavors (typically more spicy).
The usual beef burgers (牛肉汉堡niúròuhànbǎo /nyoh-roh han-baoww/), chicken burgers (鸡肉汉堡jīròuhànbǎo /jee-roh han-baoww/), fries (薯条shǔtiáo /shoo-tyaoww/) and coke (可乐kělè /ker-ler/) are available. Alternatively you could point at one of the foods or set meal options displayed in vivid colors above and on the counters.
More Articles on Chinese Food

China Highlights
Questions and Answers About How to Order Chinese Food
April Offer $25 Coupon
Send your inquiry before Apr. 30, 2014, and we will email you a $25 coupon.
The coupon is valid till Dec. 31, 2014, for paying tour packages worth $250 or up.
The coupon cannot be used for paying flight tickets, train tickets, hotel rooms and day trips.
Travel Advice or Question? Ask us here