Chinese Food Menus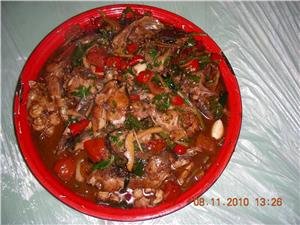 Beer Fish
China is a country with incredible diversity in its cuisines. The differences were originally based around the regions where the tastes developed, but these days it is possible to enjoy the different styles almost everywhere in China. Read more about Chinese food.
We know that our customers want to experience the true tastes of China, so we have prepared these menus to help you to venture out of the hotels and tourist restaurants and into the places where the locals eat. The staff in these restaurants probably will not speak or understand English.
We have provided menus with the dishes written in English and Chinese characters. This means you can select the dish and use the menu to point to the name dish written in Chinese. Pronunciations are also included for you to listen for and ordering verbally.
It is customary in China to select one dish for each person at the table to share. This means that if you have 5 people, you may select 3 meat dishes and 2 vegetable dishes, but in the end it's up to you. See "How to Order Chinese Food".
Points to remember: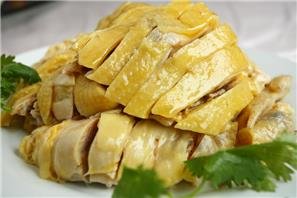 Slice Chicken
Chinese cooking is very individual and the tastes and cooking style of the same dish will vary from restaurant to restaurant.
We have provided a many menus which give a cross section of tastes. Most restaurants will have a t least some of these dishes.
Our city pages introduce specialty dishes from e.g. Beijing, Xi'an, Shanghai and Guilin, and some restaurant names and addresses are also provided.
We have attempted to provide Muslim and vegetarian suggestions and restaurants. Unfortunately kosher restaurants and restaurants catering to travelers with food allergies are almost non-existent in China. We have included some useful information which may be of assistance.
There are thousands of Chinese dishes, and though we have included many, please forgive us if your particular favorite dish is not included.
Try to establish the approximate prices when ordering. You can use our useful phrases download to do this. Occasionally unscrupulous traders may try to take advantage of this situation.
Chinese Common Dishes
Drink, Chinese Breakfast, Rice, Noodles, Soups, Main Courses. Read More Chinese Common Dishes.
China can be divided into many geographical areas, and each area has a distinct style of cooking. Find food menu of the major eight Chinese cooking schools.
Your Special Requirements
Those people that have people that have gluten and food additive intolerances can use the information below to explain to the staff at the restaurant how they should prepare your food. Read More Special Requirements.
Chinese Menus

China Highlights
Questions and Answers About Chinese Food Menus
Danielle
2012-12-17
Show Answer
Is there any Christmas traditions that are different from Canadian or USA traditions? I have a project, sorry I may not be posting in the right spot this is the only place i could ask a question! Thanks
Hi Danielle, actually there are only some young people and the people in HK celebrate Christmas in China. The traditions in HK are almost the same as the ones in western countries. While the ones in the mainland China is much simpler. E.g. some of us don't use real tree for the Christmas tree, just a plastic one.
Whitney Liao replied on 2012-12-18
In China, the tradition is to eat apples on Christmas. Each year there are more and more Christmas decorations in the bigger cities. A typical gift is a case of apples. Chinese love fruit so it's a well appreciated gift. guest replied on 2013-07-06
Amulya das
2012-10-10
Show Answer
yes i want chinese recipe &menu book
Hi Amulya, sorry, we don't have those books. You can search it on the Internet or go to this website for more information.
Whitney Liao replied on 2012-10-11
madisyn
2011-12-20
Show Answer
what are some meanings of chopsticks
Dear madisyn, The chopsticks are called "Kuaizi" in Chinese. People use it to pick up the food. The chopsticks also mean that people get married happily and have a baby soon. Hope it helps. Candice Song replied on 2011-12-21
Chopsticks are stupid and used instead of silverware because Asians aren't very smart and don't know how to use silverware guest replied on 2012-03-11
i think the one who dont know how to use chopstick are the stupid one, you should not be racist, it is our culture and no culture is stupid, it is an art guest replied on 2012-03-23
you are wrong man.., in China and Japan before, they have Bambo and wood/ the trees only. they don't have metal industry yet to make the silver ware, so they use chopstik from bambo or the trees wood instead of silver ware(spoon-fork) for eating. guest replied on 2012-05-20
anita
2011-09-15
Show Answer
how to cook anhui cuisine
the right way dude... guest replied on 2013-01-07
Anhui cuisine stress oil, color and fire. People there are good at stewing, steaming and braising. nicky replied on 2011-09-29
April Offer $25 Coupon
Send your inquiry before Apr. 30, 2014, and we will email you a $25 coupon.
The coupon is valid till Dec. 31, 2014, for paying tour packages worth $250 or up.
The coupon cannot be used for paying flight tickets, train tickets, hotel rooms and day trips.
Travel Advice or Question? Ask us here