Chinese New Year Dates 2013, 2014, 2015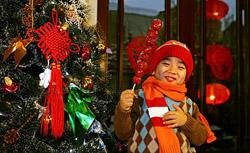 Happy Chinese New Year
Chinese New Year is according to the Chinese calendar; hence the dates will be different each year according to the Gregorian calendar. There are 12 Chinese zodiac animals (which are rat, ox, tiger, rabbit, dragon, snake, horse, ram, monkey, rooster, dog and pig in order), and these Chinese animal Zodiac rotate every 12 years. Below is the table of Chinese New Year dates and zodiac signs in following several years.

Chinese New Year 2013 will take place in February 9 and continue to February 24. It is the year of snake.
| Year | Dates | Zodiac Signs |
| --- | --- | --- |
| 2012 | January 23 | Dragon |
| 2013 | February 10 (Sunday) | Snake |
| 2014 | January 31 (Friday) | Horse |
| 2015 | February 19 (Thursday) | Sheep |
| 2016 | February 8 | Monkey |
| 2017 | January 28 | Rooster |
| 2018 | February 16 | Dog |
| 2019 | February 5 | Pig |
| 2020 | January 25 | Rat |
2013 Spring Festival Holiday Notice
China Highlights' office is scheduled to close for the Spring Festival Holiday, from February 9 (Saturday) till 15 (Friday), 2013. China Highlights suggests you confirm your bookings as early as possible.
Most of us will leave for the holiday, but we still have some staff on duty to take care of your bookings and tours. For emergency matters, please contact us by:
Email: service@chinahighlights.com or
Tel: +86-773-2810927/2831999
More Information on Chinese New Year 2013
Send Free Chinese New Year Cards
More free Chinese New Year Cards

China Highlights
Planning a trip? Ask us here 800-2682918 (USA & CA)
86-773-2831999 (Int'l)
Q:
lakshmi
Asked on 2013-01-25
Reply
hai,we are a family of 4,2 adults n 2 kids,planning for a trip feb 13-17 2013. what are the most common places that we can cover in this period...how will the weather in that period,so that i can pack the stuff accordingly
The visit to Beijing is recommended. Beijing is considered to be a must see for the visitor coming to China for the first time. Here below is a general itinerary for your reference. February 13th: arrive in Beijing February 14th: visit Forbidden City, Tian'anmen Square and Temple of Heaven February 15th: visit the Great Wall February 16th: visit Hutongs, Summer Palace and Lama Temple February 17th: depart Beijing Ruby Zhao Replied on 2013-01-25
Q:
DC
Asked on 2013-01-16
Reply
Hello Want to come to shop for clothing 17 February 2013 will the markets open by then..
Dear DC, Most of the big shopping malls are available then, it won't affact your plan. Lussie Lu Replied on 2013-01-16
Q:
Miro
Asked on 2012-12-09
Reply
The air fare will drop after February 9 or February 24? Flight from Chengdu, Sichuan Province to Vancouver, Canada.
Hi Miro, I think it is after February 9. Because it is the beginning of the Spring Festival. During the festival, there will be less passengers going abroad, so the airfare may drop. But it is hard to predict. You can check the flight details via below the websites:
Whitney Liao Replied on 2012-12-10
Q:
Xiao
Asked on 2012-12-06
Reply
Where is year of the Ox?
Hi Xiao, it is the year of 1985, 1997, 2009, 2021, etc. every 12 years.
Whitney Liao Replied on 2012-12-06
Q:
Beaty
Asked on 2012-11-08
Reply
hallo. am a bussiness woman from Tanzania i heard that approaching to chinese new year most of the shops and industries are closed for that event.kindly,will you plese tell me exactly at what dates will this be in this end of 2012 or early 2013 so that i can plan my trips properly.
Hi Beaty, the Spring Festival in 2013 is from Feb.9 to Feb.15.
Whitney Liao Replied on 2012-11-09
Chinese New Year (Spring Festival) 2013