Chinese New Year Dates 2014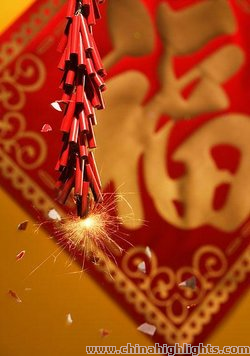 Celebrate Chinese New Year with a bang or many!
Chinese New Year's date is calculated according to the Chinese lunar calendar, hence the date is different each year on the Gregorian (internationally used) calendar.
Officially Chinese New Year is celebrated on Chuyi (初一 /choo-ee/ the very first day of the new year, Chinese New Year's Day) and Chuxi (初夕 /choo-sshee/ the last day of the previous year, Chinese New Year's Eve).
Traditionally though celebrations can start much earlier than Chinese New Year's Eve. Some people start to celebrate from three weeks before. The date is called Laba (腊八 /laa-baa/ the eighth day of the twelfth Chinese month), while more people celebrate from one week before — the 23rd of the twelfth month.
There are also two different closing dates. Officially it is the day when the one week holiday ends, usually the sixth day of Chinese New Year. Traditionally the ending day is the fifteenth day of the first Chinese calendar month — the Lantern Festival. Read more on day-by-day celebrations for this grandest of Chinese festivals.
Chinese New Year 2014 will fall on Friday, January 31. It will be the year of the horse. For people born in the year of the horse (1918, 1930, 1942, 1954, 1966, 1978, 1990, and 2002), 2014 is considered an auspicious year. "Horses" are said to love to be in a crowd, and they can usually be seen at such occasions as concerts, theater performances, sporting occasions, and parties... Read more on the personality, career, and love suggestions for those born in the year of the horse and other Chinese zodiac animals by clicking on the links below.
Chinese New Year Dates for the Next Chinese Zodiac Cycle
| Year | Chinese New Year Date | Zodiac Animal |
| --- | --- | --- |
| 2013 | February 10 | Snake |
| 2014 | January 31 | Horse |
| 2015 | February 19 | Sheep |
| 2016 | February 8 | Monkey |
| 2017 | January 28 | Rooster |
| 2018 | February 16 | Dog |
| 2019 | February 5 | Pig |
| 2020 | January 25 | Rat |
| 2021 | February 12 | Ox |
| 2022 | February 1 | Tiger |
| 2023 | January 22 | Rabbit |
| 2024 | February 10 | Dragon |
| 2025 | January 29 | Snake |

China Highlights
Planning a trip? Ask us here 800-2682918 (USA & CA)
86-773-2831999 (Int'l)
Q:
Larry Oram
Asked on 2013-11-29
Reply
Dear Sir, Would like to know the Starting date and the finish date for the annual Chinese Spring festival ? I might like to attend some of it. Thank You, Larry Oram
Hi Larry,
Chinese Lunar Festival is from 30th Jan. to 5th Feb. It takes about one week. But during this festival, many restaurants and stores are closed. You can visit China before Lunar Festival. Good Luck.
Christy
Christy Luo Replied on 2013-11-30
Q:
Beth Tappan
Asked on 2013-10-10
Reply
What are the days in 2014 that official offices are closed for CNY? Thanks!
Dear Beth,
The Chinese Spring festival starts from Jan. 30, 2014 to Feb. 5, 2014. So Chinese official offices will close during that time.
Nancy
Nancy Deng Replied on 2013-10-11
Q:
Serah
Asked on 2013-08-27
Reply
when will chinese new year 2014 end?
Dear Serah, Than Chinese New Year starts from Jan. 31, 2014 to Feb.14, 2014. Nancy Nancy Deng Replied on 2013-08-28
Q:
lakshmi
Asked on 2013-01-25
Reply
hai,we are a family of 4,2 adults n 2 kids,planning for a trip feb 13-17 2013. what are the most common places that we can cover in this period...how will the weather in that period,so that i can pack the stuff accordingly
The visit to Beijing is recommended. Beijing is considered to be a must see for the visitor coming to China for the first time. Here below is a general itinerary for your reference. February 13th: arrive in Beijing February 14th: visit Forbidden City, Tian'anmen Square and Temple of Heaven February 15th: visit the Great Wall February 16th: visit Hutongs, Summer Palace and Lama Temple February 17th: depart Beijing Ruby Zhao Replied on 2013-01-25
Q:
DC
Asked on 2013-01-16
Reply
Hello Want to come to shop for clothing 17 February 2013 will the markets open by then..
Dear DC, Most of the big shopping malls are available then, it won't affact your plan. Lussie Lu Replied on 2013-01-16