Most Beautiful Ancient Villages in China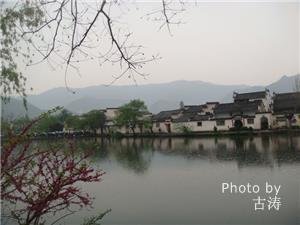 Huncun Village at the foot of the Yellow Mountains in eastern China's Anhui Province
You might have heard a lot about ancient towns (like Lijiang Ancient Town, Pingyao Ancient Town, and Huangyao Ancient Town) and ancient cities (like Beijing and Xian) in China. Here, we list several of the most beautiful ancient villages in China, where you can experience the local peaceful lifestyle, the ancient architecture, and the graceful landscapes.
These villages include ethnic villages with unique architectural styles and beautiful natural landscapes, and peaceful untouched villages with picturesque scenery. Photographing, hiking, and visiting local families are recommended things to do in these ancient villages.
If you are interested in them and plan to have a visit, you can consult us for details for free, and have us tailor-make a tour of China for you to include your favorite China highlights.
1.

Tuvas Village in Kanas, Xinjiang

Kanas Tuvas Village is near mysterious Lake Kanas. The small village is located in a valley, and only has about 80 houses. These Swiss-style wooden houses are all surrounded by wooden fences, scattered among pine trees and birch trees.

Tuvas is an ancient minority group. They traditionally lived as hunter-gathers. It is said that the Tuvas people are the descendants of one group of Genghis Khan's troops. Kumiss, yogurt, milk tea, and butter are special snacks there.

Accommodation: You can choose an inn or a local family for accommodation, but prepare for very basic conditions there.

Activities: You can visit a local family, go herding with the locals and experiencing the peaceful ancient village life.

Autumn: If you visit this ancient village in autumn (August – October), you can see Tuvas Village at its most colorful with red or yellow trees. However, it might snow in October, remember bring to warm clothes.

Transportation: Tuvas Village is about 2.5 kilometers south from Lake Kanas. Lake Kanas is about 902 kilometers from Urumqi (by road), and is about 200 kilometers from the nearest city: Altay City. Lake Kanas Scenic Area is one of the best places for autumn photography in China, bettered only by Jiuzhaigou in Sichuan Province. Check out other China destinations with great autumn scenery.

Recommended tour: Xinjiang Classic Tour with Minority Discovery
2.

Jiaju Tibetan Village, Danba, Sichuan Province

Jiaju Tibetan Village is known as the "Tibetan fairyland". Jiaju Tibetan Village is on a slight hill slope, and consists of about 140 houses. These unique houses are all built with crown-shaped roofs, red eaves, and white walls, which make the houses look like little castles among the forest.

Photography: This Tibetan village is a great destination for photographers, especially in spring (from February to April), when the ancient village is decorated with colorful wild flowers, white pear blossoms, and green grassland.

Transportation: The village is about 8 kilometers from Danba Town, Kardze Tibetan Autonomous Prefecture. Kardze is 718 kilometers from Chengdu.

Recommended tour: Nature Wonders in Western Sichuan
3.

Baoshan Stone City, an Naxi Ancient Village Built on a Huge Rock

Baoshao Stone City was built on a huge mushroom-shaped rock, and only has about one hundred houses. The houses are laid out in and orderly way, built on the rock, and linked by stone steps. The locals often chisel the local rock into stone tables, stone benches, stone hearths, and stone water vats.

The Naxi people have cut rice terraces and planted crops (such as rice, wheat, and corn) on the hills around the mushroom rock. The Naxi people there still lead an original life; you can experience the colorful Naxi culture there.

October, when the fields around the ancient village are decorated with green wheat and gold rice, is the best month to visit the stone city.

Trip time: At least 2 days are needed for a visit to the city.

Lodging: There are family hotels in the village.

Transportation: Baoshan Stone City is in the canyon of Jinsha River (金沙江, the upper section of the Yangtze River), and is about 110 kilometers from Lijiang City. Though the bus can take you to the village directly, you may choose to get off at the nearest town, and then walk to the village (about 3 hours is needed) to see the beautiful landscape along the way.

Recommended tour: Yunnan Minoritie Folk Tour
4.

Hongcun and Xidi, Two Ancient Villages Near the Yellow Mountains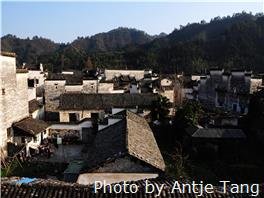 Hongcun Village
These two ancient villages have been included in the list of World Cultural Heritage. Both of these villages have a history of more than 900 years. They are renowned for their peaceful rural scenery, well-kept ancient buildings: unique Anhui style dwellings, and profound culture. The mountains, the rivers, and the ancient dwellings, make two highly picturesque landscapes.
Location: Only about 40 kilometers from the Yellow Mountains, you can take a bus from Yellow Mountain Scenic Area to Xidi or Hongcun. The distance between Hongcun and Xidi is about 25 kilometers. You can hire a bike after you arrive at one of them, and then cycle to the other village.
For artists: When visiting these ancient villages, you might want to bring your sketch pad and join the art students and artists, who go out there to capture their beauty on paper.
Recommended tour: Yellow Mountain and Hongcun Village Tour
5.

Xijiang Qianhu Miao Village: the Largest Miao Village in China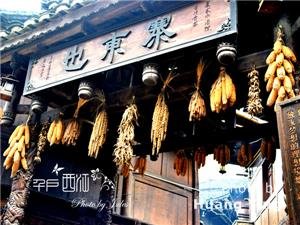 Dry corn hanging in front of a wooden house in Xijiang Miao Village
If you are interested in the Miao Minority, Xijiang Qianhu Miao Village can be a great destination for deepening your understanding of Miao history and culture.
Xijiang Qianhu Miao Village consists of more than ten natural hamlets (including the famous Silversmith Hamlet), which are all built on hills. The Miao people are keen on silver ornaments, and their unique silver ornaments are all made exquisitely.
The Miao Minority has many festivals, and the most famous two are: Miao New Year and Guzang Festival (牯藏节, an ancestor-worship celebration based on Miao culture).
Transportation: Xijiang Qianhu Miao Village is about 210 kilometers from Guiyang City (the capital city of Guizhou Province), which is equivalent to a 3.5-hour drive.
Recommended tour: Xinjiang Classic Tour with Minority Discovery
6.

Wuyuan in Jiangxi: the Most Beautiful Villages in China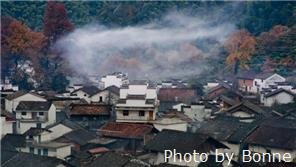 Wuyuan
Wuyuan is noted for having "the most beautiful villages in China". In fact, Wuyuan is a county, with many ancient Ming and Qing style architectural features, including 113 ancient ancestral halls, 28 ancient mansions, 36 ancient dwellings, and 187 ancient bridges.
Every village in Wuyuan is built with a river in front, and mountains behind. These villages with elegant buildings are all peacefully harmonious with the natural scenery. Hiking in the surrounding countryside is a popular activity there.
Transportation: Wuyuan is only about 90 kilometers from the Yellow Mountains, and buses linking these two attractions are available every day.
Recommended tour: Nature Wonders Tour
7.

Ancient Hakka Villages with Unique Earthen Buildings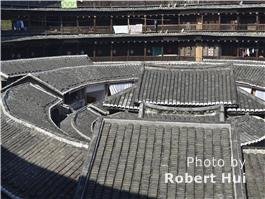 You might think these large round or square buildings are fortifications, not dwellings. In fact, they are the Hakka people's houses: earthen buildings, which are mainly built in flying-saucer-like shapes.
These ancient earthen buildings are mainly located in Fujian Province, especially in Nanjing Prefecture (南靖县) and Yongding Prefecture (永定县). Some of them have hundreds of years of history. If you want to have a visit, two ancient villages are recommended: Hongkeng Village (洪坑村) and Chuxi Village (初溪村) in Yongding Prefecture.
Both of these two villages have a history of hundreds of years, and are built among hills and by rivers. There, you can learn about the construction of earthen buildings, the history of the Hakka, and enjoy the peace brought by the natural scenery.
Transport: Yongding is about 307 kilometers (a 4-hour drive) from Xiamen (check out the transport between Xiamen and Yongding).
Recommended tour: Guangzhou and Xiamen Combo Tour
Related Links

China Highlights
Questions and Answers About Most Beautiful Ancient Villages in China
Payton
2013-11-05
Show Answer
If I am planning living in China for a little under 2 months, what is the necessary paperwork etc. I must complete to receive a visa?
Dear Payton,
The Chinese L Visa only allows you stay in China for 30 days. If you would like to stay in China more than 30 days, you need to get business/ employment/ study in China and ask the company or school provide necessary paperwork for your China Visa. For more information, please consult with the nearest Chinese Embassy in your country. As a travel agency in China, we glad to arrange tours in China during your time in China. Please feel free contact us for any China tour arrangement.
Nancy

Nancy Deng replied on 2013-11-05
Ben
2012-11-03
Show Answer
Would you please be able to let me know whether it is possible to take up permanent residency in any of these villages?
Yes, you can take up permanent residency in any of these villages, but firstly you need to take up permanent residency in China. The following materials are required for the application of permanent residency in China:

(A) Completed Foreigners' Application Form for Permanent Residency in China;
(B) A valid foreign passport or alternative certificate with equal effect;

(C) A health certificate issued by medical institutions designated by the Chinese Government or issued by foreign medical institutions certified by Chinese embassies or consulates abroad;

(D) Proof of no criminal record certified by Chinese embassies or consulates abroad;

(E) 4 passport photos;

(Vi) other relevant materials.
2. What are those other related materials?

(A) The investor shall provide:
a) Certificate of Approval for Foreign-Invested Enterprise and Certificate of Enterprise Registration;

b) Annual inspection certificate, capital verification report and personal tax clearance certificate;
Leon Long replied on 2012-11-03
mastura
2012-08-28
Show Answer
I would like to know any tour promotion at the end of this year to China. Please give me information about that.
Dear mastura, At present, there are some promotions of our tours and you could realize the details on our website. Please click:http://www.chinahighlights.com/deals/ Lussie Lu replied on 2012-08-28
María Cristina Tobón A
2012-08-27
Show Answer
Could you tell me, there are some ancient villages near to Beigin , Shangai or Nangqin?Thanks a lotMaría
Hello Maria, There are many ancinet villages around Beijing, Shanghai and Nanjing, such as: Chuandixia village in Beijing, Zhujiajiao village in Shanghai and Zhujiajiao village in Nanjing. Please contact me by email for details. Lily Lee lilylee@chinahighlights.net Lily Lee replied on 2012-08-27
Mehr
2012-07-28
Show Answer
I would like to know if there are any villages to travel to and stay near Guilan - either to travel with train or short plane ride. Thank you.
Dear Mehr, I am not sure where is Guilan, do you mean Guilin city in the south of China? If so, you could visit Yangshuo, Longshen, Jiuwu or Daxu ancient town which are near Guilin city and are very famous for their landscapes. The condition of the hotel in Yangshuo and Longsheng is simple, Daxu and Jiuwu are near Guilin, it's easy to get back to Guilin. Yangshuo:http://www.chinahighlights.com/yangshuo/ Longsheng:http://www.chinahighlights.com/longsheng/ Daxu: http://www.chinahighlights.com/guilin/attraction/daxu-ancient-town.htm Jiuwu: http://www.chinahighlights.com/guilin/attraction/jiangtou-village-of-jiuwu-town.htm Lussie Lu replied on 2012-07-29
April Offer $25 Coupon
Send your inquiry before Apr. 30, 2014, and we will email you a $25 coupon.
The coupon is valid till Dec. 31, 2014, for paying tour packages worth $250 or up.
The coupon cannot be used for paying flight tickets, train tickets, hotel rooms and day trips.
Travel Advice or Question? Ask us here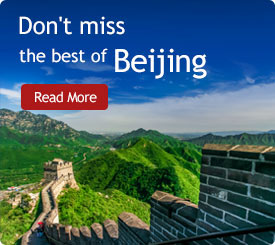 The Most Popular Articles
The Latest Travel Articles