How to Plan a 1-Day Trip to Macau from Hong Kong
Just an hour away, but quite different from Hong Kong, is Macau: the mega-resort and casino center that also has interesting historical sights.
Macau's main draw for tourists are the big casinos and hotels. It is the new gambling resort capital of the world with 5 of the world's 10 largest casino resorts. But there are also old Portuguese sites to see. UNESCO World Heritage sites San Ma Lo and Guia Fortress are popular with tourists.
You'll need your passport to travel between these two regions. However, foreign tourists to Hong Kong generally have no problem entering Macau with a free short term stamp on their passport.
Getting to Macau by Ferry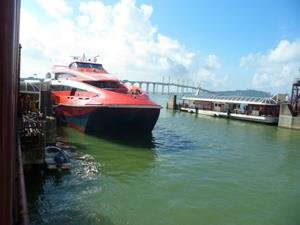 ferry to Macau
Ferry prices are higher in the evening and highest at night, and higher at weekends and holidays.
Hong Kong Terminals
China Ferry Terminal is in Tsim Sha Tsui. Price: 132 to 172 HKD (economy class). It is about a kilometer north of the Tsim Sha Tsui Star Ferry. You could walk to it through Harbour City Mall, or just take a taxi to 33 Canton Road.
Hong Kong Macau Ferry Terminal is near the IFC Towers in the Shun Tak Center on Hong Kong Island. Price: 132 to 172 HKD (economy class). It is near the Star Ferry, the IFC Mall, and the Shueng Wan MTR station.
Sky Pier at the Hong Kong International Airport is for transiting tourists only. Price:159 to 172 HKD during the day.
Macau Terminals
Macau Maritime Ferry Terminal is the main northern terminal closest to San Ma Lo, architectural attractions, and about 23 mainly smaller casinos. You can take Bus 3 from San Ma Lo to the Macau Ferry Terminal in about 10 minutes for 2.5 HKD.
Cotai Terminal is to the south, closest to the Cotai Strip area with the biggest casinos such as the Venetian, the City of Dreams across the street, and the Macau International Airport. To go to Cotai Terminal, take the Cotai Jet from any of the three Hong Kong terminals. There are late night returns (after 12 midnight) from the Cotai Terminal to the Hong Kong Macau Terminal.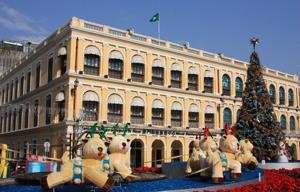 architectures in Macau
Macau Local Transportation
Getting around in Macau is easy. Free casino buses line up at both terminals, and pretty
women representing their hotels and casinos stand and hand out coupons and information. Just get on the bus yo u want for free.
Casinos
You can easily get lost in the biggest casinos eating, shopping, and seeing the shows. You could spend the whole day in just one casino, but why not see old Macau before you go back? You might find the casinos overwhelming and want a break.
The Historic Attractions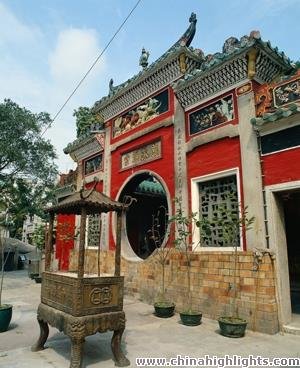 Barra Temple
To get a quick view of the best sites, Monte Fortress and San Ma Lo are the best places to go.
Monte Fortress was built in 1627. The fortress and the Macau Museum in it is probably the best place to go to learn about Macau's history and culture. Museum tickets cost 15 HKD. While there, you might also want to see the ruins of St. Paul's Cathedral close by.
San Ma Lo: You can take a short free bus ride from the biggest casinos and hotels, such as the Venetian and go to this historic square. They leave about every 15 minutes.
Until 1999 Macau was a Portuguese colony. San Ma Lo is the old Portuguese square. Old pastel colored buildings line the sides, and a church is at the back. It and about 20 other old buildings and forts are listed as UNESCO World Heritage sites. If you enjoy Chinese herbs, there are good traditional herb shops around it such as on Da Jie street.
Include Macau in Your Hong Kong Tour
Questions and Answers About How to Plan a 1-Day Trip to Macau from Hong Kong
Gulab Mohan
2014-03-08
Show Answer
I am visiting Hong Kong Trade Fair April 27-30 staying at Apartment Kapok. I wish to visit one day tour of Macau on April 29. I have Indian Passport. How visa can be used for return from Macau? Which travel company can arrange trip with pick up from my hotel ''Apartment Kapok'',
Hi, I am going to HongKong from 28 Feb to 6 March. Thinking of dropping by Macau for a day. Do you recommend me to stay in Macau for a night or just go for a day trip to Macau? Would it be better to go to Macau on a weekend or weekday? Thanks.
Hi J, both I think is ok. If you stay one night there, you will have more time to experience the local life. If your time is limit, one day tour would also be sufficient. I suggest that you go on weekday as it would be less crowded.
Whitney Liao replied on 2014-01-20
ANGELIA TAN
2013-09-18
Show Answer
Hi, pls quote me day/overnite trip to Macau from Hk (maybe on 28 Nov 2013) for 7 adults and 2 children (aged 11 and 13) and to include House of Dancing WAter performance. TQ
We are happy to tailor made a private tour for you from Hong Kong to Macau. For your information, the tour price ranges US$350 US$500 per person, depending on the hotel class (3*/4*/5*) and tour type (group tour or private tour). Please inform your budget for the tour before we could offer you exact quotation.
Nora Ou replied on 2013-09-18

China Highlights
Hong Kong Travel Guide