Urumqi Weather in July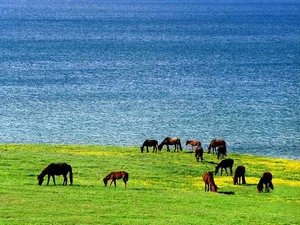 July is a hot and dry month, and is often the hottest month of the year. The average temperature is 30°C (86°F), with the highest and lowest temperatures of 28°C (82.4°F) and 37°C (98.6°F), respectively. The wind kicks up to NW 3 to 4.
Wearing dresses, T-shirts, and shorts is adequate for the daytime. Also wear a thin overcoat or a jacket in the early morning and evening. Meanwhile, wear your sunglasses, hats, and sunscreen to protect yourself from the sun.
July marks the busy travel season, and a large number of tourists coming to Urumqi from June to October, so be sure to book your accommodations ahead of time. See our Urumqi Tours.
Urumqi Climate Information by Month

China Highlights
Planning a trip? Ask us here 800-2682918 (USA & CA)
86-773-2831999 (Int'l)
Q:
lumbini
Asked on 2011-04-19
Reply
Hai I will be visiting urumqi on 20 July to 30th July 2011 How is the weather. what type of cloths sutable to were for this visit . thank you
Dear Lumbini, We haven't got the details from the weather forecast bureau. Based on the former data, the temperature is about 18-30°C. It is hot in the day and it's cool at night. You can take the shirts and T-shirt. You can check the new information on this website before you leave for urumqi. Please click here:http://www.weather.com.cn/en/weather/101130101.shtml If you have not book a tour, you can check the tour package on our website. We specialize in designing a tailor-made China tour. We can arrange an itinerary based on your need. Please feel free to let me know your enquiry. My e-mail address is lussie@chinahighlights.com Lussie Lu Replied on 2011-04-20
Urumqi Travel Guide