Zhangjiajie Attractions
Zhangjiajie - a surreal world of rock pillar landscapes covered with verdant trees, queer rocks, clean lakes and rivers - is one of the must-visit large scenic resorts in China. Apart from the stunning natural landscapes, a collection of ancient buildings are also the highlights of Zhangjiajie.
Wulingyuan Scenic Area, Tianmen Mountain, the Puguang Temple and Mengdong River are the seven main scenic areas in Zhangjiajie. The famous Phoenix Ancient Town is located beside Zhangjiajie and is well worth a trip.
The Zhangjiajie National Forest Park, Tianzi Mountain, Suoxiyu Nature Reserve, and Longwang Cave are the main attractions Wulingyuan Scenic Area. Original sandstones, dense forests and deep ravines feature a gorgeous natural landscape of Wulingyuan Scenic Area. Thick forests and running streams in the area, create a picture of the stunning natural landcapes.
Click here for more information>>
Zhangjiajie National Forest Park
Zhangjiajie National Forest Park features a variety of different terrains including: mountainous regions, upland areas, plains and karst rock areas. All the natural landscapes in the park interpret the magic of nature well. There are six main attractions in Zhangjiajie National Forest Park.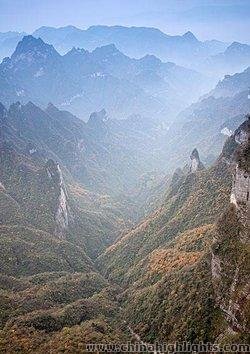 Zhangjiajie National Forest Park
Jinbian Stream (Golden Whip Stream)
Passing through the gate, you can see the Golden Whip Stream. Vigorous trees are shadowed on the crystal water, which make this stream the most attractive place in the park.
Yellow Stone Stronghold (Huangshi Village)
Located in the west of the park, this large stronghold is another essential tourist route that can't be missed. The main attractions in Yellow Stone Stronghold include the Trail in Fir Woods, Imperial Edict and the Precious Box, Needle Peak, the Southern Gate to Heaven, and Five-Finger Peak.
Yaozi Village
Yaozi Village stands beside Yellow Stone Stronghold and Yuanjiajie. Looking over from the top of Yaozi Village into the valley, you can be amazed by the dense forest, precipices and cliffs.
Yuanjiajie
Yuanjiajie is in the north of Zhangjiajie National Forest Park, surrounded by many giant and peculiar rocks and pine trees.
Tianzi Mountain
Tianzi Mountain is one of the main scenic spots in the Wulingyuan Scenic Area, covering a large area and reaching a high sea level of the highest peak. You can get a full view of the entire Wulingyuan Scenic Area standing on the top of the mountain. The wonders that are the sea of clouds, the tender moonlight, the strong sunshine and the pure snow in winter, make sure that the scenery in Tianzi Mountain are the best all year round. Cable cars are available for you to go from the foot to the top of the mountain, and appreciate the scenery along the way.
Suoxiyu Nature Reserve
Suoxiyu Nature Reserve is in the center of the Wulingyuan Scenic Area. The main attractions in this valley are Baofeng Lake, Yellow Dragon Cave, West Sea, Ten-mile Gallery and Shuiraosimen. Furthermore, various wild animals and medicinal herbs can be found here.
Baofeng Lake Scenic Area is part of Wulingyuan Scenic Area. It is one of the world's natural heritages. The area concludes Baofeng Lake, and Yingwo Stockaded Village. The natural beauty of the lake and the mountain contain the human culture and landscape.
The Yellow Dragon Cave is known as the wonder of the world's caves. It is a typical karst cave, consisting of an area of irregular limestone in which erosion has produced fissures, underground streams, and caverns.
Click here to check out more detailed information about Yellow Dragon Cave.
Tianmen Mountain, the soul of Zhangjiajie, is named after the huge cave in the mountain which is like a gate to heaven called Tianmen Cave, or 'Heaven Gate' Cave. Tianmen Mountain was recognized as a national forest park in 1992. It is not only a paradise for scenery, but also for photography and adventure.
Puguang Temple
Initially built in the Ming Dynasty and located in Zhangjiajie city, the Puguang Temple covers an area of 3,300 square meters. This ancient temple is a holy sanctuary combining Buddhism and Taoism. The buildings in the temple, such as ancestral shrines, archways and towers, deliver the architectural features of the Yuan, Ming and Qing Dynasties.
Mengdong River
Winding through the giant mountains and limestone cliffs, Mengdong River is one of the essential tour destinations in Zhangjiajie. It is situated about 80 kilometers south-east of Zhangjiajie city and two hours' drive from the city center.
You will feel excited and thrilled when rafting on Mengdong River due to the torrential water, sharp turnings and steep ramps. The scenery alongside the river is breathtakingly gorgeous.
Best Time to Visit
Zhangjiajie is pleasant to visit at any time of the year.
April to October is the golden time to travel to Zhangjiajie National Forest Park, as the temperature during this period is moderate and comfortable.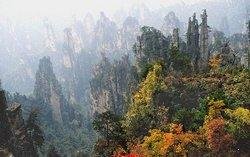 Fall Foliage in Zhangjiajie National Forest Park
Want a trip to Zhangjiajie National Forest Park? China Highlights can help you tailor-make a trip with a private knowledgeable English speaking guide to get a full view of the stunning natural scenery of Zhangjiajie National Forest Park.
Recommended Tours of Zhangjiajie
China Highlights has pre-made some tours of Zhangjiajie, which are popular and highly recommended. You can take them for reference or contact us for a tailor-made tour of Zhangjiajie. China Highlights will work hard to overcome any difficulties during your trip to Zhangjiajie.
Related Links
Questions and Answers About Zhangjiajie Attractions
Joe
2013-11-27
Show Answer
I am planning to go this Dec 20. Do you think it will have fresh snow fall during this time of the year. tq
Based on the former data, the average is about–1 °C- 5 °C℃(30 °F- 41 °F). It occasionally snows lightly.
It was snowy in December in last year. However the weather condition is hard to predict, I suggest you pay attention to the weather forecast from following web site. It offers weather forecast for future 7 days.
http://www.weather.com.cn/english/
Carol Wang replied on 2013-11-27
Sophia
2013-10-20
Show Answer
Hey! I was wondering how much it would cost if we wanted to see 1: a Waterfall and a cave? How much would a tour cost?
Dear Robert, Thank you for your inquiry. There are many waterfalls in the Wulingyuan Scenic Area, and the entrance fee for the Wulingyuan Scenic Area is CNY250/USD41 per person. Per the Yellow Dragon Cave, the entrance fee is CNY100/USD17 per person. In order to provide an itinerary that best fits your needs, would you please answer some questions so that we can put together an itinerary that gives you what you want at the best possible price? 1. Number of people in your group including yourself 2. Length of stay in China 3. City or cities of entry/exit 4. Start date of tour 5. Class of Hotel: economy/Deluxe/superior 6. Estimated total budget per person. Here is a recommended tour: http://www.chinahighlights.com/tour/zhangjiajietour/hun-3/ Doris Huang replied on 2013-10-23
kyan ratulangie
2013-04-20
Show Answer
Hi Coco, how much is the price for the car service in Zhangjiajie and Wulingyuan for 2 to 3 days for 3 people starting May 11, 2013? Thank you.
Hi kyan, The price of the car rental service is $140 per day for 7 hours from 9 am to 5 pm. Do you need us to arrange the car service for you? If anything, just email me at coco@chinahighlights.net Regards, Coco guest replied on 2013-04-21
susanna Lim
2012-03-31
Show Answer
Can I travel to within Zhangjiajie by just renting a car and a driver, and getting the travel agency to get the admission tickets and cabel car tickets for me but without a tour guide?
Hi Susanna, Yes, we can offer the car service for you. The price of the car service is from $120-$160 per day, for 8 hours ( based on 2 persons) in Zhangjiajie. How many days do you need the car service there? For the attraction fee, we suggest that you buy it on your own when you there. Regards, Coco Coco Yang replied on 2012-04-01
April Offer $25 Coupon
Send your inquiry before Apr. 30, 2014, and we will email you a $25 coupon.
The coupon is valid till Dec. 31, 2014, for paying tour packages worth $250 or up.
The coupon cannot be used for paying flight tickets, train tickets, hotel rooms and day trips.
Travel Advice or Question? Ask us here

China Highlights
Zhangjiajie Travel Guide