Forbidden City Facts
Name:
Ancient Palace
(故宫;
Gùgōng /goo-ghong/)
Meaning:
'former palace'
Previous names:
Zijin Cheng ('Purple Forbidden City')
Features
It is the world's biggest ancient palace.
It is considered to be among the world's top 5 most important palaces.
China's most popular single site tourist attraction.
The structure is almost 600 years old.
Home of dynastic clans for 500 years.
A million articles are considered national heritage.
1987 UNESCO World Heritage List
The largest collection of ancient wooden structures in the world.
A stunning array of ancient treasures and buildings: with ancient porcelain and jade, gardens, plazas, historic sites, and 9,999 rooms
Most Popular Sections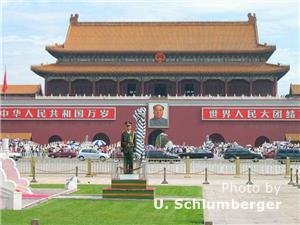 Tian'anmen Square
One Day Beijing Forbidden City Tour from US $27 p/p (based on travel party of 2-3 persons)
History
1406 Construction began on the Ming Dynasty palace in Beijing
1420 The palace complex was completed.
1644 The Ming Dynasty lost control of the palace and the Manchus took possession.
1860 and 1900 Western forces briefly took control of the palace on two occasions.
1912 The last emperor of the Qing Empire abdicated.
1947 An important part of the palace's antiques and treasures were taken to Taiwan.
1987 The complex was named a UNESCO World Heritage.
Original Purpose: A palace compound to protect and serve the Ming Dynasty clan.
Significance: The palace complex was the center of two empires and is considered the symbol of China. Now it's Beijing's most popular tourist attraction.
Geography
Location: in the center of modern Beijing (39.92N, 116.40E)
Architecture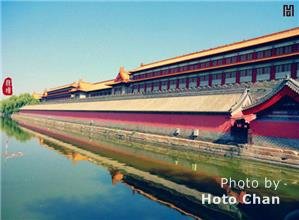 Surrounding wall of Forbidden City
Rooms: 9,999 including anterooms
Buildings: 980
Total surface area: 720,000 square meters (7,747,200 square feet / 180 acres). For comparison, the Vatican measures 440,000 square meters, and the Kremlin measures 275,000 square meters.
Surrounding wall: 7.9 meters (26 ft) high and 8.62 m (28.3 ft) wide at the base.
Moat outside the walls: 6 meters (20 ft) deep and 52 meters (171 ft) wide
Largest structure: The Hall of Supreme Harmony is 30 meters (98 ft) tall.
Distance between east gate and west gate: 750 m
Distance between north and south gate: 960 m
Interesting Facts
Eunuchs: At one time, 9,000 eunuchs lived there.
Laborers: 200,000 - 1 million laborers and artisans constructed the complex.
Emperors: altogether, 24 emperors lived there.
Additional Informationlegends
Ticket Price: ~60 RMB (9.44 USD) and ~20 RMB for an English audio tour
Nearby Shopping Street: WangFujing Street
Transportation
Beijing Capital International Airport is the busiest in Asia. It is 26 km from the attraction.
Subway: Take Metro Line 1 to Tian'anmen West or Tian'anmen East or Metro Line 2 and get off at Qianmen Station
Bus: Tourist Bus 1 or 5
Questions and Answers About Forbidden City Facts
HerpDerp
2011-01-30
Show Answer
How much, roughly, is 40Y in American dollars?
Hi HerpDerp Our travel advisor is contacting with you. Thanks for your support. Nero Hou replied on 2011-01-31
Dear HerpDerp, At present, China Highlights converts US Dollars to Chinese CNY at a rate of US$100 = CNY650. This is the answer to your question below. It is a approximate calculating for your reference. CNY40 = US$6.15 Would you like to travel in China? If you do, we can arrange a tour based on your enquiry. Please don't hesitate to contact us and send your email to service@chinahighlights.com, we are very glad to serve you. Lussie Lu replied on 2011-01-31
Mary Kate Nemeth
2010-11-21
Show Answer
I'm trying to write a paper on the Forbidden City and it has to be 3 pages. I 'm on page 3 a I' try to fing cool facts but every site I go to it is the same thing. So do you have some cool 6th grade facts i could use? Thanks!!! -Mary Kate
Hi. I searched on our Chinese search engine and found some interesting facts. I translated them into English for you and hope they are of use to you. Note that they are for reference only, and I am not responsible for their authenticity. 1, Why did the Forbidden City use yellow color as its fundamental color. In ancient China, there was a theory about five elements, among these, green, red, white and black respectively represent the four directions, while yellow symbolized the center. Ancient Chinese used yellow to symbolize a country, and it is the exclusive color for the emperor and a symbol for imperial power. If a common subject were to be found to dress in yellow, he would be killed. The buildings in the Forbidden City used lots of yellow glazed tile, and together with the red walls, red pillars and multi-colored paintings, created a magnificent imperial air. 2. How many dragons are there in the Forbidden City? Images of dragon were used exclusively by ancient emperors, and ancient emperors thought they were the embodiment of dragon. If we assume that there are 6 dragons on the roof of each hall, the total number of dragon is estimated to be 60,000. If by adding the dragon images on other buildings and daily commodities, the number is countless. The best way to know a place is to visit it in person. If you plan to visit China in the future, feel free to send us your inquiry to service@chinahighlights.com, our travel advisors will reply within 24 hours. Mia Yang replied on 2010-11-23
April Offer $25 Coupon
Send your inquiry before Apr. 30, 2014, and we will email you a $25 coupon.
The coupon is valid till Dec. 31, 2014, for paying tour packages worth $250 or up.
The coupon cannot be used for paying flight tickets, train tickets, hotel rooms and day trips.
Travel Advice or Question? Ask us here

China Highlights
Beijing Travel Guide