Jinli Old Street
Overview
Jinli Old Street is one of the oldest and busiest streets in the history of Xishu. As early as the Qin, Han and Three Kingdoms periods, it was known throughout the country. This street, which is only 350 meters long, is a stage for life in Chengdu and showcases its features. You can taste the flavor of old Chengdu by seeing the age-old street, official residences, folk residences, teahouses, inns, wine bars, stages and handiwork; you can get a taste of authentic Chengdu flavor by trying local snacks and specialties. Expect to be fully enthralled by the glamour of the folk customs in Sichuan Province. Green tiles are placed in order and bluestone ways twist forward, making people feel as if time was turned back and they are in the past again. Tea, dishes, wine, play and brocades with local features appear before your eyes one after another, creating quite a feast for the eyes.
Features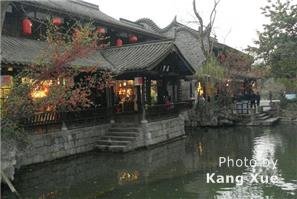 Jinli Old Street
Jinli Old Street is one of the oldest shopping streets in Sichuan Province, and it can be traced back to the Three Kingdoms Period, over 1,800 years ago. The street showcases the customs of Xishu and the culture of Shuhan (one of the Three Kingdoms from 221 to 263). Most of the architecture here is of the style of the residences in western Sichuan Province.
Activities
On the ancient stages, classic plays are performed regularly.
In the roadside stands, folk artisan performances are put on (including sugar painting, shaping clay figurines, paper cutouts, puppet shadow shows, and so on).
On Jinli Snack Street, visitors can taste a variety of local delicacies.
Tourists can take part in a local wedding. Couples can hold their weddings in Jinli for a ceremony that they won't forget for their entire lives.
Folk music, plays, and local customs are held continuously year round.
During traditional festivals, thematic activities are held in the communities. The activities include a lantern fair during the Lantern Festival, a snack festival, the Zongzi Eating Contest during the Dragon Boat Festival, activities during Chinese Valentines' Day, appreciating the moon together on Mid-Autumn Day, and so on.
China Highlights can help you customize a tour to visit Jinli Old Street and other highlights in chengdu.
Location
NO. 231 Wuhou Hall Street (to the east of Wuhou Hall)
Questions and Answers About Jinli Old Street
samantha
2014-03-05
Show Answer
how go train station to go Lhasa (wad is name of train station?) from Jinli street?
Hi Sam, you can take the train from Chengdu Railway Station to Lhasa. But I think you need a Tibet Permit. From Jinli Street to Chengdu Railway Station, the public bus route is not simple, so I suggest that you take a taxi. Whitney Liao replied on 2014-03-06
samantha
2014-03-05
Show Answer
how go Jinli st from airport?
Hi Samantha, I suggest that you take a taxi to get there. Whitney Liao replied on 2014-03-06
Seda
2013-05-19
Show Answer
Hi, I''m planning to visit Chengdu this coming November. I have long been attracted to your country''s beautiful history thus I want to go and see myself especially the Three Kingdom''s heritage and Zhuge Liang''s monument & shrine. May I know what is the weather like in early November, and what should I wear? I will have 5 days in Chengdu City, so within 5 days, which places should you recommend me to go? I also want to shop some souvenirs to bring back home. Need your assistance. Thank you.
Hi Seda,It is cool in November. The average highest temperature is around 16 °C (61 °F ) and the lowest temperature is about 10 °C (50 °C ). November rarely sees any rain, but is not dry because of the special climate of this city. The sky is cloudy and the sun rarely shines, so you may feel a bit cold. Long trousers and a coat will do, and wear socks most of the time to stay warm.Please click here to see more attractions in Chengdu and let me know if can help you to tailor make an itinerary for you: http://www.chinahighlights.com/chengdu/attraction/ Michael Hu replied on 2013-05-20
Jim
2010-10-18
Show Answer
I was in Chengdu in June 2010. It is a beautiful city and walking along the river at night was very peaceful. I was amazed at the number of bats that were flying with in arms reach. Jinli street was beautiful and me and my girl friend Ping visited twice. The traffic is unbelievable and several times I was really scared. I do have to say the pollution was almost unbareable and I could not get used to it. These people have the finest food and they are the nicest people I have ever been around. I will go back in December.
Hello Jim, Thank you very much for your comments! There are other interesting activities in Chengdu too, for example the "Panda Keeper Program", you can feed and bath the pandas, please feel free to contact us if you want us to arrange for you when you visit Chengdu again in December. Lee China highlights Lee Li replied on 2010-10-19
April Offer $25 Coupon
Send your inquiry before Apr. 30, 2014, and we will email you a $25 coupon.
The coupon is valid till Dec. 31, 2014, for paying tour packages worth $250 or up.
The coupon cannot be used for paying flight tickets, train tickets, hotel rooms and day trips.
Travel Advice or Question? Ask us here

China Highlights
Chengdu Travel Guide