Chengdu Nightlife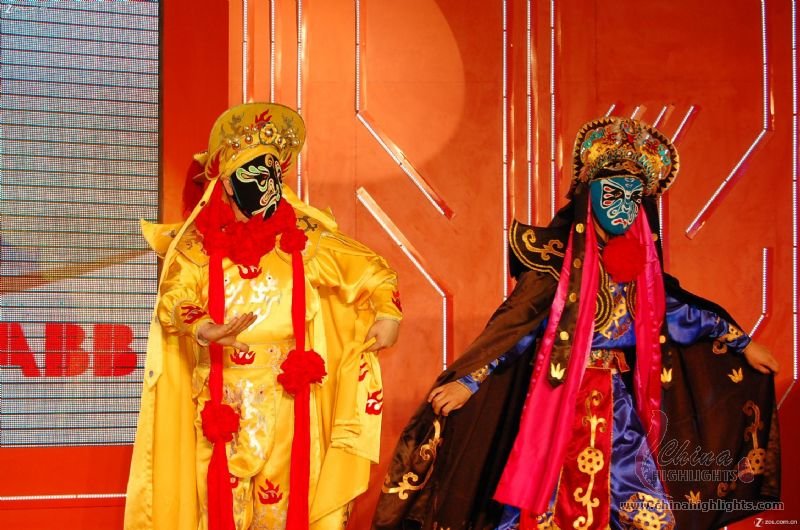 Located in the center of southwestern China, the city of Chengdu is a very prosperous regional hub with all of the modern, broad-ranging nighttime activities that one would expect of a successful metropolis of the size of Chengdu. In fact, the city's nightlife is on par with that of many of China's larger coastal cities. Chengdu has traditionally been a city of active, culturally involved people who are fond of music, art and theatre (mainly Sichuan Opera). Sichuaners also have a long tradition of dining out, visiting tea houses and shopping at large, open-air markets, though today, much of this is being replaced by Western-inspired shopping malls, upmarket restaurants and the ubiquitous bars & night clubs where you can dance 'til you drop' or sing along to Japanese inspired karaoke.
In the following you can find out more about what Chengdu has to offer in the way of after-hours activities, with something to suit every taste, from cultural to recreational activities to nighttime forays to bars & night clubs, as well as visits to tea houses & coffee shops. Welcome to Chengdu after dark!
The Best Western-Style Bars
After the sun goes down you can get a real understanding of the Chinese concept of "yin and yang". Buildings that during the day are filled with people empty out, but at night these buildings become dazzling electronic art displays. The rivers and many famous places are also brightly decorated with beautiful neon lights. Indeed even the traffic quiets down and you can find a calm place to rest. And if you are looking for exciting places to delve deep into the night, then here they are.
Shamrocks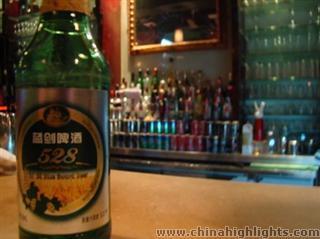 Shamrocks
This is undisputedly one of the most established Western-style bar/restaurants in Chengdu. This Irish pub has a sports bar kind of feeling. It is located just around the corner from the American consulate. Although it has a reputation for being a bar for the more "settled-down" crowd, this is still a nice place to go to meet new people and have interesting conversations. There are occasional theme parties and live bands.
Chinese Name: 三叶草爱尔兰西餐酒吧
Address: 15 Renmin Nan Lu, Section 4, Chengdu成都人民南路四段15号附1号
Le Café Paname
This bar blurs the line between a Western-style bar and a Chinese-style bar. Don't worry, you don't need to buy an expensive bottle of liquor or a dozen beers at a time. Also you won't find much dancing. There is loud music, but not to the point of "MAN! IT'S SO LOUD IN HERE!". They have pool and foosball tables so this is another clear indicator that this is not a night club. Here you will a healthy mix of local and expat patrons. There is usually a DJ providing auditory entertainment, but this bar also hosts some live bands.
Chinese Name: 巴黎咖啡
Address: Lanse Jialebi, 143 Kehua Bei Lu, Chengdu成都科华北路143号蓝色加勒比
Jellyfish
This is another bar a few steps away from a night club, but basically all that means is that it is more exciting than some of the other bars. It is relatively new so many new people go there to explore. They occasionally have live bands.
Chinese Name: 水母酒吧
Address: Lanse Jialebi, 143 Kehua Bei Lu, Chengdu成都市科华北路143号蓝色加勒比
Hemp House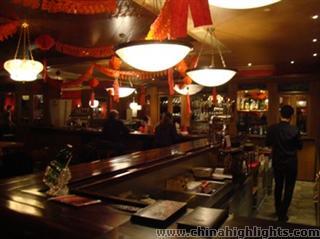 Hemp House
As the name suggests this bar has a more relaxed atmosphere. You'll be pleasantly surprised if you choose one of the beers from the microbrewery. There are also some live bands that perform here on weekends.
Chinese Name: 麻糖
Address: Dongmen Daqiao, Oriental Times Plaza, 3rd Floor, Chengdu, 成都东门大桥东方时代商城三楼
Moonies
This is the bar in Shangrila Hotel. There is sometimes a live band, but usually not any dancing. It is a good place to meet people and mix with a younger crowd.
Chinese Name: 香格里拉大酒店爱尔兰吧
Address: 9 Binjiang Dong Lu, Chengdu 成都滨江东路号
Little Bar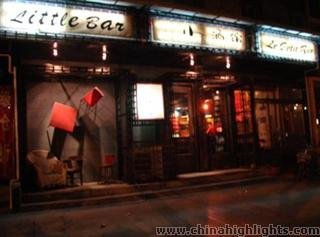 Little Bar
Although this bar has quite the modest name, it has been one of the key places for Chinese rock. Over the years Little Bar has expanded and now has a total of three locations. Even though it doesn't have live performances anymore it is worth checking out the original Little Bar. Nowadays the clientele is mostly Chinese, but it don't be surprised if someone from the expat communities drops in.
Chinese Name: 小酒馆
Address (new): 87 Fang Qin Jie, Yulin Shang Wu Gang, 1st Fl., Chengdu 成都芳沁街号附号丰尚玉林商务港1楼
Address (original): 55 Yulin Xi Lu, Chengdu成都玉林西路55号
Machu Picchu
This is definitely one of the best bars, but relatively unknown. It is a cozy little place to relax and chat with interesting people. The owner is a very friendly Dutchman. They sometimes have performances.
Chinese Name: 马丘比丘咖啡馆
Address: 14 Fang Hua Heng Jie, Chengdu成都芳华横街14号

China Highlights
Planning a trip? Ask us here 800-2682918 (USA & CA)
86-773-2831999 (Int'l)
Q:
Stella
Asked on 2011-12-12
Reply
HI, I am going to sichuan tomorrow, I just want to get some information to visit the places of interest there. Can you please kindly recommend some of it to me?
Hi Stella, Please click here to see the attractions in Sichuan:http://www.chinahighlights.com/sichuan/. Please let me know if you need any tour service in Sichuan. Michael Hu Replied on 2011-12-12
Q:
sheryn
Asked on 2011-12-12
Reply
Hello, I am going to chengdu on 19 December 2011. Actually I am looking for places of interest in Chengdu. Can you please recommend some of the places of interest as I don't really like to visit historical place? I do like to visit some fun and exciting places. Thank you.

The most interesting place in chengdu must be Panda Breeding and Research Centre. Home to giant pandas, red (or lesser) pandas, and other endangered species. Visit the nursery to see the highly successful breeding program, bamboo groves and shady walkways, to view the pandas at rest and play. There''s a wealth of information and a panda museum in this 230-hectare park 10 km (6 miles) north of Chengdu. The Panda Breeding and Research Center has a donation program which allows you take pictures with holding an adult panda by donating RMB500 or holding a baby panda by donating RMB1000. This program is subject to the availability of pandas on that day. Please bring RMB cash as they don''t accept credit cards. guest Replied on 2011-12-13
Q:
woh ah law
Asked on 2011-07-30
Reply
I'll be in chengdu at around early september this year.. may i know hows the weather there at that time?
Dear Wob Ah Law, Based on the former data, the temperature is about 20-28°C. It's hot in the day and cool at night. It's a good time for traveling. It's suitable to wear the T-shirts. Chengdu is a big city in China and it's convenient to purchase the clothes. And You also can check the new information on this website before leaving for Chengdu. Click here: http://www.weather.com.cn/en/weather/101270101.shtml Chengdu is home of the Giant pandas and you also can realize lots of traditional things in Chengdu, such as Shu Brocades and Embroidery, Chinese and Tibetan-Style Ornaments, Souvenirs and Other Handicrafts, Chuan Cuisine, and so on. Here is an interesting vedio made by our clients about the pandas. Click here: http://www.chinahighlights.com/feedback/2011/2/Q100311024.htm If you haven't arranged a Chengdu tour or any other city tour in China, I am glad to provide you a tailor-made tour for you, which is a private tour based on your need. Otherwise I can arrange a tour for your next travel plan. Please feel free to contact me directly.My e-mail address is lussie@chinahighlight.com Lussie Lu Replied on 2011-08-02
Q:
M Aminur Rahman
Asked on 2010-08-18
Reply
How to get special permission to visit Lhasa? I am Bangladesh citizen and my travel time to Chengdu 17th Oct to 20th Oct. BR. M Aminur Rahman
Rahman, All foreigners are required to apply Tibet permit to enter Tibet besides China visa. it is issued by Tibet Tourism Burea with visitors' pasports and China visas' scan, legally agency will take care of the apply process. if you are holding "F" (interview) or "Z" (working) type visa, additional documents may be required. On that paper (both in Chinese and Tibetan), it shows the group no., entry city and date, destination and agency name. China Highlights is happy to be assistant on this matter for the visitors who travel with us around Tibet, I will send you more details information by email later. Karen Karen Yang Replied on 2010-08-18
Q:
awit
Asked on 2010-05-26
Reply
I am going to chengdu on 16 june 2010. I want to learn advanced badminton for a few days. Can someone help me to find a good coach and how much is the fee?
Hello, In Chengdu, there are many badminton clubs and courts in Chengdu, where you can find lots of people who are very good at this sport. You can ask them to teach you or play badminton with you, this is more fun and you will might get to make friends. If you stay in Chengdu for only a few days, this way is more practical. phoebe Replied on 2010-05-26
Chengdu Travel Guide