Changsha South Railway Station
Changsha South Railway Station Taxi Directions
Chinese Name: 长沙南

Address: Lituo Village, Yuhua District, Changsha City

Chinese Address: 长沙市雨花区黎托乡

Telephone: 0731-280505

Number of platforms:13
Where the Trains Going to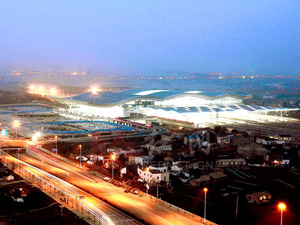 Changsha South Railway Station was completed and put to use in 2009. It is the hub station of Hunan section on Wuhan-Guangzhou Passenger Line and is one of the three departure stations along this line (other two are Wuhan Station and Guangzhou South Station). It is about 10 km (6miles) from the city center. It is a station on the Wuhan-Guangzhou Passenger Line and has trains that reach Xianning, Chibi, Yueyang, Zhuzhou, Hengyang, Chenzhou, Shaoguan, Huadu, and Guangzhou.
Transportation to Changsha South Railway Station
Transportation: Passengers can take public buses No. 16, 63, 66, 124, 135, 159, 160, 348,or 503 to get to the station.
Planning a trip? Ask us here

800-2682918 (USA & CA)

86-773-2831999

1800-764678 (AU)

0800-0327753 (UK)

800-8793-007 (China)
Q:
JSmith
Asked on 3:44 PM May. 11 2012
Reply
Does the T5 travel from Changsha South Termnal to Guilin? If so, which railroad terminal does it use in Guilin?
Hi J.Smith, thank you for your inquiry. The Train T5 will travel from Changsha Railway Station to Guilin Station, not from the south one. Please visit the website below to see train schedule:
http://www.chinahighlights.com/china-trains/search-result.asp Nora Ou Replied on 03:31 AM May. 12 2012
Q:
howei
Asked on 9:44 PM Aug. 11 2011
Reply
why the google map says changsa north railway station? confusing!
Dear Howei,
Thank you for pointing out our mistake on website. We will correct it. Lussie Lu Replied on 10:42 PM Aug. 13 2011

Lussie Lu,
Great to get a reply from you !
Unfortunately I find that there are many shortcomings in Chinese websites.
Firstly, most websites cater for Chinese audience; should at least have 'proper' English versions for key sites. China has to face the fact that English is the lingua franca of the world and China, as displayed by it's insatiable likings for Western things(such a Macdonald, KFC, Apple, Microsoft) cannot even provide the basic information about it's trains services, Mrts and other public facilities?
Secondly, most websites are not up to date
Take for example Guangzhou. Such a big city but lacks simple websites to help tourists and travellers
I like to cycle around and the last time when I landed in Guangzhou, I wanted to find a bicycle. And I looked and looked everywhere, websites, asked and asked.
Only finally, after a couple of days searching that I discovered that there is this public bike for rent. To my great dismay I could not even get a proper map of where the stations were ! Only when I finally managed to hire a bike from one of the stations that I was given a brochure by the attendant showing where the bike stations were ! Why can't they display this at the stations up on the boards and in the websites !!?? Really beats me !!
Finally, websites are so common and easy to build. Nowadays a basic website should have features for simple interactions and good usability. I have came across key govt websites that are just a simple layer of html !! It's so easy to get a reasonably interactive website up using opensource tools like php/mysql and using free frameworks !
Come on, China could do better in this area !!
guest Replied on 11:35 PM Aug. 13 2011