Giant Panda Captive Breeding
After a baby panda is born, the mother panda will eat less, and will devote her time and energy to feeding and training the baby, which is very laborious, and thus reduces her health and life span.
At breeding centers, researchers help the mother pandas to take care of their cubs, thus helping to ensure the survival of both. Pandas in captivity can live 30 years or longer, while wild pandas usually live up to 20 years.
Quick Facts
Chinese Name: 'big bear-cat' (大熊猫 dàxióngmāo /dah-sshyong-maow/).
Size:75 cm (2½ ft) tall, 1½ m (5 ft) long
Weight: Up to 150 kg (330 lb)
Habitat: Mountainous western central China; Sichuan, Shaanxi, and Gansu. See the map
Diet: 99% bamboo, 13 kg (30 lb) or more a day.
Life Span: Up to 30 years in captivity, 15–20 years in the wild
Protection Status: Endangered.  1,500–3,000 in the wild.
Giant Panda Numbers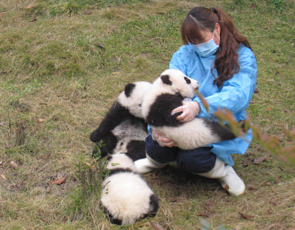 China is the only natural home of giant pandas, and wild giant pandas can only be found in deep forests in some parts of Sichuan, Shaanxi and Gansu Provinces. Estimates of giant panda numbers are no more than 2,000, including about 300 in captivity.
An Endangered Species
The giant panda is an endangered species, due to loss of habitat and very low birth rate (one cub per two years). Female pandas usually can give birth to only one baby panda at a time, and newborn pandas are extremely fragile. Therefore to save the species, China has begun captive breeding programs.
Breeding Centers
There are two main captive breeding centers in China open to the public: Chengdu Research Base of Giant Panda Breeding and Bifengxia Giant Panda Base, both accessible from Chengdu in Sichuan Province.
You can visit a panda breeding center or even volunteer to help look after the pandas. See Giant Panda Volunteer Programs.

Planning a trip? Ask us here

800-2682918 (USA & CA)

86-773-2831999

1800-764678 (AU)

0800-0327753 (UK)

800-8793-007 (China)
Q:
Ashley
Asked on 11:24 AM Feb. 01 2012
Reply
How many pandas do you have
Dear Ashley,
Now China has more than 1750 pandas and most of them live in the breeding center in Sichuan Province. You can obtain more information from the website http://www.chinahighlights.com/chengdu/attraction/panda-breeding-and-research-center.htm.
Hope it helps. Candice Song Replied on 01:02 AM Feb. 02 2012
Q:
Melody
Asked on 4:41 PM Nov. 15 2011
Reply
Numbers in the wild and captivity ?
Dear Melody,
The number of pandas in wild is around 1600 according to Wildlife Conservation and Nature Reserve Management Department of the State Forestry Administration while the number of pandas in captivity is 328 reported on China Daily based on the State Forestry Administration. I hope you would be satisfied with my answer. Candice Song Replied on 9:38 PM Nov. 20 2011