Best Attractions in Guilin's Counties
Famous for fabulous natural scenery, Guilin is eulogized as the most beautiful place under heaven. Not only are the attractions in the city worth a trip, but also the fantastic scenic places in the surrounding countryside.
Also read Discover the Seasonal Beauty of Guilin.
Located one and a half hours' drive south of Guilin city center, Yuzi Paradise is
modern art sculpture park
. It is a paradise for tourists to immerse themselves in
art and culture
, while appreciating the stunning natural scenery.
You can spend a whole day or more in Yuzi Paradise, which is equipped with luxury hotels for an unforgettable holiday.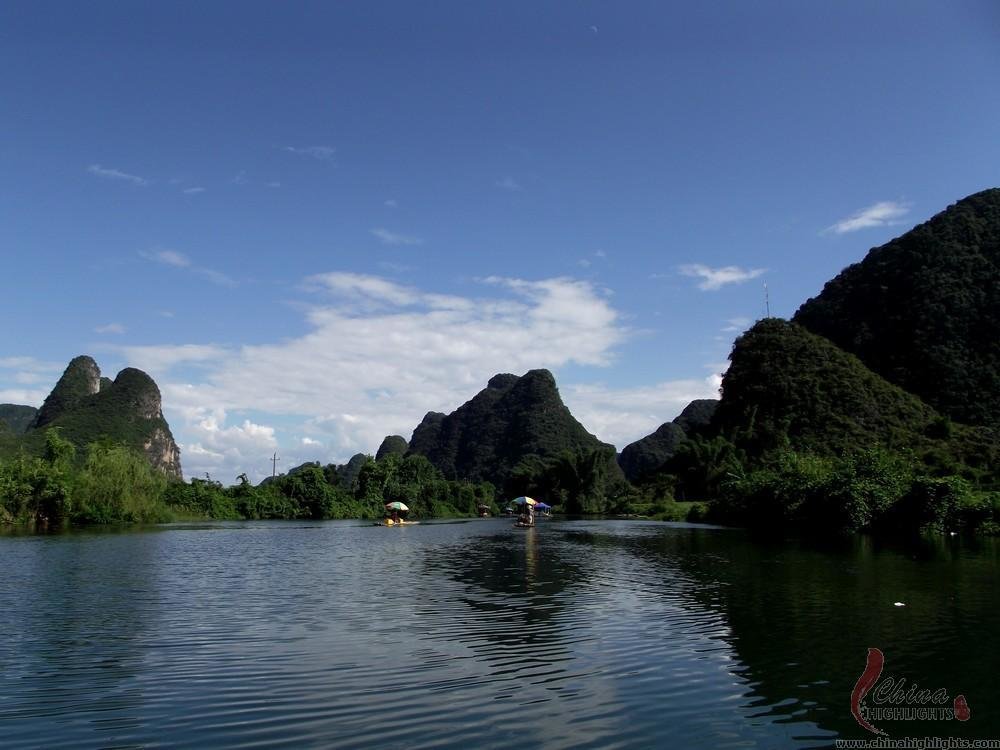 Picturesque view of Yulong River.
Yangshuo can be regarded as a large scenic area, which is filled with so many gorgeous things to see and to do.

Bamboo rafting on the Yulong River

,

cycling in the countryside

, and

relaxing on West Street

are the top things to do in Yangshuo.

No matter how many times you've been there, you'll come back for more of the leisurely atmosphere of Yangshuo!

The Longji Terraced Fields are a manmade mountain masterpiece that are charming all the year round, teeming with different colors. Spring and autumn are the best times to visit Longji, when the terraced fields are full of vitality or covered by "a massive golden blanket" respectively.

Discovering the minority culture of Huangluo Yao Minority Village is worth a visit by itself! The Red Cloth Festival lets you immerse yourself in Red Yao minority culture and dance with the girls wearing folk costumes.
4.
Hongyan Village
Hongyan Village in Gongcheng County is a good place for spring outdoor activities, where you can see stunning natural scenery from a pavilion-topped hill, including rivers, mountains, a wind-and-rain bridges, orchards, and ancient buildings. Like the countryside in Yangshuo, hiking along the little paths in the fields, boating on the river, and fishing are excellent.
5.
Wen Temple
Gongcheng's Wen Temple is one of the best-preserved Confucius temples in China, which was used to honor China's great scholar and educator, Confucius. The ancient halls of the temple are solemn and grand, where people regularly come and pray for good results in study.
6.
(八角寨国家森林公园)
Featuring typical Danxia landforms, Bajiao Zhai National Forest Park is quiet magnificent with many precipitous rounded hills. Standing on the tops, you can sometimes see the clouds rolling over and between the purple tooth-like peaks.
Similar to the caves in Guilin city (like Reed Flute Cave and Seven Star Cave), Silver Cave is huge! It is decorated with colorful lighting. The stalagmites and stalactites are in fanciful shapes, looking vivid under the lights, and coming to life with the interesting stories.
Cultural relics, such as ancient buildings, pavilions, and bridges, as well as beautiful scenery, are found along the Ling Canal. You can take off your shoes and walk across crystal streams in summer. The water is really clean and refreshing.
Jiangtou Ancient Village enjoys a history of more than 800 years. It is home to the descendants of Zhoudunyi — an outstanding literati and philosopher of the Song Dynasty (960–1279). Many valuable historical relics are well-preserved, such as ancient coins, a forest of inscribed stone tablets, ancient instruments, longevity beds, ancient buildings, and much more.
A unique insight into the history and local culture of Guilin, Daxu is an ancient town with a treasury of old buildings, but also fabulous natural scenery. In spring you can pick strawberries in the fields with your family, a kids' favorite.
Go Beyond Iconic Guilin with China Highlights
Want to see Guilin from a different angle, and have an offbeat tour of Guilin? Contact us to have us customize our Guilin tours, or tailor-make a unique Guilin tour to visit the attractions above.
Related Links
Questions and Answers About Best Attractions in Guilin's Counties
April Offer $25 Coupon
Send your inquiry before Apr. 30, 2014, and we will email you a $25 coupon.
The coupon is valid till Dec. 31, 2014, for paying tour packages worth $250 or up.
The coupon cannot be used for paying flight tickets, train tickets, hotel rooms and day trips.
Travel Advice or Question? Ask us here

China Highlights
Guilin Travel Guide